Thursday, December 30th, 2021

Posted by Jim Thacker
Open 3D Engine gets first stable release, 2022 roadmap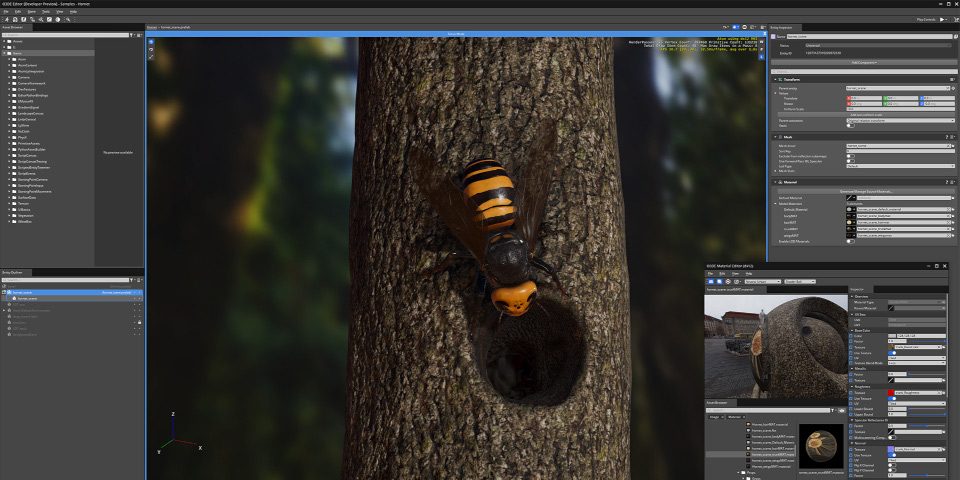 The Open 3D Foundation has released Open 3D Engine (O3DE) 21.11, the first stable release of the open-source "AAA-capable" game engine based on Amazon Web Services' Lumberyard engine.
New features since the original developer preview release include support for Linux as well as Windows in the O3DE editor, and an experimental new terrain system.
AWS has also posted an overview of the features under consideration for inclusion in O3DE during 2022, including a native macOS version of the editor, and support for open AR/VR standard OpenXR.
An open-source 'AAA-capable' game engine based on AWS's Lumberyard
First released as a developer preview earlier this year, O3DE is an open-source, cross-platform "AAA-capable" game engine" pitched as a successor to Lumberyard, AWS's free engine.
It features a modular, SDK-like design, open-source build system and new networking stack, and includes Atom, the firm's hardware-accelerated ray tracing renderer, also available open-source.
The engine is the first release of the new Linux-Foundation-backed Open 3D Foundation: a counterpart to VFX technology body the Academy Software Foundation for the game development industry.
Now available as Windows and Linux binaries and well as source code
One major change in O3DE 21.11 is that the software is now available pre-built, instead of would-be users having to compile the source code themselves.
As well as a Windows installer, that means packaged Ubuntu binaries, since the major platform change in the release is Linux support in the O3DE editor.
Expermimental new Terrain Gem authors physics-aware terrain
New artist features include the Terrain Gem, an experimental new terrain-generation system that stores height, colour and normal data and surface properties for regions of the game world.
Users can create or edit terrain via "gradient-based and shape-based authoring tools and workflows".
The implementation supports terrain layers and collision physics.
Other changes include support for generating LUTs for colour grading inside the O3DE editor.
Developers get updates to the Script Canvas visual scripting system; support for tracking project dependencies and managing Gems remotely; and a developer preview of network scripting.
O3DE's 2022 product roadmap: new Mac editor and OpenXR support under consideration
AWs has also posted a rough product roadmap on its blog, summarising the main features under consideration for O3DE in 2022.
Proposed platform changes include native macOS support in the O3DE editor, installer and project manager, and support for AWS Graviton processors in Amazon EC2 cloud instances.
New artist-related features include a Shader Canvas tool for authoring shaders visually; and a new OpenXR gem, enabling O3DE to access compatible augmented and virtual reality hardware.
Availability and system requirements
Compiled binaries of Open 3D Engine 21.11 are available as free downloads for Windows 10+ and Ubuntu 20.04+. The source code is available under an Apache 2.0 licence.
Users can deploy projects to Windows 10, Linux, macOS, iOS, Android, but there is no mention of consoles in the online docs.

Read an overview of the new features in O3DE 21.11 and the 2022 product roadmap on AWS's blog