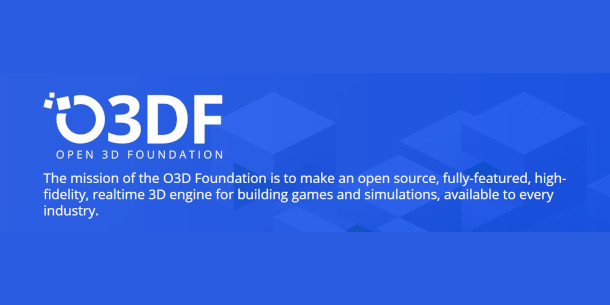 The Linux Foundation has announced the Open 3D Foundation (O3DF), a new body intended to accelerate the development of open-source game and simulation technologies.
The first project governed by the new foundation is Open 3D Engine (O3DE), Amazon Web Services' new open-source successor to Lumberyard, its AAA game engine.
As well as AWS, other founding members of the Open 3D Foundation include DCC tools developers Adobe and SideFX, middleware firms PopcornFX and Kythera AI, and game developers Niantic and Wargaming.
New AWS open-source game engine O3DE becomes the first Open 3D Foundation project
The Linux Foundation describes the Open 3D Foundation as being intended to "accelerate developer collaboration on 3D game and simulation technology" by supporting open-source projects "that advance capabilities related to 3D graphics, rendering, authoring and development".
The first such project – and a test case for how such project might be run in future – is Open 3D Engine, Amazon Web Services' open-source successor to its Lumberyard game engine.
Described as being intended to foster development of games as well as the engine itself, the O3DE project includes a governing board focused on business decisions, and a technical steering committee.
The project is organised into special interest groups corresponding to key parts of a game development pipeline, including content creation, simulation, network and cloud capabilities, testing and security.
As well as its existing members, the project "welcomes contributions from all cloud providers, gaming companies, and industries to advance the project".
"The Open 3D Foundation finally gives gaming and engine developers an opportunity to influence the direction of a major AAA class 3D engine that is sustained for the long term by a worldwide open source community," said Linux Foundation CTO Chris Aniszczyk.

Founder members drawn from the worlds and tools development
The founder members of the Open 3D Foundation itself – all of whom are described as "contributing funding and resources" as well as technical advice – also span the worlds of game and tools development.
The former camp includes Pokémon Go co-developer Niantic, and military gaming specialist Wargaming, plus the International Game Developers Association and Chinese publisher Gamepoch.
The latter includes two of the major players in the DCC industry, Adobe and SideFX, audio tools firm Audiokinetic, and middleware developers Kythera AI and PopcornFX.
Other founder members include providers of backend services and technologies to the games industry, plus tech giants Intel and Huawei.
It's a pretty eclectic selection, and suggests that the initiative has broad industry support, although it's interesting that the list doesn't include any developers of open-source tools, like Blender.
Other notable current absences include AMD, Autodesk and Nvidia, all of which back the equivalent Linux Foundation-supported organisation for the VFX and animation industry, the Academy Software Foundation.

Read The Linux Foundation's announcement of the Open 3D Foundation
Visit the Open 3D Foundation website
Read more about Open 3D Engine in our coverage of the new open-source game engine
Tags: Academy Software Foundation, Adobe, Amazon, AMD, Audiokinetc, autodesk, AWS, Blender, game development, game technology, game tools, Gamepoch, Huawei, IGDA, Intel, Kythera AI, middleware, Niantic, NVIDIA, O3DE, O3DF, Open 3D Engine, Open 3D Foundation, open source, PopcornFX, SideFX, The Linux Foundation, Wargmaing