Monday, May 18th, 2020

Posted by Jim Thacker
AMD unveils Radeon ProRender 2.0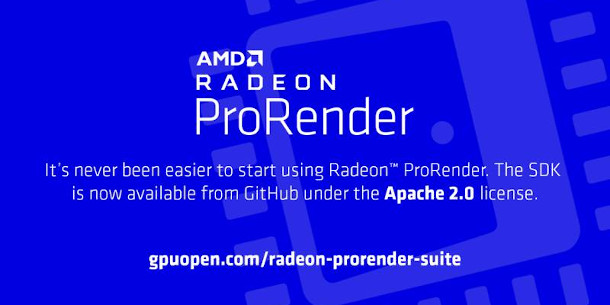 AMD has released the SDK for Radeon ProRender 2.0, the next major version of its hardware-agnostic physically based GPU renderer, in beta.
Version 2.0 of the SDK, which is now available under an open-source Apache 2.0 licence, promises improved performance when rendering on both CPU and GPU, and when rendering large scenes on the GPU.
The new features are available as experimental previews within the latest versions of AMD's free Radeon ProRender plugins for Blender and Maya, both of which have just shipped.
A free, physically accurate, hardware-agnostic GPU renderer
First released under its current branding in 2016, Radeon ProRender is an unbiased path tracer with a fairly standard range of production features, including integrated AI denoising.
It's GPU-accelerated, and being based on the OpenCL and Metal APIs, is compatible with both AMD and non-AMD GPUs, and can run across Windows, Linux and macOS.
The renderer is currently integrated – or at least, bundled as a plugin with – a range of DCC and CAD applications, including Cinema 4D, Modo and SolidWorks Visualize.
In addition, free integration plugins are available for 3ds Max, Blender, Houdini, Maya, PTC Creo and – as of earlier this week – Unreal Engine.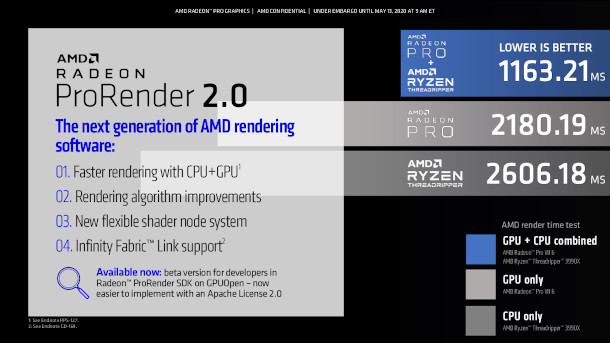 New in Radeon ProRender 2.0: faster rendering on CPU plus GPU
The headline change in Radeon ProRender 2.0 is improved performance when rendering with both CPU and GPU: AMD claims that CPU+GPU renders are up to 47% faster than rendering on the GPU alone.
The figures are based on internal tests on an interior environment scene, conducted using the firm's current top-of-the-range processors: the Ryzen Threadripper 3990X CPU and the new Radeon Pro VII GPU.
However, AMD hasn't posted any comparisons with previous versions of Radeon ProRender, so it isn't clear what kind of speed improvements existing users of the renderer can expect.
Support for rendering much larger scenes on the GPU
Although previous versions of Radeon ProRender already supported out-of-core rendering, the SDK now features "out-of-core support for heavy geometry".
We assume that means it is possible to render much larger scenes than will fit into GPU memory without the performance hit tradtionally associated, although AMD's release notes don't provide any more details.
In addition, Radeon ProRender 2.0 adds support for the new Infinity Fabric Link Bridge, AMD's answer to Nvidia's NVLink Bridge.
It enables users to pool GPU memory across two compatible AMD cards – currently only the Radeon Pro VII is supported – making it possible to render larger scenes before going out of core.
Other changes include a new, more flexible shader node system, and improvements to the rendering algorithm, "designed for better convergence with the same samples per pixel".
Available as an experimental preview mode in the Maya and Blender plugins
The new Radeon ProRender 2.0 functionality is available as an experimental preview mode in the latest versions of AMD's Radeon ProRender plugins for Maya and Blender.
Other new features in Radeon ProRender for Maya v2.9 include support for Ornatrix, Ephere's hair-simulation plugin, and better support for Maya's native XGen system.
You can read about the changes in the new Blender plugin in a separate story.
AMD has also released new versions of its 3ds Max and Houdini plugins, although neither currently features the new Radeon ProRender 2.0 render mode.
Availability and system requirements
The Radeon ProRender 2.0 SDK is available to developers under an open-source Apache 2.0 licence.
Radeon ProRender for Maya v2.9 is free, and is compatible with Maya 2017+, running on Windows 10, macOS 10.13.3+ and macOS 10.14. The Linux version is no longer available.

Read more about the new features in Radeon ProRender 2.0 SDK on AMD's blog