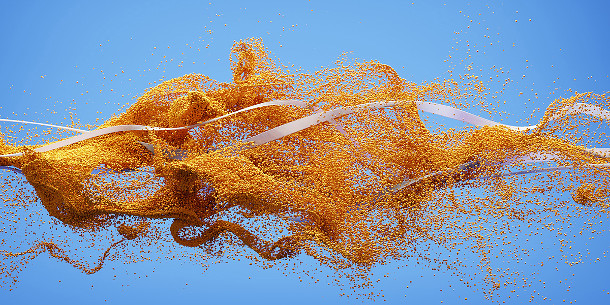 Originally posted on 2 March 2018. Scroll down for news of the official releases.
AMD has launched Mac versions of its Radeon ProRender plugins for Blender and Maya in beta, making the free physically accurate, GPU-based renderer available for macOS as well as Windows and Linux.
A hardware-agnostic GPU-based path tracing renderer for common DCC applications
First released for 3ds Max and Maya in 2016 and Blender the following year, Radeon ProRender is an unbiased path tracing renderer.
The feature set was relatively bare-bones at first, but has been growing steadily with successive updates, and since the renderer uses OpenCL for GPU compute tasks, it is compatible with any manufacturer's GPUs.
The technology has since been integrated into Cinema 4D R19, and is due for integration into Modo.
Feature parity with the Windows and Linux editions, plus support for Apple's Metal 2 API
The Mac versions of the plugins will provide the same feature set as the Windows and Linux editions – on release, at least: it's not entirely clear from AMD's announcement if that's true of the current betas.
For Blender users, that means the new render denoising feature, simplified PBR shader and glTF support; for Maya users, support for IES lights and a new shadow catcher material.
The betas also introduce support for GPU acceleration via Apple's proprietary Metal 2 API as well as OpenCL – according to AMD, making Radeon ProRender the first production renderer to support Metal 2.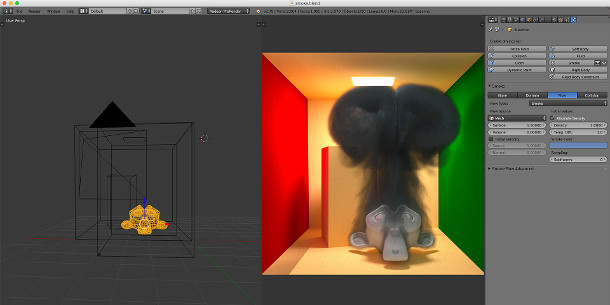 Updated 10 April 2018: The macOS editions of Radeon ProRender for Blender and Maya are now shipping.
The final releases feature an updated PBR ubershader with "more realistic defaults and enhanced subsurface scattering", and add new AOVs including reflections and diffuse lighting.
They also both get the interactive render denoising system from the Windows edition of the Blender plugin.
In addition, the macOS edition of the Blender plugin adds two features entirely new to ProRender: adaptive subdivision, smoothing geometry according to distance to the camera, and support for volumetrics (above).
You can find full lists of features in both editions via the link below.
Availability and system requirements
RadeonPro Render is available for Blender 2.78+ running on Windows 7+, Ubuntu 16.04.3 and macOS 10.13.3 and Maya 2016+ running on Windows 7+ and macOS 10.13.3. Both plugins are free.
Non-Mac plugin versions of the renderer are also available for 3ds Max and SolidWorks.
Read more about the Mac versions of Radeon ProRender for Blender and Maya on the product site
(Includes download links)
Tags: adaptive subdivision, AMD, beta, Blender, free, glTF, GPU-accelerated, GPU-based, IES light, Linux, Mac, macOS, Maya, Metal 2, OpenCL, path tracing, PBR, physically accurate, physically based, plugin, Radeon ProRender, Radeon ProRender for Blender, Radeon ProRender for Maya, shadow catcher, system requirements, unbiased, volumetrics, Windows