Saturday, November 17th, 2018

Posted by Jim Thacker
Radeon ProRender updated for 3ds Max, Maya and Blender
AMD's last promo for Radeon ProRender, posted in April. The firm has just released new versions of the GPU-based renderer for 3ds Max, Blender and Maya, while the Modo integration in now public beta.

Originally posted on 15 August 2018. Scroll down for news of the Q4 2018 updates.
AMD has updated Radeon ProRender, its free, GPU-accelerated renderer, for 3ds Max, Maya and Blender. The update adds support for AO and camera motion blur, and extends the renderer's Uber Shader.
The firm has also released a proof-of-concept integration of USD's interactive viewport with ProRender, aimed at developers interested in in integtrating a Hydra-based viewport into their software.
All four are show at Siggraph 2018, alongside public betas of new editions for Modo and PTC Creo.
A free, physically accurate, OpenCL-based renderer
First released under its current branding in 2016, Radeon ProRender is an unbiased path tracer with a growing range of production features, recently adding denoising and out-of-core rendering.
It's GPU-accelerated, and being based on OpenCL, should be compatible with any manufacturer's hardware – although given Apple's decision to deprecate OpenCL in macOS 10.14, AMD also now supports Metal 2.
As well as the 3ds Max, Blender and Maya plugins, the software is available for SolidWorks, and was recently integrated into Cinema 4D. A Modo integration is due later this year, having just gone into public beta.
New in 3ds Max, Blender and Maya: support for AO and camera motion blur
New features in the latest updates – Radeon ProRender 2.3 for 3ds Max, 1.7 for Blender and 2.4 for Maya – include support for ambient occlusion and camera motion blur. Object motion blur was already supported.
The releases also extend the renderer's Uber Shader, intended to enable users to mimic a wide range of real-world materials by adjusting the settings of a single multi-purpose shader.
It gets support for diffuse backscattering in semi-transparent materials; thickness and transmission colour parameters in its clear coat settings; and the option to use separate normal maps for each shading lobe.
Other changes include the option to change the resolution of viewport renders; to set the number of CPU threads used in final-frame renders; and to set ray depth separately for shadows, reflections and refraction.
The 3ds Max and Maya editions get support for adaptive subdivision, previously only supported in Blender.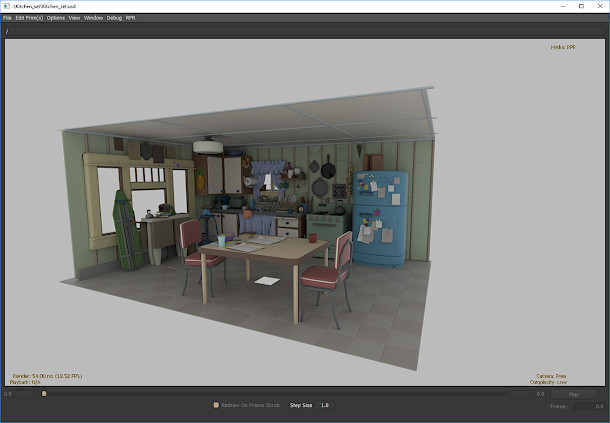 Proof-of-concept integration with USD's Hydra viewport
AMD has also released a Radeon ProRender delegate plugin for USD, integrating the USDView interactive viewport in Pixar's open-source Universal Scene Description system with the renderer.
The plugin is intended as a proof of concept for developers interested in integrating a viewer based on USD's Hydra technology into their software, as Foundry has recently done with Katana 3.0.
As well as the pre-built example, source code for the integration is available on GitHub.

Updated 17 November 2018: AMD has released its Q4 2018 updates to the Radeon ProRender plugins, rewriting the built-in materials library to use the Uber Shader.
The Blender plugin gets per-light AOVs; sheen settings for materials like velvet; and procedural UV mapping and triplanar texture projection.
The interactive viewports also now display natively in OpenGL "via an interop with the OpenCL renderer", resulting in "vastly improved interactivity".
The 3ds Max and Maya plugins get a number of workflow improvements, and the Maya plugin also now supports sequence rendering.

Availability and system requirements
Radeon ProRender for 3ds Max 2.4 is compatible with 3ds Max 2017+, running on 64-bit Windows 7+.
Radeon ProRender for Blender 1.8 is compatible with Blender 2.78+ on Windows 7/10, Ubuntu 16.04/18.04 and macOS 10.13.3+.
Radeon ProRender for Maya 2.5 is compatible with Maya 2016+, running on Windows 7/10 and macOS 10.13.3+. The Linux version hasn't been updated for some time now, and remains on version 2.1.
For GPU acceleration, AMD graphics cards are "recommended". You can use any Intel or Nvidia card that supports OpenCL 1.2, but only if you're running Windows 10.

Read a list of features in the Q3 2018 updates to Radeon ProRender for 3ds Max, Maya and Blender
Read a list of features in the Q4 2018 updates to Radeon ProRender for 3ds Max, Maya and Blender