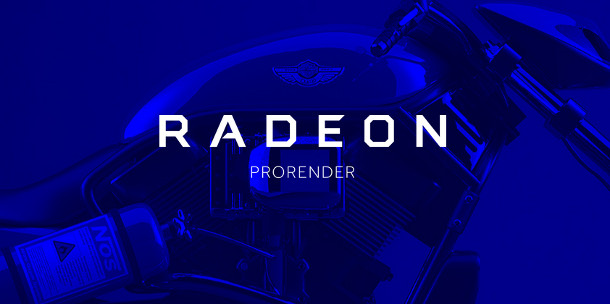 Originally posted on 5 August 2016. Scroll down for news of the release of the Maya plugin.
AMD has rebranded FireRender, its open-source GPU-based renderer, as Radeon ProRender.
The change of name brings the renderer into line with the company's workstation-class graphics cards, which have also just been renamed from the FirePro series to the Radeon Pro series.
A free, physically correct renderer for 3ds Max and Maya
An OpenCL-based renderer capable of making use of any manufacturer's GPUs, Radeon ProRender works across Windows, Linux and Mac OS X, and comes with plugins for 3ds Max, Maya, Rhino and SolidWorks.
It's an unbiased path tracer, with the basic range of features you would expect in a physically based renderer, including support for volumetrics in OpenVDB format.
Availability
Radeon ProRender is currently in beta, and is available via AMD's GitHub repository at the link below.
At the time of posting, compiled binaries and source code are available for the 3ds Max plugin, which is compatible with Max 2016 and 2017. The Maya plugin is being updated to Maya 2017 and will be out "soon".
Download Radeon ProRender for 3ds Max from AMD's GitHub repository

Updated 23 December 2016: Radeon ProRender for Maya is now officially available for Maya 2016 and above, running on Windows 7+, Mac OS X or CentOS 6.5 Linux.
According to AMD, it's possible to share materials between the 3ds Max and Maya editions of the renderer.
You can read the feature list for the Maya plugin here and download the plugin itself here.
Tags: 3ds max, AMD, download, FireRender, free, GPU-accelerated, GPU-based, Linux, Mac OS X, Maya, open source, OpenCL, plugin, Radeon ProRender, renderer, Rhino, Solidworks, Windows