Monday, August 7th, 2017

Posted by Jim Thacker
Foundry to integrate AMD's Radeon ProRender into Modo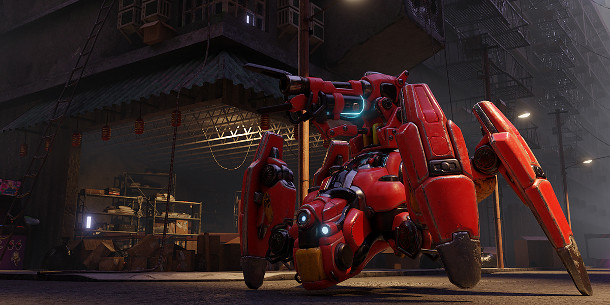 AMD has announced that Foundry is integrating Radeon ProRender, its GPU render engine, into Modo.
A tech demo of the work went on show last week at Siggraph 2017, and the project is expected to enter beta later this year before rolling out to existing Modo users.
At the show, AMD also released Baikal, an open-source standalone renderer based on the Radeon ProRender API, and aimed at the open-source community and graphics researchers.
The latest major DCC application to support Radeon ProRender
The news makes Modo the second major DCC application to integrate Radeon ProRender natively, following Maxon's decision to integrate it into the upcoming Cinema 4D R19, also unveiled at the show.
The renderer is also available as a plugin for 3ds Max, Maya – and, most recently, Blender.
A hardware-agnostic path tracing renderer with a growing list of features
A GPU-based unbiased path tracer, Radeon ProRender includes all the basic features you'd expect in a renderer of this type, and the feature set is growing steadily with each release.
Recent updates to the plugins have added support for volumetrics and tonemapping, import of measured materials in the increasingly popular AxF format, and basic conversion of V-Ray materials and lights.
As well as the fact that Radeon ProRender is royalty-free and supported by active development from AMD, a key selling point for developers is that the GPU acceleration is based on OpenCL, rather than CUDA.
That means that it works with any manufacturer's GPU, providing it supports at least OpenCL 1.2; and works across Windows, Linux and macOS.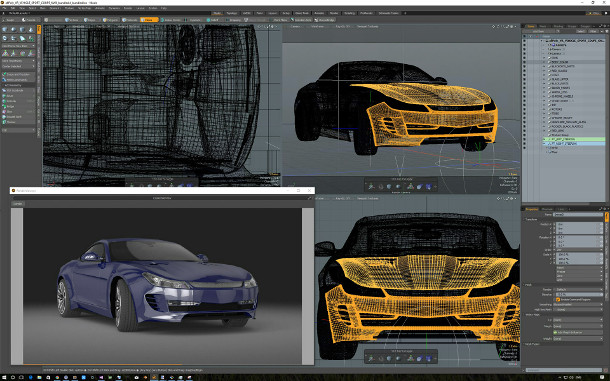 Few details about the Modo version yet, but it's expected in beta later this year
AMD's announcement doesn't go into detail about the Modo integration, beyond the screenshot above, which shows Radeon ProRender integrated into a Modo viewport.
However, AMD has posted more details about rendering workflow in the upcoming Cinema 4D R19, which gives a reasonable idea of what can be achieved.
The integration supports all of C4D's default materials, lights and cameras "completely, without … additional tags", but also introduces a new PBR material and PBR light object designed with ProRender in mind.
According to AMD's blog post, Foundry expects the Modo integration "to go into beta later this year and be available to all current Modo maintenance and subscription customers".
Baikal: a standalone open-source version of Radeon ProRender with a restricted feature set
In addition, AMD has released Baikal, an open-source renderer based on an implementation of the Radeon ProRender API.
Initially intended as a demo of AMD's Radeon Rays intersection engine, it evolved into a full standalone renderer aimed at "graphics researchers, educational institutions and open-source enthusiasts in general".
AMD describes the project as being at an "early stage of development", so it lacks a number of key features available in the Radeon ProRender plugins.
Notably, only "basic BRDF [materials] and blends" are supported – no procedurals or arithmetic nodes – and there is no support for displacement, volumetrics, multiple UVs or post effects.
The source code is available to download from AMD's GitHub repo, and supports Windows, Linux and macOS, but there don't seem to be any downloadable binaries, so you'll need to compile it yourself.

Read AMD's blog post announcing Radeon ProRender for Modo and the open-source Baikal renderer