Thursday, November 17th, 2022

Posted by Jim Thacker
Sneak peek: ZBrush 2023
A recording of Day 3 of ZBrush Summit 2022. The section on upcoming features in ZBrush, including updates to ZRemesher and masking, and integration of the Redshift renderer, starts around 07:28:30.

Originally posted on 17 November 2022. Maxon has now released ZBrush 2023.
Maxon has unveiled some of the new features in development for ZBrush, its industry-standard digital sculpting software, at its ZBrush Summit 2022 user event.
The firm showed a beta build of ZBrush 2023 featuring updates to ZBrush's masking system and ZRemesher retopology toolset, and a separate build of the software integrating the Redshift renderer.
Maxon hasn't confirmed whether all of the new features will be part of the public release for ZBrush 2023, or when the next release will be, but hinted that it might be in the New Year.
The first major new features in ZBrush not to be available free to existing perpetual licence holders
The new features are the first major changes to the software to have been shown publicly since the release of ZBrush 2022 last year: an unusually long time by ZBrush standards.
However, there has been plenty going on behind the scenes, with Maxon only completing its acquisition of the assets of Pixologic, ZBrush's original developer, in January.
They will also be the first new features that many users have had to pay for, Maxon having announced that ZBrush 2022.0.6, the current release, will be the final free update for perpetual licence holders.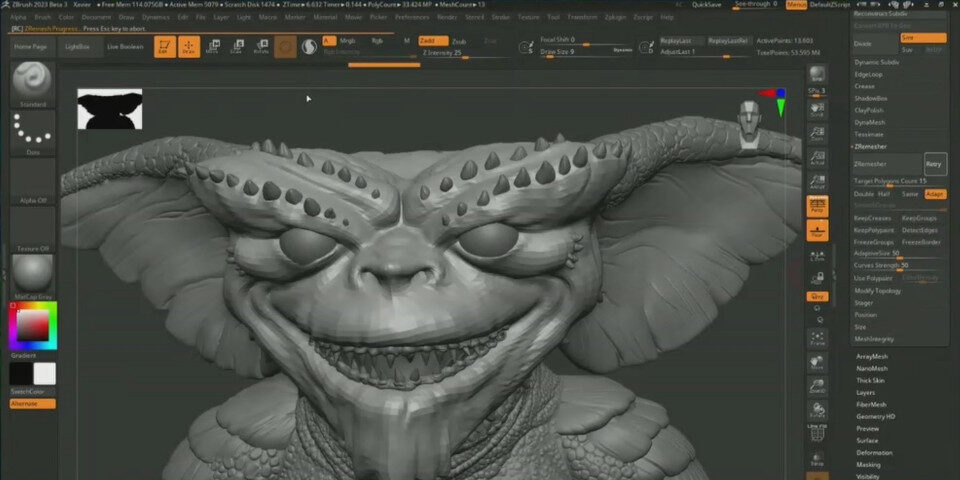 ZBrush 2023: faster, more controllable remeshing with ZRemesher
Maxon showed two separate builds of ZBrush during the ZBrush Summit livestream, the first being Beta 3 of ZBrush 2023, which featured an overhaul of ZRemesher, ZBrush's retopology toolset.
The update adds a new caching system, with ZBrush generating a cache the first time a user remeshes a model, which should reduce the time needed for any subsequent remeshing operations.
In addition, users get a new Retry button in the interface, which makes it possible to repeat a remeshing operation on the original, unremeshed geometry, but using new remeshing settings.
That should speed up the process of refining a sculpt, removing the need to undo and redo to test changes.
In addition, ZRemesher now preserved vertex colour data from Polypaint, ZBrush's 3D painting toolset, making it possible to begin painting earlier during the sculpting process.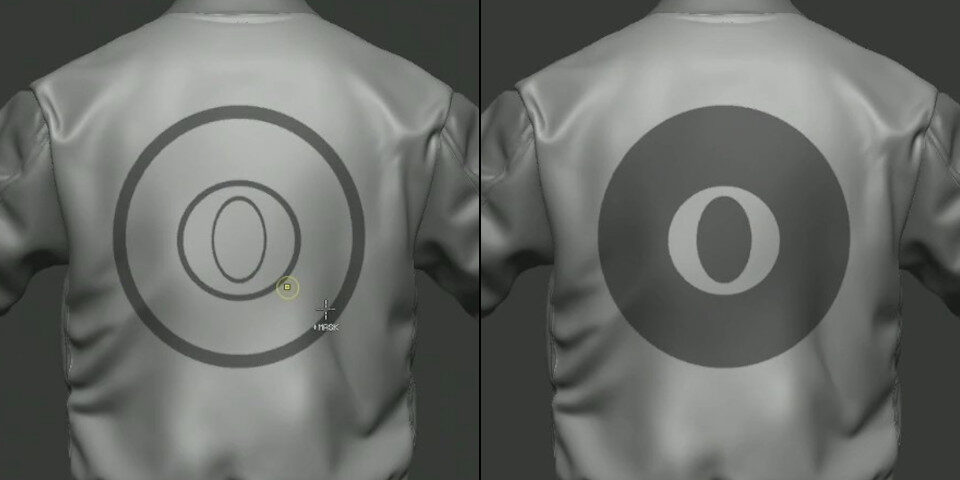 ZBrush 2023: new smart masking options
Another key change shown using the ZBrush 2023 beta was a new smart masking system.
The demo showed a new Mask Region section of the Masking sub-palette, including an Auto Region button, which automatically fills contiguous regions of an object's surface between existing masks.
In the image above, you can see how it fills the inner oval and the region between the outer two circles.
Users can control the infilling process when working with complex masks by painting rough guide strokes onto the surface of the sculpt to identify which gaps in the existing mask ZBrush should fill.

Integrated version of the Redshift renderer shown in a separate beta build
The second half of the demo showed a separate beta build of the software, and showed Redshift, Maxon's GPU-accelerated production renderer, integrated inside ZBrush.
KeyShot for ZBrush, the low-cost edition of KeyShot that acted as ZBrush's de facto production renderer, was discontinued earlier this year, with Maxon hinting that it was working on a Redshift integration in its place.
Incorporating Redshift into ZBrush should significantly improve the visual quality of renders that can be generated natively within the software, which are currently limited to Best Preview Renders (BPR).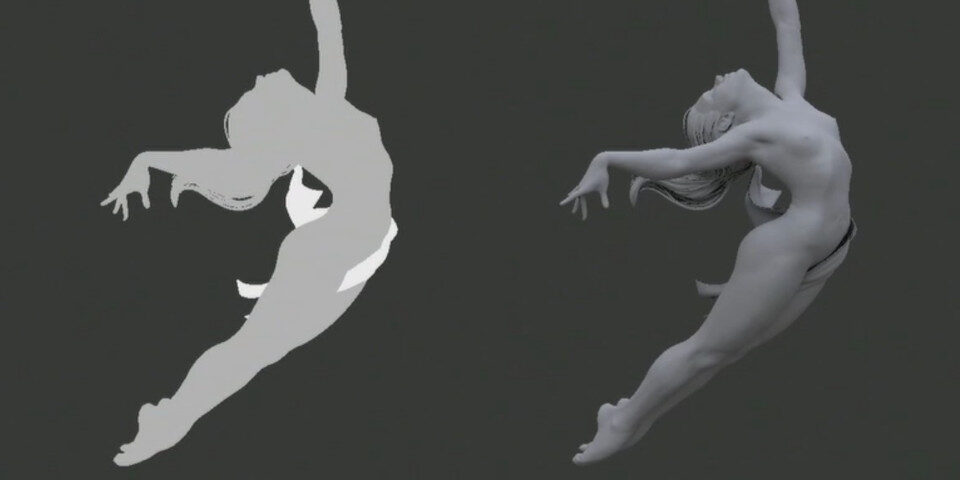 Plays nicely with existing ZBrush materials and rendering features
The integration supports Polypaint data, and any of ZBrush's standard or MatCap materials.
In addition, it adds new Redshift materials that can be dragged and dropped onto models within ZBrush, with users controlling their parameters via sliders inside the ZBrush interface.
There are controls for roughness and metalness for PBR workflows, reflections and refractions, emission strength for emissive materials, and subsurface scattering for translucent materials, including flesh.
Users also get a shadow catcher option, making it possible to turn any surface in a scene into a shadow catcher, helping to integrate a rendered 3D model with its environment.
As well as adjusting Redshift render properties directly, users can combine Redshift renders with existing BPR filters, making it possible to adjust hue, saturation and blur as a post process.
It is also possible to bake a Redshift render to Polypaint, baking the lighting on the surface of a model to vertex colour data, as shown in the image above.
Fast, high-quality integrated rendering, although only on CPU by default
The integrated version of Redshift inside ZBrush supports both interactive and bucket rendering, with render data being cached the first time a user renders a scene, speeding up subsequent test renders.
In the demo in the livestream, new renders took only a couple of seconds to complete, on both character sculpts and hard-surface models.
A new Render Recall option makes it possible to revert to the material and camera settings for any previous render within a work session, which should further speed up look development workflow.
Redshift renders can be performed on either CPU or GPU – although, as with the version of Redshift integrated into Cinema 4D, Maxon's 3D software, you only get CPU support by default.
To generate Redshift renders on the GPU from inside ZBrush, users will need a separate subscription: either for Redshift itself, which currently costs $45/month or $264/year, or to the entire Maxon One product range.
Release dates, system requirements and pricing
Maxon hasn't confirmed whether all of the new features shown at ZBrush Summit will form part of the public release of ZBrush 2023, or when the public release will be.
At the end of the ZBrush Summit livestream, the new features were described as "the start of a lot of things that are forthcoming, possibly into the new year".
The current public release of ZBrush, ZBrush 2022.0.6, is available for 64-bit Windows 10+ and macOS 10.14+. New perpetual licences cost $895; subscriptions cost $39/month or $359/year.

Read more about ZBrush on the product website
(No information about the upcoming features at time of posting)