Pixologic has released ZBrush 2022, the latest version of the industry-standard digital sculpting software, including a new bevel plugin and bas relief system, and a major extension of the stroke interpolation system.
Other changes include new Knife and Scribe brushes, support for two alphas and textures on brushes, better handling of surface noise, and Photoshop-style options for automatically aligning SubTools.
The features were previewed at ZBrush Summit 2021 last month, and officially unveiled in a livestream yesterday, the recording of which is embedded above.
As is standard with Pixologic, the update is free to all registered users of the software.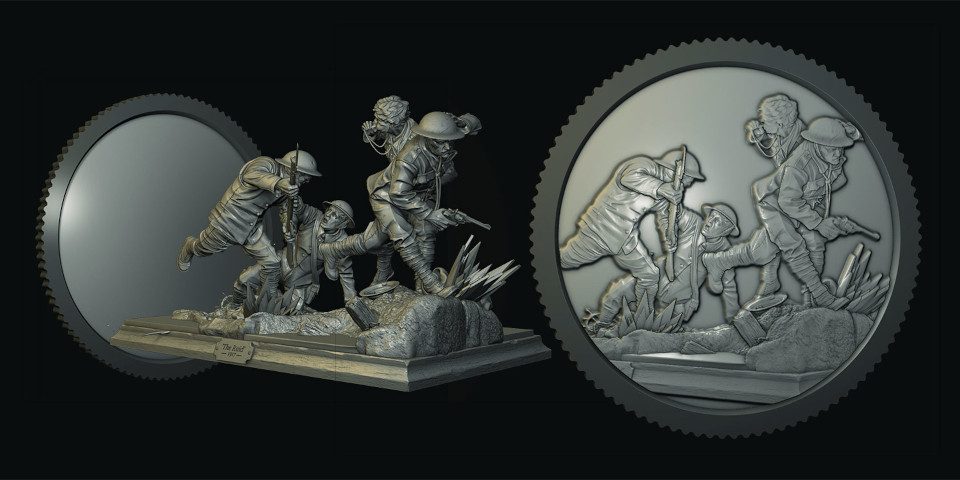 New Bas Relief system automatically generates embossed surfaces from 3D models
Major new features in ZBrush 2022 include the new Bas Relief system for creating embossed surfaces.
It works by projecting an existing 3D model – it works with both individual SubTools, and models consisting of multiple SubTools – onto the surface that is to be embossed.
Rotating the model relative to the surface changes the angle at which it is projected onto the surface.
The result can be adjusted by setting the number of times the projection algorithm runs, and by using Relief Contrast and Blur Radius settings to enhance details or smooth edges in the embossed surface.
The same functionality is available in the Alpha palette, making it possible to convert a model into a bas relief alpha that can be applied to a surface via a DragRect stroke.
The control options are similar, with the bonus that you can also convert the vertex colours of the model – that is, Polypaint data – to a texture, making it possible to create coloured bas reliefs.
As well as its obvious benefits when sculpting coins or collectible objects medallions, the bas relief toolset can be used to add surface detail to props and environment objects like wall panels or armour.

GPU-accelerated BevelPro plugin generates bevels on meshes of any resolution and topology
Another major feature in ZBrush 2022 is the new BevelPro plugin, which provides an alternative way to create beveled edges on models to ZModeler's edge bevel action.
Unlike the existing edge bevel, BevelPro doesn't require a low-poly mesh or a specific topology to generate good results: in its live demos, Pixologic showed it in action with meshes with around 500,000 polygons.
It is also designed to work on as wide a range of source geometry as possible, with options – Polish By Edges and Fix Edges – to remove artefacts that can occur when beveling meshes created using ZBrush's DynaMesh system or Live Boolean mode.
The plugin works by generating bevels along the borders between Polygroups: a Polygroup Angle slider makes it possible to skip Polygroups that sit on flat surfaces.
Users can preview the results inside the plugin before applying them to a mesh, with the preview updating in real time as control parameters are adjusted.
BevelPro is GPU-accelerated, although it doesn't require a particularly powerful card: Pixologic says that it should even run on notebooks.
It is also hardware-agnostic, with GPU acceleration implemented on Windows via the Vulkan open standard, and an macOS via Apple's native Metal API.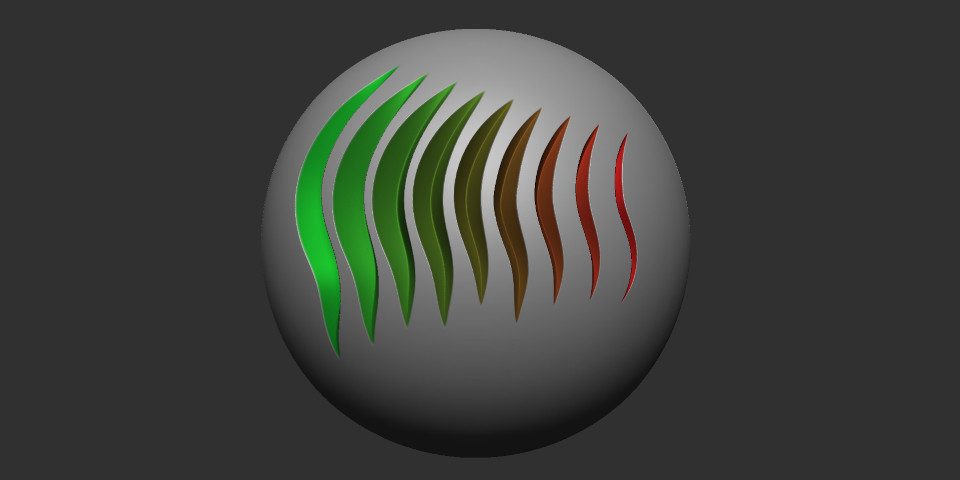 Interpolation now works with stroke width and colour – and even entire SubTools
ZBrush 2022 also extends the Stroke Interpolate system introduced in ZBrush 2021.7, which creates regularly spaced arrays of brush strokes in between two source strokes.
In the initial implementation, it was only possible to interpolate the overall shape of the stroke, but Pixologic has now added support for Brush Size, Z Intensity and RGB Intensity.
The changes make it possible to generate arrays of strokes that change gradually in width, depth and colour.
It is also now possible to use interpolation within ZBrush's new Stager system, making it possible to create arrays of entire SubTools as well as brush strokes, as shown in this video from ZBrush Summit.

Sculpting: support for two alphas and textures on each brush
Improvements to sculpting workflow include support for two separate alphas and textures on each brush.
When working with a graphics tablet, ZBrush will then transition between the two according to pen pressure, making it possible to change the form or colour of a stroke by pressing down harder.
In its live demos, Pixologic showed the system in use to switch between rake and flatten modes on a custom brush, making it possible to add or remove detail from a mesh without having to switch brushes.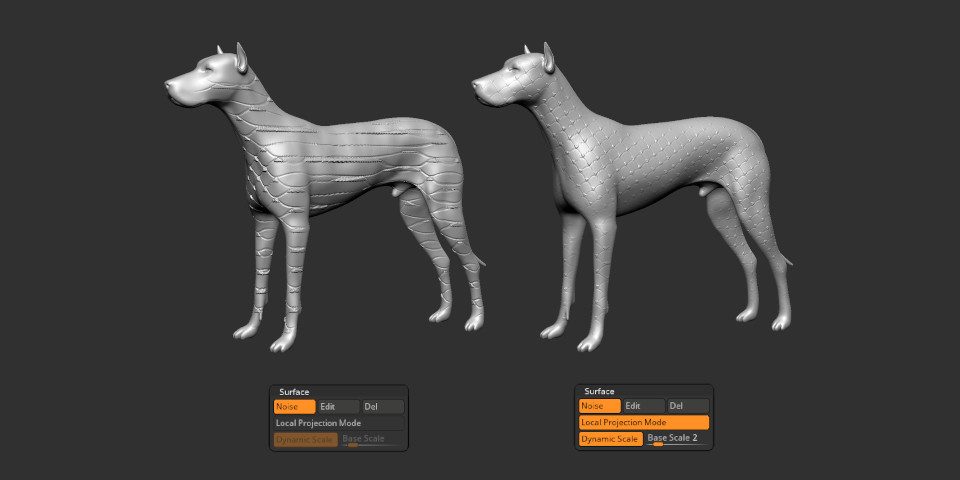 Sculpting: better projection and scaling of brush noise
Handling of brush noise has also been reworked, with a new Local Projection Mode applying noise according to a mesh's surface normals rather than the camera view.
The change means that noise is applied evenly to all sides of a mesh when not working face-on.
In addition, a new Dynamic Scale setting scales brush noise according to Draw Size, meaning that the details it creates enlarge automatically as brush size increases.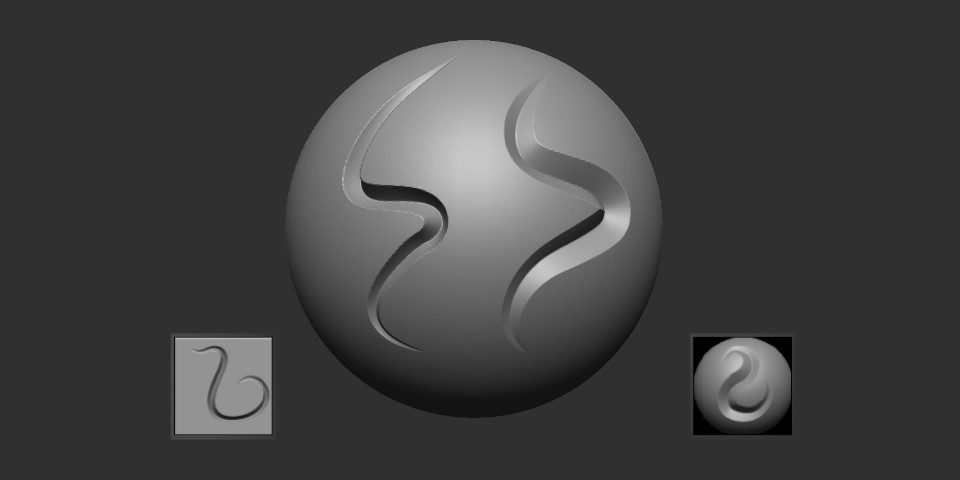 Sculpting: new Knife and Scribe brushes
The update also adds four new brushes: KnifeCircle, KnifeRectangle, ScribeChisel and ScribeStandard.
The first two complement the original Knife brushes introduced in ZBrush 2021.7, and make it possible to cut geometric shapes out of geometry as well as freehand curves.
ScribeChisel and ScribeStandard, shown in the image above, carve into the surface of a mesh, with falloff controls to adjust the intensity of the stroke along its length.
They use the DragDot stroke, with a new SubSteps slider controlling the repetition of the brush alpha along the stroke, making it possible to create dotted and dashed effects.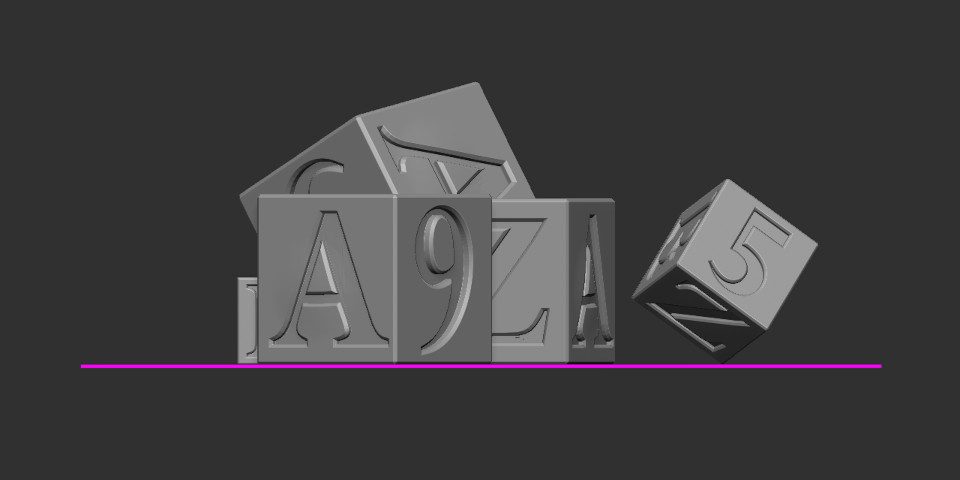 New Photoshop-style Align and Distribute system keeps SubTools tidy
ZBrush 2022 also introduces new options for automatically aligning and distributing SubTools,
They work in a similar way to their 2D equivalents in apps like Photoshop, automatically aligning SubTools along their centres or their left, right, top or bottom edges; or spacing them out evenly.
The process is camera-dependent, so rotating the camera relative to the SubTools changes the result.
Suggested use cases range from automatically distributing details like rivets across the surface of armour to arranging entire objects when laying out scenes within ZBrush.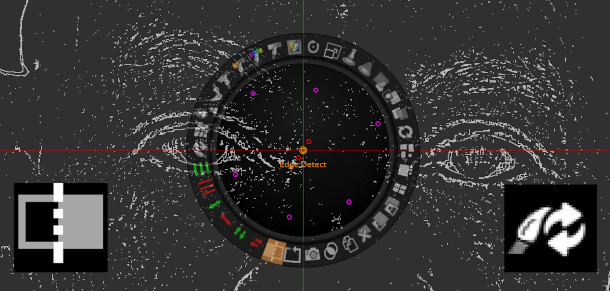 The new Edge Detect option in SpotLight helps align images with the mesh they are being projected onto.

Five hidden gems
In addition, ZBrush 2022 has a number of cool smaller features not described in detail in the overview on Pixologic's website. Below, we've picked out five of our own personal highlights.
1. Visibility sets for SubTools
It is now possible to store up to eight visibility states for SubTools, making it possible to set up different permutations of the SubTools that ZBrush displays in the viewport, and toggle between them.
The change makes it easier to switch between sculpting a SubTool in isolation and working in context, as shown in this video from ZBrush Summit. It also works with folder visibility.
2. Control deformation with the Gizmo
ZBrush's Gizmo can now be used to deform meshes, making it a quick and dirty way to pose a sculpt.
The falloff of the deformation is controlled by Focal Shift, with more extreme values resulting in deformations that affect more of the mesh when moving, rotating or scaling.
3. Sample DynaMesh resolution from a mesh
When working with ZBrush's DynaMesh system, it is now possible to set DynaMesh Resolution by sampling it directly from a mesh on the ZBrush canvas.
Suggested use cases include when working with character or creature sculpts created using Sculptris Pro, where mesh density is higher in key parts of the sculpt like the face and hands
4. Import Camera images with FBX files
When importing FBX files created via photogrammetry, ZBrush can now import the source images used to generate the mesh as well as the mesh itself.
You can switch between the original camera views from ZBrush's new Draw > Cameras subpalette, and adjust the opacity with which the photos are projected onto the geometry.
5. Edge Detect in Spotlight
Another useful feature when applying photographic textures to 3D scans is Edge Detect in SpotLight.
When activated, it displays only the outlines of the image being projected – the effect is similar to the Find Edges filter in Photoshop – making it possible to align it with the mesh without having to adjust its opacity.

Direct integration with the XMD ToolBox brush organisation plugin
Outside the core software, ZBrush also now integrates natively with XMD ToolBox, making it possible to launch the interface for the popular brush organisation plugin inside ZBrush.
It provides ways to search and organise assets not available in ZBrush itself, and access to a range of extra brushes, alphas, textures and materials, both free and commercial.
Although XMD ToolBox was previously a paid add-on, version 3.0, released alongside ZBrush 2022, is free to anyone registering for a free Basic subscription on the XMD Source website.
Pricing and system requirements
ZBrush 2022 is available for 64-bit Windows Vista+ and macOS 10.14+. New perpetual licences cost $895; subscriptions cost $39.95/month or $179.95 for six months. The release is free to registered users.

Read an overview of the new features in ZBrush on Pixologic's website
Read a full list of new features in ZBrush 2022 in the online release notes
Tags: 3D gizmo, 3D modeling, 3D scan, 3D texturing, Align and Distribute, align SubTools, alpha, bas relief, bevel, bevel high-poly mesh, BevelPro, brush noise, brush noise scale, brush organization, chamfer, character design, convert model to bas relief alpha, creature design, deformation, digital sculpting, distribute SubTools, DragDot, DragRect, DynaMesh, DynaMesh resolution, Edge Detect, FBX, free plugin, free update, game art, game development, GPU-accelerated, hard surface modeling, interpolate stroke color, interpolate SubTools, Knife brush, KnifeCircle, KnifeRectangle, Local Projection Mode, Metal, new features, Photogrammetry, Pixologic, plugin, polygroup, PolyPaint, pressure sensitivity, price, project 3D model onto surface, RGB Intensity, Scribe brush, ScribeChisel, ScribeStandard, Sculptris Pro, spotlight, Stroke Interpolate, stroke interpolation, SubTool, system requirements, two alphas per brush, two textures per brush, vfx, visibility sets, visual effects, Vulkan, XMD Toolbox, XMD Toolbox 3.0, Z Intensity, ZBrush, ZBrush 2021.7, ZBrush 2022, ZBrush Summit 2021, ZModeler