Originally posted on 27 August 2021. Scroll down for news of the 2021.7.1 update.
Pixologic has released ZBrush 2021.7, its latest free update to the digital sculpting software, adding new sets of Knife and Bevel brushes for hard surface modelling.
The release also adds Stager, a new system for storing and toggling between base and posed states for SubTools, and Stroke Interpolate, for creating arrays of brush strokes.
The new features were announced during a livestream, the recording of which can be seen here.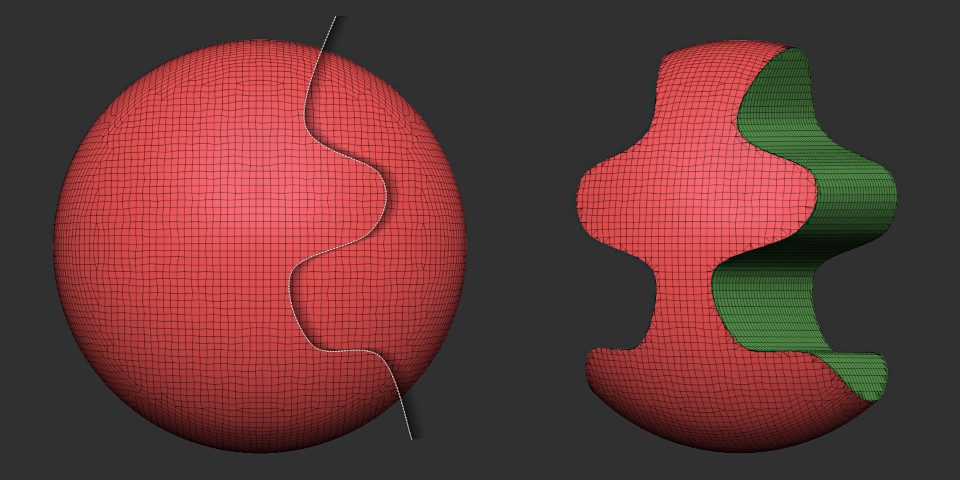 Hard surface modelling: new Knife and Bevel brushes
For hard surface work, ZBrush 2021.7 introduces two new Knife brushes for cutting geometry along a path.
KnifeCurve cuts along the line of a Curve stroke; KnifeLasso along the line of a Lasso selection.
Unlike the existing Trim Curve brushes, they can be used with symmetry; and the new topology created by the cut consists largely of quads, barring the odd triangle where the new surface meets the old one.
The update also adds two new Bevel brushes, BevelArc and BevelFlat, for bevelling the edges of a model via a brush-based workflow, rather than by entering parameter values for the Bevel deformer.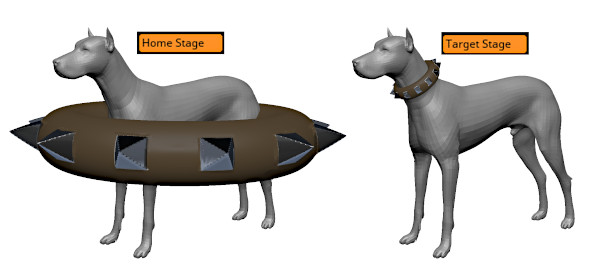 Stager: store a home state for a Sub-tool and toggle back and forth while sculpting
Another new feature in ZBrush 2021.7 is Stager, which makes it possible to store the position, rotation and scale of any Sub-Tool in two states: the Home stage and the Target stage.
Users can then toggle back and forth between the two stages at will.
In the example above, the Home stage stores the dog collar in a position ready to be sculpted, while the Target stage stores it posed around the dog's neck, making it possible to continue sculpting it with symmetry while checking the result in context.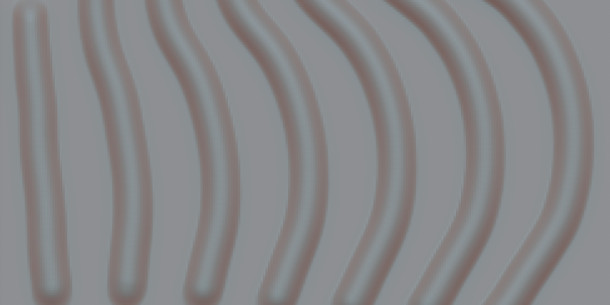 Digital sculpting: Stroke Interpolate creates arrays of strokes between two source strokes
New sculpting features include Stroke Interpolate, which creates an array of regularly spaced brush strokes between two source strokes.
The shape of the generated strokes morphs smoothly between the two source strokes, making it possible to create patterns of detail that conform to the contours of a surface.
Workflow improvements: new options for adjusting your last stroke and painting on posed meshes
Workflow improvements include Adjust Last, which makes it possible to adjust the intensity of the previous sculpting, painting or masking stroke without having to undo and redo it.
Adjust Last can also be used on entire series of strokes between points chosen in the Undo History.
In addition, new Mask Changed Points and Groups Changed Points convert the previous stroke into a mask or a new Polygroup.
Other changes include the option to switch between palettes using the mouse scroll wheel, and to mirror Polypaint strokes or painted masks on topologically symmmetrical meshes even after they have been posed.

Updated 28 September 2021: Pixologic has released ZBrush 2021.7.1, a further free update to the software, making the new BevelArc brush compatible with Sculpris Pro, ZBrush's dynamic tessellation system.
Other changes include the option to use the arrow keys to control IMM brushes and the Timeline, and the Save As operation now remembers the original location of a file, regardless of any other file being imported.
Pricing and system requirements
ZBrush 2021.7.1 is available for 64-bit Windows Vista+ and Mac OS X 10.11+. New perpetual licences cost $895; subscriptions cost $39.95/month or $179.95 for six months. The update is free to existing users.

Read a full list of new features in ZBrush 2021.7.1 on Pixologic's website
Read a full list of new features in ZBrush 2021.7 on Pixologic's website
Tags: 3D modeling, Adjust Last, Bevel brushes, BevelArc, BevelFlat, brush-based bevel, character modeling, creature design, digital sculpting, free update, game art, game development, Groups Changed Points, hard surface modeling, IMM brush, Knife brushes, KnifeCurve, KnifeLasso, Lasso, mask, Mask Changed Points, mask stroke, new features, paint posed model, paint stroke, Pixologic, polygroup, PolyPaint, price, Save As, sculpting stroke, Sculptris Pro, Stager, stroke array, Stroke Interpolate, symmetry, system requirements, timeline, vfx, ZBrush, ZBrush 2021, ZBrush 2021.7, ZBrush 2021.7.1