A recording of the livestream from ZBrush Summit 2020. Coverage of ZBrush 2021.5 starts at 01:13:25.

Originally posted on 11 November 2020. Scroll down for news of the commercial release.
Pixologic has unveiled ZBrush 2021.5, the next major update to the digital sculpting software.
The release, which is due to ship later this year, adds a set of new tools designed for applying and editing surface detail, including a neat new Thick Skin system for modifying only the surface layer of a sculpt.
It will also feature updates to ZModeler, ZBrush's hard-surface modelling toolset; to Sculptris Pro, its dynamic tessellation system; and to object manipulation and to rendering.
The new features were unveiled during ZBrush Summit 2020, Pixologic's online user event.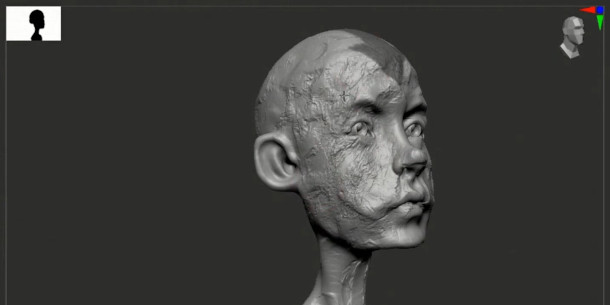 New Thick Skin system confines sculpted details to the surface layer of a model
Several of the new features in ZBrush 2021.5 are intended to replicate the kinds of surface effects possible in traditional sculpting, mimicking the behaviour of real clay.
One of the most significant is Thick Skin, a new system that mimics softening the surface layer of oil-based clay with a heat source in order to slide details around.
When it is activated, sculpting is confined to the surface layer of a model and does not affect its underlying geometry, making it possible to add surface detail, then wipe it away again at will.
In the livestream, Pixologic described it as a quick way to achieve claylike surface textures, like those shown in the image above: "that fine art stuff", as in-house artist Joseph Drust put it.
Other use cases including adding wrinkles to characters, scales to creatures, or folds to sculpted cloth.
While users can already detail sculpts non-destructively using Morph Targets to store the base state of the model, Thick Skin looks more intuitive – and more versatile.
It works with any standard ZBrush brush, alpha and stroke type, and the Thickness of the sculpting layer is customisable, which determines how far strokes dig into or build up the surface.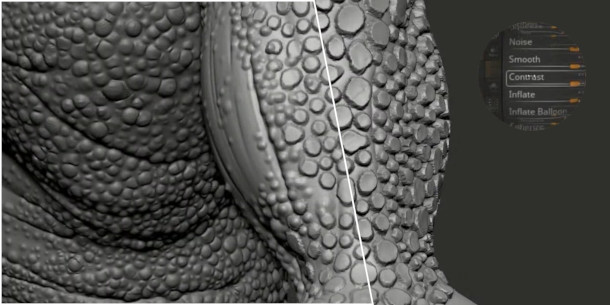 Control surface details with the new contrast system, SmoothAlt brush or updates to Sculptris Pro
ZBrush 2021.5 also introduces several other features that play nicely with Thick Skin, including a new contrast system that determines the amplitude of surface details.
It can be adjusted globally, via a new Contrast slider in the Deformation sub-palette; or the effect can be painted on by hand using new ContrastTarget and ContrastDelta brushes.
Pixologic describes it as particularly useful when 3D printing models, making it possible to accentuate surface details so they print more clearly without the risk of altering the underlying sculpt.
The update also introduces a new SmoothAlt brush, which smoothes the surface of a model more gently than the standard Smooth brush, generating fewer visible artefacts.
The functionality was already available in the software by using the alternative smoothing algorithm and adjusting the PolishStrength setting, but has now been exposed as a brush in its own right.
In addition, Sculptris Pro, ZBrush's dynamic tessellation system, now works with hidden geometry.
That makes it possible for users to isolate part of a model, use Sculptris Pro to add surface details to it, then reveal the entire model again: something described by Pixologic as a "mini HD" mode.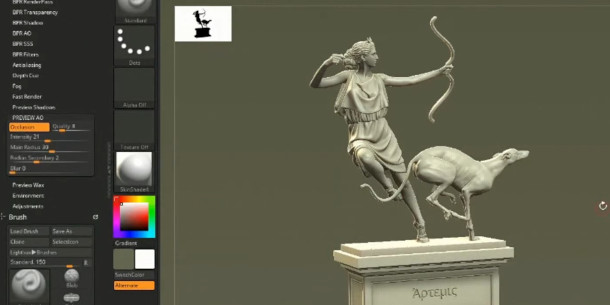 Highlight surface details with the new Preview AO display option
Rendering changes include a new Preview AO option in Preview Render, ZBrush's real-time render mode.
When activated, ambient occlusion is applied to the preview, darkening recessed areas of a sculpt, accentuating surface details and making it easier to judge their effect accurately.
The Best Preview Render (BPR) system also gets a new filter, Radial Overlay, which mimics the effect of a shaft of light illuminating a model.
Users can control the direction and radius of the 'shaft', but since the effect is applied as a post-process, it has little impact on render time, and can be stacked with other filters.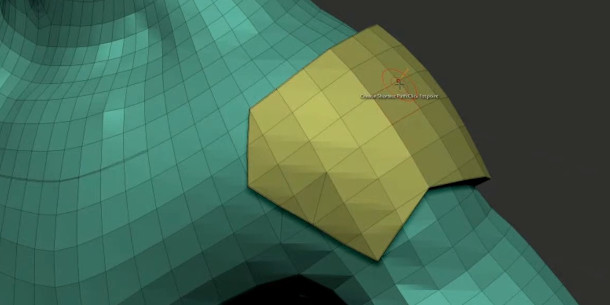 ZModeler: new Slice Mesh option cuts edges directly into a polygon mesh
ZModeler, ZBrush's hard-surface modelling system, also gets an update in ZBrush 2021.5, including a new Slice Mesh option, which cuts edges directly into a polygonal mesh.
As well as controlling the topology of a mesh, it can be used to generate surface forms, by slicing a closed region on the mesh surface, converting it to a PolyGroup, then extruding or recessing the entire group.
By default, ZBrush automatically creates creases along new edges created in this way.
The software also gets a new Crease Shortest Path option, which creates a crease along the shortest set of existing edges linking two points on a mesh's surface.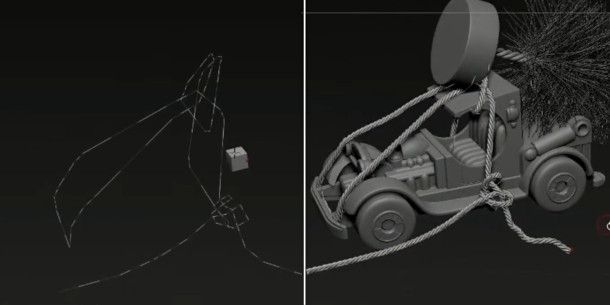 New integrated Curves Helper tool converts ZSphere chains to guide curves
In addition, the external Curves Helper script, which enabled users to convert chains of ZSpheres to curves, has been integrated into ZBrush's Stroke palette.
It provides an intuitive way to model objects like ropes and chains by roughing out the form with ZSpheres, converting them to curves, then using an InsertMultiMesh brush to create final geometry along the curves.
The underlying curve remains active, making it easier to adjust the rope or chain after creation.
New Axis Rotation options for navigating models, plus support for 3Dconnexion input devices
Other changes include a new Axis Rotation sub-palette to the Transform settings, which enables users to limit the rotation of a model to a single axis, or to rotate in fixed increments.
When used to lock rotation to the Y-axis, it can be used to create an effect like a traditional turntable display.
In addition, addressing a long-standing user request, ZBrush now has native support for 3Dconnexion's control devices like the SpaceMouse.
The hardware is designed to be used in conjunction with a conventional mouse or stylus, making it possible to zoom and rotate a model with one hand and sculpt on it with the other.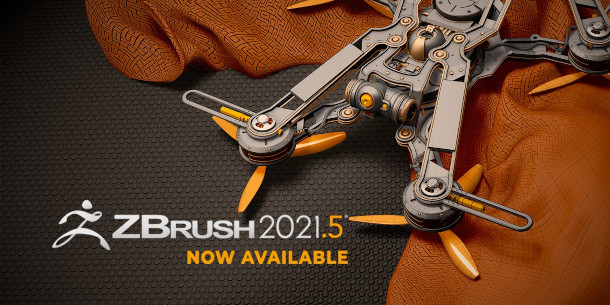 Updated 9 December 2020: ZBrush 2021.5 is now shipping.
As well as the features covered above, several of the existing brushes have been updated to take advantage of the Thick Skin system, and four new projects added to form the basis for sculpts.
Pricing and system requirements
ZBrush 2021.5 is available for 64-bit Windows Vista+ and Mac OS X 10.10+. New perpetual licences cost $895; subscriptions cost $39.95/month or $179.95 for six months. The update is free to existing users.

Read an overview of the features in ZBrush 2021.5 on Pixologic's website
Tags: 3D control device, 3D printing, 3Dconnexion, ambient occlusion, Axis Rotation, Best Preview Render, BPR, BPR Filter, cloth, cloth sculpting, Collada, contrast, ContrastDelta, ContrastTarget, Crease Shortest Path, Curves Helper, detailing, digital sculpting, dynamic tessellation, free upgrade, hard surface modeling, new features, Pixologic, PolishStrength, polygroup, Preview AO, preview render, price, Radial Overlay, release date, Sculptris Pro, Slice Mesh, Smooth Brush, SmoothAlt, SpaceMouse, surface detail, system requirements, ZBrush, ZBrush 2021.5, ZBrush Summit 2020, ZModeler