A recording of Pixologic's livestream announcing ZBrush 2021.6, the new version of the digital sculpting app. Below, we've picked out its key features, with timecodes for the corresponding points in the video.

Originally posted on 25 February 2021. Scroll down for news of the final release.
Pixologic has unveiled ZBrush 2021.6, the next update to the digital sculpting software.
The release adds neat new curve-based sculpting tools, including Curve Alpha and Snake Curve brushes, and a versatile Mesh from Mask system for – among other things – roughing out the form of a sculpt.
The update, which is due to ship on 2 March 2021, will once again be free to existing users.
Repel from surface and bend settings help control the form of curves (00:16:00)
Despite the version number, ZBrush 2021.6 is a sizeable update, although unlike other recent releases, one that focuses more on the software's classic freehand sculpting capabilities than its other toolsets.
In particular, the update adds new tools for sculpting with curves, including new options to control the form of curves created with brushes like CurveTubes.
The Stroke > Curves palette gets new Repel Strength and Repel Falloff sliders, which control how geometry sculpted with curve brushes connects to a base mesh.
It's also now possible to control where a curve bends as you drag it around to edit it – or to fix parts to prevent them from bending – via new Bend Start and Bend End sliders.
In addition, new Closest Z and Farthest Z options in the Picker > Depth palette control how a curve follows the form of a base mesh, helping to limit interpenetration with its surface.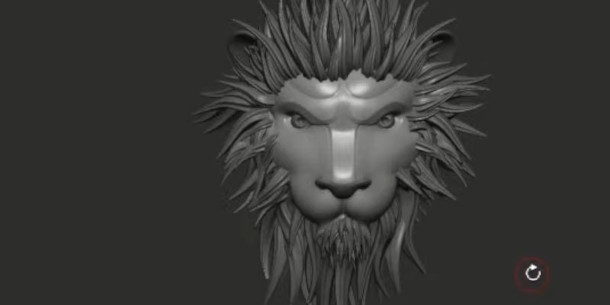 New Curve Alpha and Extrude Profile brushes (00:25:50)
More eye-catchingly, ZBrush 2021.6 introduces a new set of Curve Alpha brushes.
They use standard ZBrush Alphas to control the cross-sectional profile of the geometry they generate along a curve, creating complex forms rather than simple tubes.
This has obvious potential for sculpting hair: in the video at the top of the story, you can see a dot pattern alpha generating bundles of hair strands, and geometric alphas generating more stylised effects.
It's also possible to use geometry as a 3D alpha, via the new Extrude Profile brushes.
This can generate some quite complex forms: at 00:37:00, you can see planar mesh with a hole in the centre being used to create geometry strands with hollow cores.
It's even possible to change the cross-section of the geometry after the curve has been created, by switching from one 3D alpha to another on the fly.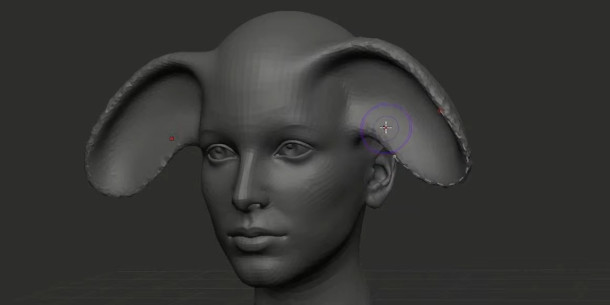 New Snake Curve brushes for quick organic shape exploration (01:16:50)
ZBrush 2021.6 also introduces another new set of curve-based sculpting brushes: the Snake Curve brushes: effectively, the popular SnakeHook brush applied to a profile curve.
Artists can draw a guide curve in the viewport, then draw out the surface of a mesh along that curve.
They look to be great tools for shape exploration during creature design, roughing out the shapes of limbs and heads with quick sweeping strokes.
During the demo, Pixologic 3D product development manager Paul Gaboury even nicknames them the 'Bob Ross brushes' for their ability to suggest detailed organic forms with little effort.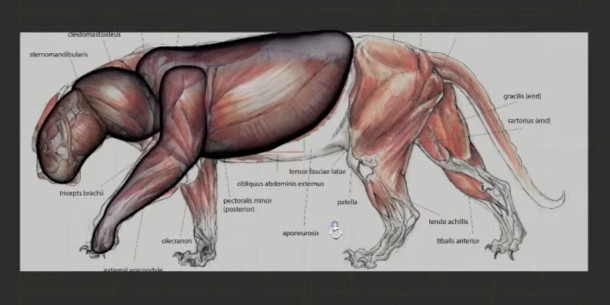 Mesh from Mask system converts 2D masks to 3D geometry (00:40:00)
Another major new toolset in ZBrush 2021.6 is Mesh from Mask and Mesh from Alpha.
As the name suggests, it converts 2D alphas – including masks drawn freehand in the viewport – into 3D geometry: a similar workflow to that used by sketch-based modelling tools like PolyBrush and Curvy 3D.
That provides a quick way to rough out the form of a creature or character: at 00:47:00 in the video, you can see Pixologic artist Paul Gaboury tracing over a diagram of the musculature of the tiger.
The new MeshBalloon brush then converts the freehand 2D masks into 3D forms that approximate the form of the tiger's body, as shown in the screenshot above.
As well as organic forms, the Mesh from Alpha brushes can be used to create clothing or armour parts.
The new MeshProject brush creates geometry from the surface of an underlying SubTool, making it possible to draw a mask and convert it into a mesh that follows the shape of that surface.
At 00:52:20 in the video, you can see the workflow in action to create a detailed mech suit.
Lasso tools now use Lazy Mouse for automatic smoothing
Another related change – and a neat little Easter Egg in the 2021.6 release – is that the Lasso tools now use Lazy Mouse, ZBrush's system for automatically smoothing out jitters in freehand strokes.
A smoothness slider controls the form of the result, or you can hold [Shift] to draw straight line segments.
It works with any lasso selection, not just the Lasso stroke type.

Ray traced ambient occlusion generates quick surface masks for materials (00:07:00)
Finally, ZBrush 2021.6 builds on the Preview AO option in Preview Render, ZBrush's real-time render mode, that was added in ZBrush 2021.5 last year.
When activated, ambient occlusion is applied to the preview, darkening recessed areas of a sculpt, accentuating surface details and making it easier to judge their effect accurately.
To that ZBrush 2021.6 adds the option to calculate ray traced ambient occlusion, along with parameters to control ray tracing quality, including Samples, Resolution and smoothing.
Suggested use cases include generating masks for materials: for example, to quickly add convincing-looking dirt to the recessed areas on the surface of a sculpt.

Updated 2 March 2021: ZBrush 2021.6 is now shipping.
As well as the features listed above, the update adds the option to import and export data in the Pixar's USD (Universal Scene Description) format, now increasingly important in VFX pipelines.
Pricing and system requirements
ZBrush 2021.6 is available for 64-bit Windows Vista+ and Mac OS X 10.11+. New perpetual licences cost $895; subscriptions cost $39.95/month or $179.95 for six months. The update is free to existing users.

Read an overview of the new features in ZBrush on Pixologic's website
Tags: 2D alpha, 3D alpha, 3D modeling, AO, Bend End, Bend Start, BPR, character modeling, Closest Z, creature design, Curve Alpha, curve brushes, CurveAlpha, CurveTubes, Curvy 3D, digital sculpting, dirt material, dirt texture, Extrude Profile, ExtrudeProfile, Farthest Z, game art, game development, Lasso, Lazy Mouse, LazyMouse, mask, Mesh from Alpha, Mesh from Mask, MeshBalloon, MeshProject, new features, Pixologic, PolyBrush, Preview AO, preview render, price, ray traced ambient occlusion, ray tracing, release date, Repel Falloff, repel from surface, Repel Strength, sculpt hair, sketch-based modeling, Snake Curve, system requirements, Universal Scene Description, USD, vfx, ZBrush, ZBrush 2021, ZBrush 2021.5, ZBrush 2021.6