Monday, July 4th, 2022

Posted by Jim Thacker
J Cube releases Multiverse | USD 7.1 for Maya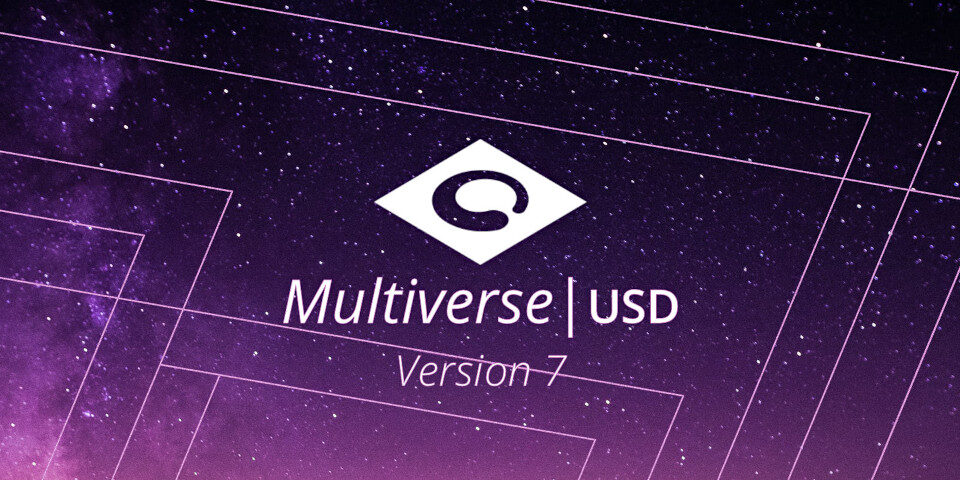 Originally posted on 6 April 2022. Scroll down for news of the Multiverse | USD 7.1 update.
Japanese developer J Cube has unveiled Multiverse | USD 7.0, the latest version of its USD-based Maya layout, look development, lighting and rendering toolset for manipulating large VFX and animation data sets.
The update introduces a hybrid 'HydraVP2' viewport, which combines the capabilities of Maya's native Viewport 2.0 viewport and the USD Hydra render framework.
Other changes include the option to write Maya shading networks inside USD files, and Python 3 support.
A USD-based solution for authoring and visualising large scenes for VFX and feature animation
Multiverse is designed to author, play back and modify complex scenes, such as those generated during shot layout and look development in visual effects or feature animation.
Although the software also reads Alembic files, since version 6.0, workflow has primarily been based around USD, now widely supported in DCC applications.
As well as reading and writing USD files, users can author USD hierarchies directly within Maya via the 'MEOW' user interface, pitched as "pleasing, logical and extremely fast".
Data can be exchanged with other applications that support USD, including Blender, Clarisse iFX, Houdini, Katana, Nuke and the Unreal Engine and Unity game engines.
Workflow supports key third-party renderers, with Multiverse streaming scene data to Arnold, Redshift, RenderMan, V-Ray or 3Delight NSI, the latter shipped with Katana.
Although Maya itself supports USD via the Maya for USD plugin, included in the installer since Maya 2022, the plugin still has a number of known limitations.
Multiverse | USD also natively supports Metal, Apple's graphics API, to improve performance on macOS.
New HydraVP2 viewports provides benefits of both Viewport 2.0 and Hydra
The headline change in Multiverse | USD 7.0 is the new HydraVP2 viewport, which combines the capabilities of Maya's native Viewport 2.0 and the USD Hydra render framework.
J-Cube describes it as a best-of-both-worlds solution, supporting the same rich shading effects as Viewport 2.0, but providing "much improved draw performance".
According to the online documentation, HydraVP2 uses Hydra for "upstream, native, direct talk with USD" and does not rely on intermediate abstraction layers or "virtual" Maya nodes.
Key benefits include support for marquee- and multi-selection of scene objects, and the ability to "independently control the draw and rate of instances" for better interactive performance with large scenes.
HydraVP2 replaces the viewport architecture used in Multiverse | USD 6.x, which was based on the default USD HdStorm renderer.
Now writes entire Maya shading networks to USD, supports Python 3
Other changes include the option to write complete Maya shading networks, including those from third-party renderers, inside USD files: a "pure USD solution [that] does not rely on MaterialX".
Embedded shading networks can be exchanged with other DCC applications – it requires some custom work on the part of pipeline TDs to reconstruct them in the recipient app – or rendered directly in 3Delight NSI.
In addition, Multiverse's MEOW panel is now persistent, even when selecting other Maya nodes, and there are a number of smaller feature improvements and bugfixes.
The software is also now built for both Python 2 and Python 3, Autodesk having introduced support for version 3 of the programming language in Maya 2022, and switched to it exclusively in Maya 2023.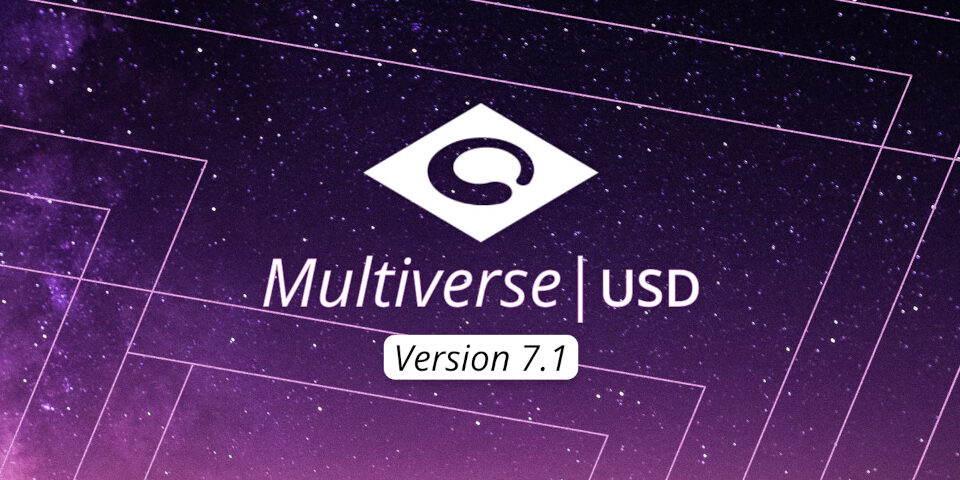 Updated 1 July 2022: J Cube has released Multiverse | USD 7.1.
Despite the small change in version number, it's quite a major update, with new features including the option to import entire USD hierarchies via the software's live connection system.
The live connection is designed for round-tripping data between Maya and external USD files, rather than reading data by streaming it into Maya, but was previously limited to individual USD primitives.
In its updated form, it also supports both static and animated USD instances and point instancers.
Other changes include support for USDZ assets in the HydraVP2 viewport and USDZ rendering in 3Delight, and integration with open-source VFX and animation pipelines OpenPype and Prism.
Pricing and availability
Multiverse | USD 7.1 is available for Maya 2018+ on Windows, Linux and macOS. It is compatible with Arnold 5.2+, 3Delight 2.0+, Redshift 3.0.67+, RenderMan 23.2+ and V-Ray 4.3+.
The software is rental-only, with prices for Pro subscriptions starting at $270/year for interactive floating licences and $90/year for render licences, down slightly since the 6.x releases.
J Cube also provides free licences for indie artists, which require a permanent internet connection, and only have community support via Slack, but permit use in commercial projects.

Read more about Multiverse | USD on J Cube's website
Read a full list of new features in Multiverse | USD 7.1 in the online release notes