Act-3D has released Lumion 2023.0, the next major version of its real-time visualisation software.
The compatibility-breaking update adds a new hybrid render engine with support for real-time ray tracing on both AMD and Nvidia GPUs, and extends the software's PBR material system.
Act-3D has also now discontinued perpetual licences of the software, making Lumion subscription-only.
An easy-to-use near-real-time tool for architectural visualisation work
First released in 2010, and now one of the three most widely used renderers for arch viz work, Lumion creates renders of architectural scenes in near real time.
The software is intended to provide architects with little background in visualisation with a more straightforward way to create realistic stills and animations than conventional DCC apps.
Users import building models from other software, either in standard 3D file formats like FBX, OBJ, SKP and MAX, or via built-in live links to major CAD applications.
They can then edit materials inside Lumion, set up lighting and weather effects, dress the scene using readymade models from the accompanying asset library, and create simple camera animations.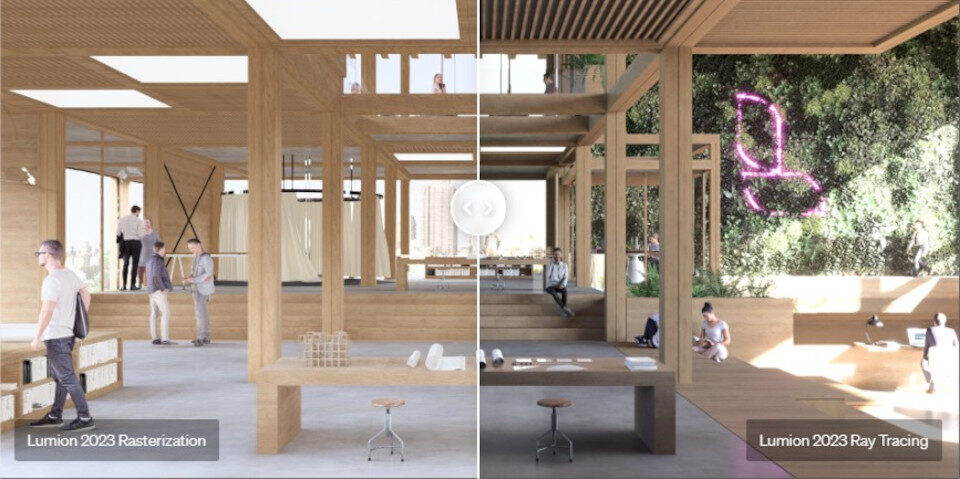 Lumion 2023.0: GPU-agnostic real-time tracing
The key change in Lumion 2023.0 is support for ray tracing: its new hybrid rasterisation/ray tracing render engine makes it possible to create physically accurate lighting, shadows and reflections in renders.
The change will bring Lumion into line with other real-time visualisation tools like Enscape and Twinmotion, which already support hardware-accelerated ray tracing.
According to Act-3D's blog post, "while ray tracing technology has been around for a while, the decision to bring it into Lumion now is guided by [principles of] accessibility, stability, speed and experience".
The new Ray Tracing Effect is supported on both AMD and Nvidia GPUs – although not currently Intel Arc – with renders falling back to rasterisation on older cards.
Presumably as a result of the new render engine, the update is compatibility-breaking, so projects and models saved in Lumion 2023.0 can not be opened in older versions of the software.
Materials: new PBR map types, subsurface scattering and clearcoat materials
Lumion 2023.0 also extends the software's PBR material system to support eight map types, now including metalness, emissive strength, reflectivity and opacity.
Both editions of the software get support for subsurface scattering, for recreating translucent materials like marble; and the Pro edition gets a clearcoat material layer for recreating car paint and varnished surfaces.
In addition, there is a new unified Glass material, replacing the old Standard Glass and PureGlass materials, although it isn't yet compatible with ray tracing, and currently requires a workaround.
Improvements to scene layout, camera paths, rendering and post effects
Other key changes include a new transform gizmo for positioning objects more precisely in the viewport; and improvements to the Auto Snap feature, for snapping objects to other surfaces.
It is also now possible to import camera paths in FBX or Collada format, or to choose from four new preset camera behaviours, including standard dolly and pan/tilt shots, and options to orbit or follow an object.
Users can also choose from a range of preset aspect ratios when rendering still images or video.
The Color Correction Effect gets a histogram display to adjust the colour balance of renders more precisely.
Updates to the asset library and LiveSync plugins
Outside the core application, the accompanying asset library gets 227 new assets, including 98 materials.
The software's LiveSync plugins, which live link Lumion to CAD apps including SketchUp and Rhino – can now replace materials with native Lumion equivalents based on file names.
Now available subscription-only
The release also marks a change in version numbering – under Act-3D's old system, it would have been Lumion 13.0 – and of licensing, with the software now available subscription-only.
One- and three-year subscriptions were introduced in parallel with perpetual licences last year, and sales of new perpetual licences were then stopped in February 2023.
Perpetual licences used to cost €1,499 for the standard edition and €2,999 for the Pro edition: roughly equivalent to the cost of two years' subscription under the new pricing model.
Release date, pricing and system requirements
Lumion 2023.0 is available rental-only for Windows 10+. One-year subscriptions have a MSRP of €749/year for the standard edition; €1,499/year for the Pro edition. See a comparison table for the two editions.

Read an overview of the new features in Lumion 2023.0 on Act-3D's blog
Read a full list of new features in Lumion 2023.0 in the online release notes
Tags: Act-3D, AMD, arch viz, architectural visualization, aspect ratio, auto-snap, backwards compatibility, CAD, camera path, clear coat material, Collada, color correction, compatibility breaking, emissive strength, Enscape, FBX, glass material, GPU agnostic, GPU ray tracing, hardware-accelerated ray tracing, histogram, hybrid rendering, licensing change, live link. plugin, LiveSync, Lumion, Lumion 13.0, Lumion 2023, Lumion 2023.0, metalness, new features, NVIDIA, opacity, PBR, perpetual licence discontinued, plugin, price, price change, rasterization, ray tracing, real time, reflectivity, release date, rendering, Rhino, SketchUp, snapping, SSS, subscription, subsription only, subsurface scattering, system requirements, transform gizmo, Twinmotion, visualization