Thursday, February 3rd, 2022

Posted by Jim Thacker
New CGarchitect rendering survey shows trends in arch viz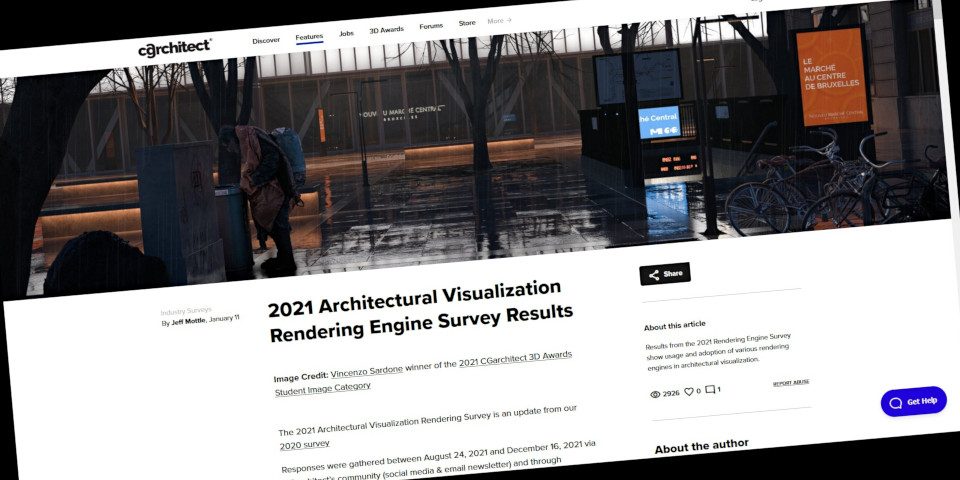 CGarchitect has revealed the results of its 2021 Architectural Visualization Rendering Engine Survey, which measures the usage of over 50 render engines within the arch viz market.
The results show that Chaos Group's V-Ray and Corona Renderer are still the most widely used renderers in architectural production, albeit with slightly reduced combined market share than the previous year's survey.
The biggest gains in usage are for Epic Games' Unreal Engine and Twinmotion, and new GPU renderer D5 Render, which makes its debut in the top ten along with Blender's Eevee render engine.
Successive CGarchitect rendering surveys reveal trends in arch viz since 2016
This is the fifth time that CGarchitect has run a rendering survey since 2016, with this year's results based on 2,526 responses.
The data was collected between 14 August and 16 December 2021, both from CGarchitect's own users and via "Facebook groups and software forums associated with real-time engines and architectural visualization".
Since the main question in the survey – 'Which rendering engine(s) do you currently use in production?' – is always the same, it's possible to compare results between years to identify trends in renderer usage.
Below, we've collated the figures for the 10 most popular renderers from this year's survey, and calculated the changes in usage across the four previous surveys.
Renderer usage in production among respondents to CGarchitect surveys




(Figures in brackets show change since previous survey)

2021
2020
2019
2018
V-Ray
60.6% (-4.3%)
64.9%
(+6.0%)
58.9%
(-4.5%)
63.4%
(+1.0%)
Corona Renderer
37.2% (+2.2%)
35.0%
(+3.7%)
31.3%
(+0.9%)
30.4%
(+11.3%)
Lumion
24.9% (-0.2%)
25.1%
(-3.7%)
28.8%
(+15.1%)
13.7%
(+4.8%)
Unreal Engine
22.5% (+2.9%)
19.6%
(+3.2%)
16.4%
(-4.5%)
20.9%
(+10.4%)
Twinmotion
19.2% (+5.1%)
14.1%
(+9.9%)
4.2%
(+0.9%)
3.3%
(+1.5%)
Enscape
12.4% (+2.2%)
10.2%
(+5.3%)
4.9%
(+1.3%)
3.6%
(+2.8%)
3ds Max Interactive
7.4% (-1.0%)
8.4%
(-2.9%)
11.3%
(+2.6%)
8.7%
(+8.0%)
Cycles
6.9% (+1.0%)
5.9%
(+2.0%)
3.9%
(-0.2%)
4.1%
(+0.6%)
D5 Render
5.0% (+3.5%)
1.5% (+1.5%)
0.0%
(+0.0%)
0.0% (+0.0%)
Eevee
4.9% (+0.4%)
4.5% (+4.5%)
0.0%
(+0.0%)
0.0% (+0.0%)

Results shown in red indicate a fall in usage greater than the combined margin of error for the two surveys; results in green indicate a rise in usage greater than the combined margin of error.
All of the other results fall within the combined margin of error for the two surveys: that is, the difference may be the result of sampling error rather than any change in the market.
Note also that the intervals between each survey aren't identical: the previous surveys were published in September 2020, March 2019, February 2018 and November 2016, respectively.
CPU renderers remain staples of production: V-Ray and Corona Renderer top the 2021 poll
Despite the growth in GPU rendering in recent years, CPU render engines remain staples of production.
Chaos's V-Ray takes the top spot in this year's poll, as it has done in the past four surveys, followed by its sibling application Corona Renderer, whose market share continues to rise.
Unreal Engine, Twinmotion, Enscape, D5 Render and Eevee all rise
However, Act-3D's Lumion retains third place in this year's list, albeit with slightly reduced market share, while further down the top ten, other GPU-based renderers are gaining ground.
Unreal Engine reaches a new peak, with 22.5% of respondents using it in production, while Twinmotion, also now owned by Epic Games has also continued to gain market share.
Use of Enscape, Enscape's self-titled real-time renderer – due to become part of the same product family as V-Ray and Corona – also continues to rise steadily.
In addition, two new real-time renderers make their debuts in the top ten.
Eevee, Blender's real-time render engine, climbs a place from 2020, but has been leapfrogged by Dimension 5's D5 Render: a striking performance, considering that it was only released publicly in 2020
Changes outside the top ten: Cinema 4D down slightly, Chaos Vantage up
As a consequence, two renderers drop out of the top ten this year: Cinema 4D and V-Ray GPU.
Cinema 4D falls a single place from tenth to eleventh, its lowest placing since the survey began, although it was still used in production by 5.5% of respondents.
In the case of V-Ray GPU, CGarchitect hasn't posted separate figures for it and the main V-Ray production renderer, as it did in previous surveys, leaving only a usage figure of V-Ray as a whole.
Chaos Vantage, Chaos's new real-time renderer, climbs ten places in the list, now sitting just outside the top ten with 4.0% market share.

Read the full results of CGarchitect's 2021 Architectural Visualization Rendering Engine Survey