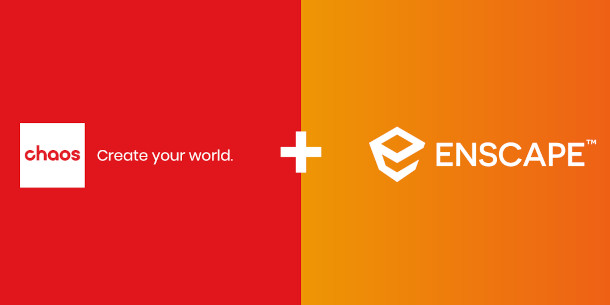 Chaos and Enscape are to merge. Financial terms of the deal, which is still subject to regulatory approval, and which is expected to close later this quarter, were not disclosed.
The merger, announced by private equity firms TA Associates and LEA Partners, will unite the developers of three of the key applications in the architectural visualisation market: V-Ray, Corona and Enscape.
All of the individual products from both companies will remain available under their current names, while the merged company itself will retain the Chaos brand name.
Uniting three of the six most widely used renderers in the architectural visualisation market
If completed, the deal will unite the developers of three of the key renderers within the architectural visualisation market: V-Ray, Corona and Enscape.
Of the three applications, V-Ray is the longest established, having been originally released by Chaos – then named Chaos Group – in 1997.
It quickly attracted a strong following within the emerging visualisation market, later also becoming one of the first renderers to make ray tracing a practical possibility for visual effects work.
Initially a 3ds Max renderer, it is now available for over 10 different host applications in the architectual and entertainment markets, including Cinema 4D, Maya, Revit, SketchUp and Unreal Engine.
In 2017, Chaos Group acquired Render Legion, developer of 3ds Max and Cinema 4D renderer Corona, then quickly becoming V-Ray's chief rival in the arch viz market.
If completed, the merger will unite those applications with another up-and-coming rival: Enscape's self-titled real-time renderer for CAD and architectural design software.
All placed in the top 10 in the most recent CGarchitect survey of the rendering applications most widely used in the architectural visualisation market, with V-Ray and Corona first and second, and Enscape sixth.
In the case of Enscape, that market position was achieved in just three years of what Enscape describes as "extraordinary growth", the company itself having only been founded in 2017.
All products will remain available under their existing brand names
The two sets of products are also broadly complementary, with V-Ray and Corona being primarily final-quality offline renderers, and Enscape a real-time interactive renderer.
While Chaos does develop real-time renderers, in the form of V-Ray's V-Ray GPU render engine and new application Chaos Vantage, the only host apps they have in common with Enscape are Revit and SketchUp.
That's much less overlap than between V-Ray and Corona themselves, which Chaos has developed successfully in parallel, retaining the staff of both original development companies.
According to the news release announcing the merger of Chaos and Enscape, "all products from both company portfolios will continue to operate and be available under their respective names".
Merged company to retain Chaos's name but Enscape's headquarters
The deal was announced by private equity firms TA Associates and LEA Partners, the latter Enscape's majority shareholder.
Chaos – which was still wholly privately owned by its founders prior to the merger – and Enscape will retain a "significant minority stake" in the merged company.
The new company will be headquartered in Karlsruhe, Germany, Enscape's existing headquarters; but will retain both firms' existing offices in Sofia, Prague, Tokyo, Seoul, Los Angeles and New York.
Peter Mitev, CEO and co-founder of Chaos, and Christian Lang, CEO of Enscape, will share the title of co-CEO, with former Vectorworks CEO Sean Flaherty becoming chairman of the board of directors.
Chaos co-founder Vladimir Koylazov – for many, the public face of the company – will also "continue to drive R&D and innovation in a leadership position".
The official announcement notes, broadly, that the merged company "aims to develop and strengthen its product portfolio to create a comprehensive end-to-end visualization ecosystem".
We've contacted Chaos and Enscape to ask for more details, and whether any changes to staffing or product pricing are anticipated, and will update if we hear back.
Updated 19 January 2022: Chaos has posted a list of FAQs about the merger on its blog which confirms that no changes to product pricing are planned.
Chaos and Enscape told us that they will retain all of the employees from both companies, and plan to hire more staff across all of the merged company's offices.
Read the official announcment of the merger on Enscape's website
Tags: 3ds max, arch viz, architectural visualization, CGarchitect, Chaos, Chaos Group, Chaos Vantage, Cinema 4D, completion date, Corona, Corona Renderer, deal, Enscape, FAQs, final-quality rendering, interactive rendering, LEA Partners, market share, Maya, merger, most popular architectural renderer, Peter Mitev, private equity, ray tracing, real time, Render Legion, renderer usage, rendering, Revit, Rhino. Unreal Engine, Sean Flaherty, SketchUp, TA Associates, Unreal Engine, V-Ray GPU, Vantage, venture capital, vfx, visual effects, Vladimir Koylazov