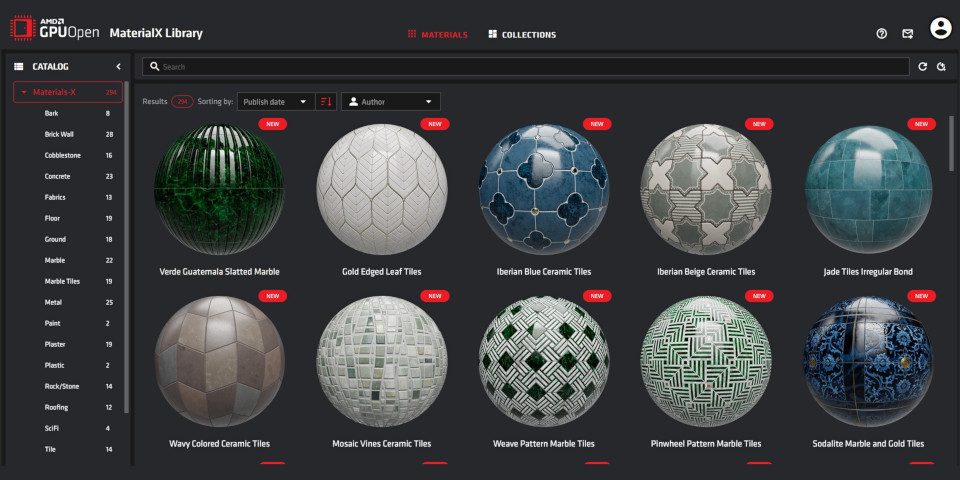 AMD has launched the GPU Open MaterialX library, a new online library of free downloadable materials in the open-source MaterialX format.
The firm describes the library as providing "ready-to-use PBR materials aimed at jumpstarting the creative process and rendering workflow for 3D graphic designers and game developers".
The library currently contains over 290 materials, including architectural staples like tiles, flooring, brick walls, plaster and concrete, plus metal, wood and fabrics.
An open standard for rich material data supported in a growing range of renderers and DCC apps
Originally developed by Lucasfilm and Industrial Light & Magic and open-sourced in 2017, MaterialX is intended to provide an open standard for exchanging rich material and look dev data between DCC apps.
The format is starting to see widespread support in the VFX industry, with Arnold, Clarisse iFX's new Angie renderer and Houdini's Karma Renderer all now supporting it natively.
Substance 3D Designer, Adobe's material authoring software, supports it via a free plugin.
In addition, Lucasfilm and Pixar are working toward full compatibility between MaterialX and USD, Pixar's open scene description format, now supported in a wide range of DCC software.
However, as you might expect, the deepest integration with the new library is available in AMD's own tools.
Users of the firm's free USD Hydra plugin for Blender and Radeon ProRender for Maya – USD, its experimental new Maya counterpart, can download materials directly inside the software.
Over 290 PBR materials spanning a range of common real-world types
At the time of writing, the library contains 294 materials, grouped into common real-world categories including concrete, marble, metal, paint, plaster, rock and wood.
There are also a range of ground, flooring and wall materials, including brick, tile and cobblestone.
The materials are also available in themed collections, including urban exteriors, contemporary and historic interiors, and mountain and forest environments.
Materials are provided in MaterialX .mtlx format, at a range of resolutions: the default resolution for AMD's own materials is 8k and 16-bits-per-channel for texture maps.
Users can also upload their own materials to the library, so the range of assets available should grow in time.
System requirements and licence conditions
The free materials in AMD's GPU Open MaterialX library can be used in any application capable of loading .mtlx files. AMD's own assets are provided under an Apache 2.0 licence.
User-contributed materials must be made available via either a CC0 or MIT licence. You don't need to register on the site to download files.
Download free PBR materials from AMD's GPUOpen MaterialX library
Tags: 8K texture, AMD, Angie, Apache 2.0, arch viz, architectural material, architectural visualization, Arnold, Blender, brick, CC0, Clarisse iFX, commercial use, concrete, download, fabric, flooring, free, game art, game development, GPUOpen MaterialX Library, Houdini, Karma, look dev, look development, marble, material, Maya, Metal, MIT, mtlx, open source, paint, PBR, plaster, Radeon ProRender, Radeon ProRender for Maya - USD, renderer, rendering, rock, Substance 3D Designer, Substance Designer, texture map, tiles, USD Hydra plugin for Blender, vfx, visual effects, wood