Adobe has released Substance Designer 2020.1, the next update to its material-authoring software.
New features in the release – also referred to online as Substance Designer 10.1 – include a keyboard shortcut editor, a new FXAA filter, a rewritten PBR render node, and support for ICC colour profiles.
Support for the MaterialX material format, originally announced last year, is provided in beta via a free plugin.
The new features were originally previewed yesterday in a livestream on Adobe's 3D and augmented reality tools, the recording of which is embedded above.
New shortcut editor creates custome keyboard shortcuts for any Substance Designer node
Key features in the release include a new shortcut editor, enabling users to assign their own custom keyboard shortcuts to operations within Substance Designer.
The editor – a "longstanding" user request – can create shortcuts for users' custom Substance Designer nodes as well as for native features of the software.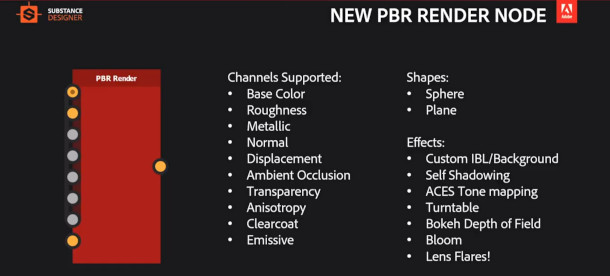 New PBR render node and FXAA node
The update also rewrites the software's PBR render node, first introduced in Substance Designer 2018.3.
The new version, described as "a full path tracer inside a Substance node", generates accurate ray traced previews of materials, complete with effects including IBL backgrounds, depth of field and bloom.
It is even possible to render turnable previews of materials applied to spheres, cylinders or planes.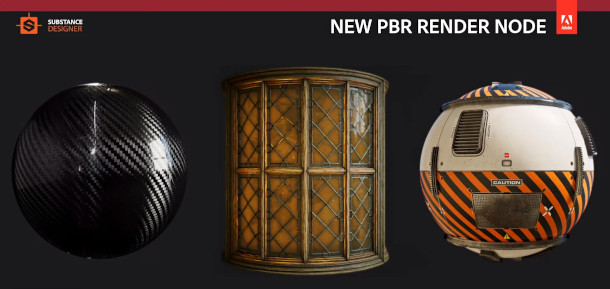 The demo image above shows screen captures of rendered previews from Substance Designer's 2D view, demonstrating new visual properties including anisotropy, clear-coat materials and emissivity.
Other changes include a new FXAA (Fast Approximate Anti-Aliasing) filter, which should help to smooth jagged edges on texture maps and masks.
Updates to map baking and colour management
Changes to existing toolsets include improved sampling when baking ambient occlusion, thickness and bent normal maps, which should result in less noise when using low sample counts.
In addition, the OpenColorIO-based colour management system added in Substance Designer 2019.3 now supports ICC profiles, thanks to the integration of Adobe Color Engine.
The change should make it possible to match colours between Substance Designer and other software that supports ICC profiles, like Photoshop.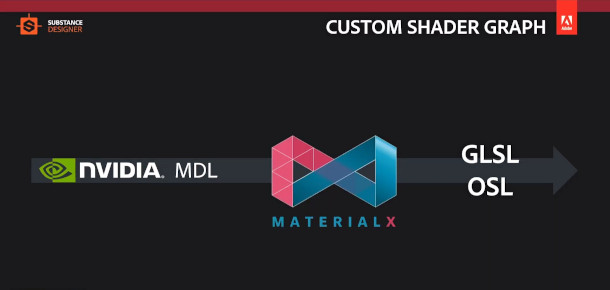 MaterialX support provided via a separate free plugin
One feature not present in the core software is the new MaterialX shader graph, originally previewed with Substance Designer 2019.2, which has now been released as a free plugin on Substance Share.
The system makes it possible to author materials in MaterialX format, Industrial Light & Magic's open standard for exchanging rich material data.
Although MaterialX itself is not currently supported in many other DCC applications, materials authored using the graph can be exported using other common material standards, including MDL, OSL and GLSL.
As a result, they should display consistently in Substance Designer's OpenGL viewport, as GLSL shaders, and in renders created with the integrated Iray render engine, as MDL materials.
They should also look consistent when exported to other software, including 3ds Max and Maya, both via OSL; and sister application Substance Painter, for which export is a built-in single-click operation.
Pricing and availability
Substance Designer 2020.1 is available for Windows 8+, CentOS 7.0/Ubuntu 16.04 Linux and macOS 10.12+. The Substance Designer MaterialX plugin is a free download on Substance Share.
Subscriptions to all of Adobe's Substance tools cost $19.90/month or $219/year for artists and studios earning under $100,000/year; and $99.90/month or $990/year for other users.
Following Adobe's recent licensing changes, perpetual Indie licences are now only available via Steam, and cost $149.99.

Visit the Substance Designer product website
Read a full list of new features in Substance Designer 2020.1 in the online release notes
Tags: Adobe, Adobe Color Engine, ambient occlusion, bent normal, bloom, Bokeh, color management, custom shortcut, depth of field, download, Fast Approximate Anti-Aliasing, free, FXAA Node, GLSL, height map, IBL, ICC profile, keyboard shortcut, map baking, material authoring, MaterialX, MDL, new features, OCIO, OpenColorIO, OSL, path tracer, PBR Render node, plugin, price, Ray-Traced Preview, release date, rendered turntable, shortcut editor, Spring 2020, Substance Designer, Substance Designer 10.1, Substance Designer 2018.3, Substance Designer 2019.2, Substance Designer 2020.1, Substance Designer MaterialX plugin, Substance Painter, system requirements, texture baking, thickness map, turntable