Tuesday, December 21st, 2021

Posted by Jim Thacker
Download AMD's free USD Hydra plugin for Blender

Originally posted on 24 August 2021. Scroll down for news of the stable 1.0 release.
AMD has released its open-source USD Hydra plugin for Blender in beta.
The free add-on enables users to import USD files into Blender, to compose USD scenes, and to render them using the Universal Scene Description's Hydra render framework, including its default hdStorm renderer.
Import, compose and render USD files inside Blender
Although Blender is due to get its own USD importer in Blender 3.0, AMD's plugin is intended to provide "first-class support" for USD.
As well as importing data in USD format, the plugin enables users to compose USD scenes within Blender, and to export the assembled USD stages for use in other DCC applications.
It also makes it possible to load, edit and export materials in ILM's USD-compatible MaterialX format, also supported in Substance 3D Designer, Adobe's material-authoring app, and in Autodesk's Arnold renderer.
And, as its name suggests, the plugin enables users to render Blender scenes via USD's Hydra framework.
In the current build, the only renderers included are hdStorm, the default Hydra render delegate, and AMD's own Radeon ProRender.
Both can be used for final or viewport rendering, with Radeon ProRender using Vulkan ray tracing for interactive renders.
However, AMD says that other renderers available as Hydra delegates – including Arnold, Redshift and RenderMan – should "work easily".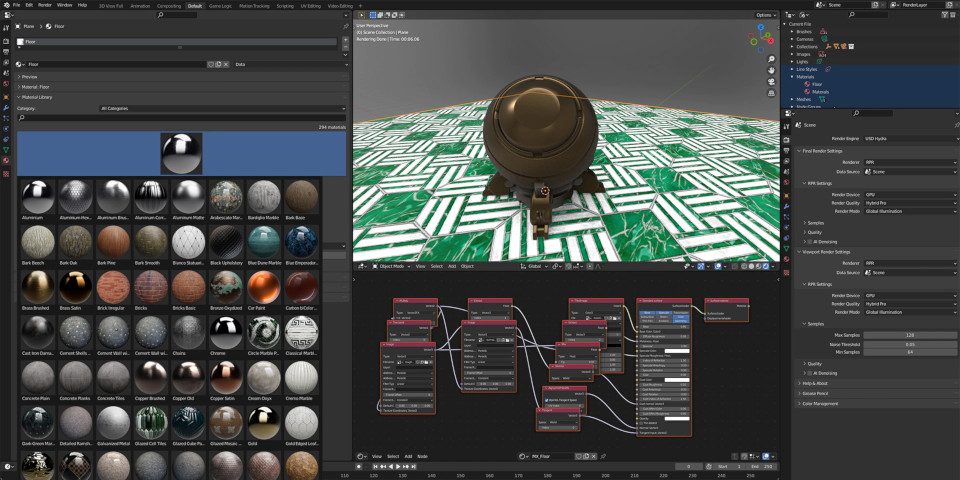 Updated 21 December 2021: AMD has released the stable 1.0 build of the USD Hydra plugin for Blender.
The new plugin supersedes AMD's 'classic' Radeon ProRender for Blender, although AMD says that the old plugin will continue to receive periodic bugfixes and updates to the latest Radeon ProRender SDK.
Since the original beta release, the USD Hydra plugin has been updated to support Blender 3.0, which has itself now shipped, and now integrates with AMD's new free online library of MaterialX materials.
In addition, AMD has released an early public beta of Radeon ProRender for Maya – USD, the Maya counterpart to the USD Hydra plugin for Blender. The initial 0.1 release only supports viewport rendering.
Licensing and system requirements
AMD's USD Hydra plugin for Blender is available free under an Apache 2.0 licence. The plugin is compatible with Blender 2.93+ running on Windows and Linux.

Read more about the USD Hydra plugin for Blender on AMD's GitHub repository