Friday, June 3rd, 2022

Posted by Jim Thacker
AMD releases USD Hydra plugin for Blender 1.1

AMD has updated its new open-source USD Hydra plugin for Blender.
The 1.1 update adds support for referencing and exporting animated USD files, and makes it possible to render in RenderMan alongside the native USD hdStorm renderer and AMD's own Radeon ProRender.
Import, compose and render USD files inside Blender
Although Blender has supported USD natively since Blender 3.0, AMD's plugin is intended to provide "first-class support" for the scene description format within the software.
First released last year, it lets users import data in USD format, compose USD scenes within Blender, and to export the assembled USD stages for use in other DCC applications.
Users can also load, edit and export materials in ILM's USD-compatible MaterialX format. The plugin is integrated natively with AMD's own free online library of MaterialX materials.
As its name suggests, the plugin also lets users render Blender scenes via USD's Hydra framework: in the initial release, via hdStorm, the default Hydra render delegate, and AMD's own Radeon ProRender.
Both are supported for viewport and final-quality rendering.
The new plugin supersedes AMD's 'classic' Radeon ProRender for Blender plugin.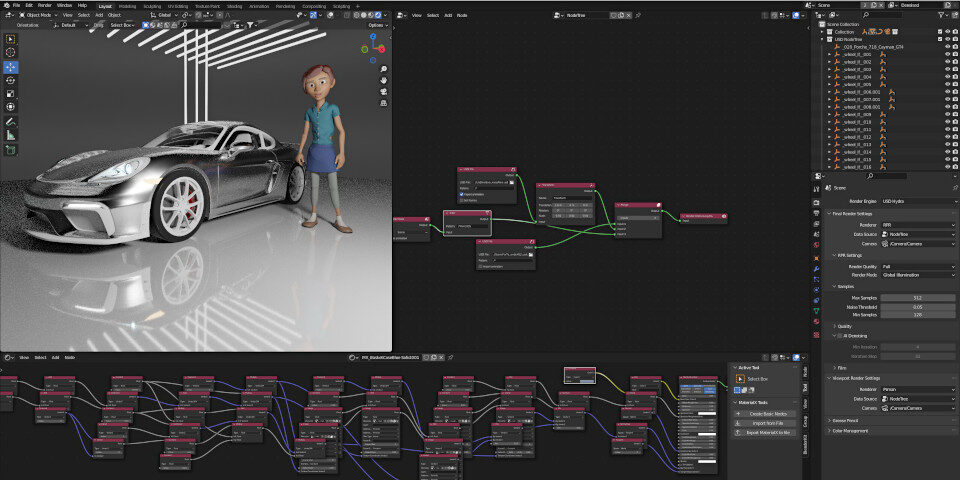 1.1 update: support for the RenderMan Hydra delegate and import/export of animated USD files
To that, the 1.1 update adds support for rendering with Pixar's RenderMan Hydra delegate.
Pixar recently released its own open-source RenderMan integration plugin for Blender, but the AMD plugin lets users switch between render delegates at will.
The update also makes it possible to reference and export animated USD files, as well as static geometry.
Licensing and system requirements
AMD's USD Hydra plugin for Blender is available free under an Apache 2.0 licence. The plugin is compatible with Blender 3.0+ running on Windows and Linux.

Read more about the USD Hydra plugin for Blender on AMD's GitHub repository