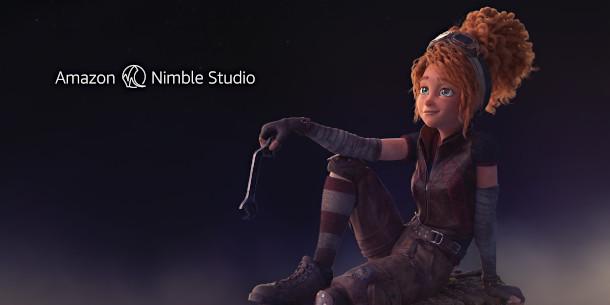 Amazon Web Services has launched Amazon Nimble Studio, a new all-in-one cloud-based production platform that enables VFX and animation firms to set up a complete studio in the cloud.
The platform provides users with access to Nvidia-based virtual workstations, shared cloud-based storage, and integrated online renderfarm management based on AWS's Thinkbox Deadline.
Nimble Studio workstation Amazon Machine Images come with Blender pre-installed, and users can connect existing floating licences of commercial DCC tools, including Adobe, Autodesk, Foundry and SideFX apps.
The system is priced on a per-use basis, with no other upfront or subscription fees, with Amazon estimating a cost of around $11,000/month for a virtual studio with 25 users.
Amazon Nimble Studio forms part of AWS for Media & Entertainment, Amazon's new inititative unifying its services for visual effects, animation and general DCC content creation work, also announced yesterday.
Can Amazon succeed where Foundry failed?
Amazon isn't the first major industry player to launch an all-in-one cloud-based production platform.
VFX tools developer Foundry had a go with Athera, its short-lived studio-in-the-cloud platform, which offered a similar mix of services, plus software rental, collaboration tools and analyics.
The service launched in 2018, but closed the following year.
However, AWS has been building up to the launch of Amazon Nimble Studio steadily, through a series of acquisitions of key technologies on which the new platform is based.
That includes renderfarm management developer Thinkbox Software, which Amazon bought in 2017 – and, most pertinently, Nimble Collective, which it acquired last year.
The firm, co-founded by former DreamWorks head of character animation Jason Schleifer, provided the blueprint for the new service in the shape of its own pipeline-in-the-cloud offering, Nimble Studio.
Equally importantly, Amazon probably has the timing right, given the recent explosion of interest in cloud-based production brought about by the need for artists to work from home during the COVID-19 pandemic.

Set up a studio in the cloud by renting virtual workstations with readymade storage and data transfer
Amazon Nimble Studio enables users to set up a cloud-based production studio via StudioBuilder, its new all-in-one deployment and management app, using a single sign-on for all the necessary AWS services.
First, users can rent virtual Windows or Linux workstations based on Amazon Elastic Compute Cloud (EC2) G4dn instances, which use Nvidia's T4 GPUs.
The virtual workstation's desktop display is streamed to an artist's local machine via AWS's NICE DCV.
A range of standard configurations are available, providing different permutations of virtual CPU and GPU counts, memory, storage and network bandwidth.
By default, storage is based on Amazon FSx, but the platform is compatible with "most [third-party] storage solutions that support the NFS/SMB protocol", including WekaIO, Qumulo and Pixit.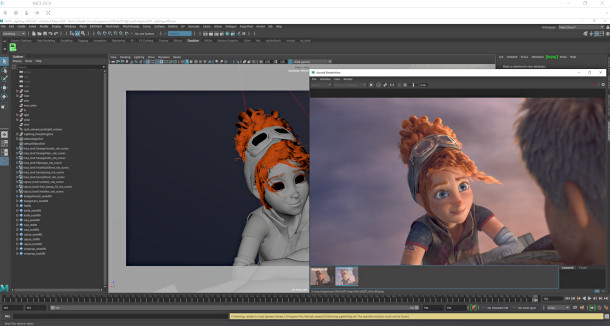 Maya – and an Arnold RenderView window – running on one of Amazon Nimble Studio's virtual workstations, with the desktop being streamed to an artist's local machine via NICE DCV.

Support for most key third-party DCC applications via a 'bring your own' policy for licences
Unlike Foundry's Athera, software rental isn't part of the service: instead, users can connect up whichever DCC applications they are currently using, providing they have floating rather than node-locked licences.
The platform supports "bring your own (BYO) licenses for … industry-standard digital content creation applications", including "most user-based credential logins from Foundry, Autodesk and Adobe".
Studios can also connect proprietary tools by creating their own Amazon Machine Images (AMIs).
It's even easier if you use Blender, which is already included in standard Nimble Studio workstation AMIs.
Integrated renderfarm management based on Deadline
For rendering, users can set up a virtual renderfarm via AWS's Render Farm Deployment Kit (RFDK).
It uses Amazon's Thinkbox Deadline renderfarm management system, which supports most key renderers, including Arnold, V-Ray, Redshift and RenderMan.
Studios can also connect existing render farms to Nimble Studio, submitting jobs via DCC application plugins on their virtual workstations.
Permissions management and data security features, but no collaboration or review tools
Other than basic user permissions management, you don't get any additional services: we've contacted AWS to check, but there don't seem to be any built-in collaboration, review or analytics capabilities.
Updated: AWS told us that Amazon CloudWatch can be used to provide general metrics like workstation and renderfarm utilisation.
Users currently have to bring their own collaboration and shot review tools – AWS cited Autodesk's Shotgun and RV – but the firm plans to roll out new features based on customer feedback.
Data security follows Amazon's 'shared responsibility model'.
Pricing
Amazon Nimble Studio is priced on a per-use basis, with users paying only for the time they use AWS services, rather than via fixed upfront or subscription fees.*
Cost varies according to the number and type of EC2 instances rented, with standard hourly pricing including networking and data transfer, with pixel streaming to up to two monitors at 4K resolution and 60fps.
The examples on the AWS website suggest that a 25-person studio using instances with 16 vCPUs and 64GB of RAM would pay around $11,000/month, plus its standard software licence fees.
For a more accurate estimate, Amazon provides an online price calculator for AWS services.
System requirements and availability
Amazon Nimble Studio virtual workstations support Windows Server 2019 and Amazon Linux 2 or CentOS Linux. Support for third-party DCC applications is described in the story above.
The service is currently available in five AWS regions – US East (N. Virginia), US West (Oregon), Canada (Central), Europe (London) and Asia Pacific (Sydney) – plus the Los Angeles local zone, with more due "soon".

Visit the Amazon Nimble Studio website
Read Amazon's online FAQs for Amazon Nimble Studio
Find more detail about Amazon Nimble Studio in the online documentation

*To use Windows-based software, users also have to pay for the necessary Microsoft remote desktop subscriber access licences, but in most cases, that should only be a small fraction of the total cost.
Tags: 3ds max, Adobe, Amazon, Amazon Machine Image, Amazon Nimble Studio, Amazon Web Services, Ami, animation, Arnold, Athera, autodesk, AWS, AWS for Media & Entertainment, Blender, cloud renderfarm, cloud storage, cloud-based, data security, data transfer, DCC software, Deadline, EC2, Foundry, free trial, free usage limits, game art, game development, GPU compute, Houdini, Jason Schleifer, Linux, Maya, networking, NFS/SMB, NICE DCV, Nimble Collective, Nimble Studio, nuke, Nvidia. GPU rendering, pipeline as a service, Pipeline in the Cloud, Pixel Streaming, Pixit, price, Qumulo, Redshift, regions supported, remote desktop, Render Farm Deployment Kit, renderfarm management, rendering, RenderMan, RFDK, RV, Shotgun, SideFX, software supported, studio in the cloud, T4, technical specifications, Thinkbox Deadline, Thinkbox Software, use Amazon Nimble Studio for free, user management, user permissions, V-Ray, vfx, virtual studio, virtual workstation, visual effects, WekaIO, where is Amazon Nimble Studio available, Windows