Saturday, February 18th, 2017

Posted by Jim Thacker
Redshift devs release Redshift for Houdini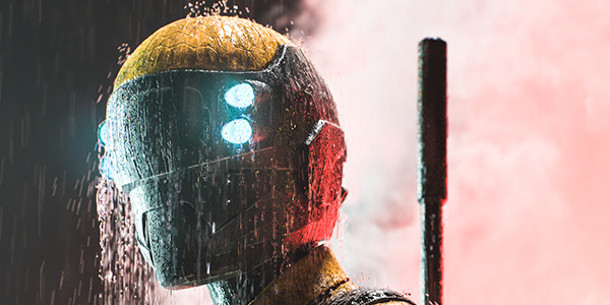 Image: Flame Force 705 by Shawn Wang, rendered in Redshift.

Redshift Rendering Technologies has released a Houdini plugin for Redshift, its GPU production renderer.
The new integration plugin enables users of Side Effects Software's procedural 3D modelling, animation and effects application to render Houdini scenes directly in Redshift.
Supports Houdini's native primitives, instancing and volumes
First released in 2014, Redshift is now used in production at studios including Nickelodeon Animation Studios, Blizzard Entertainment – which used it on its Overwatch shorts – and Glassworks.
The new Houdini plugin complements Redshift's existing integrations for Maya, Softimage and 3ds Max, with Cinema 4D and Katana also in development, and Modo proposed further down the line.
It comes free with the renderer itself, and supports Houdini's native primitives, instancing system, volumes and command-line tools, summarised as follows in the firm's press release:
Hair and Fur
Support for the Houdini curve primitives that are extracted as RS hair objects.
Houdini primitives
Automatic and configurable tessellation of Houdini primitive surfaces (primitives, NURBS, etc).
Instancing/particles
Support for Houdini instancing, including the Instance OBJ node, and the 'instance' and 'instancepath' attributes, extracted as RS Instances or RS Point Clouds.
User Data Attributes
Support for arbitrary user data attributes per object or instance, enabling shading variation without requiring different materials.
Strands
Render of any kind of Houdini primitive as RS strands.
Volumes
Direct rendering of OpenVDB files and the Houdini Volume and VDB primitives. Supports volume instancing and velocity grids.
Non-GUI tools
The plugin is compatible with all the Houdini non-GUI tools (hython, hscript, etc) and includes a set of custom HScript commands to control the renderer.
Pricing and availability
Redshift is available for 64-bit Windows XP and above and 64-bit Linux with glibc 2.12 or higher. It's CUDA-based, so you'll need a Nvidia GPU. The Houdini plugin is compatible with Houdini 14 and above.
A node-locked licence of Redshift costs $500; a floating licence costs $600. Both prices include one year's maintenance and all of the existing integration plugins.
Read more about Redshift on Redshift Rendering Technologies' website