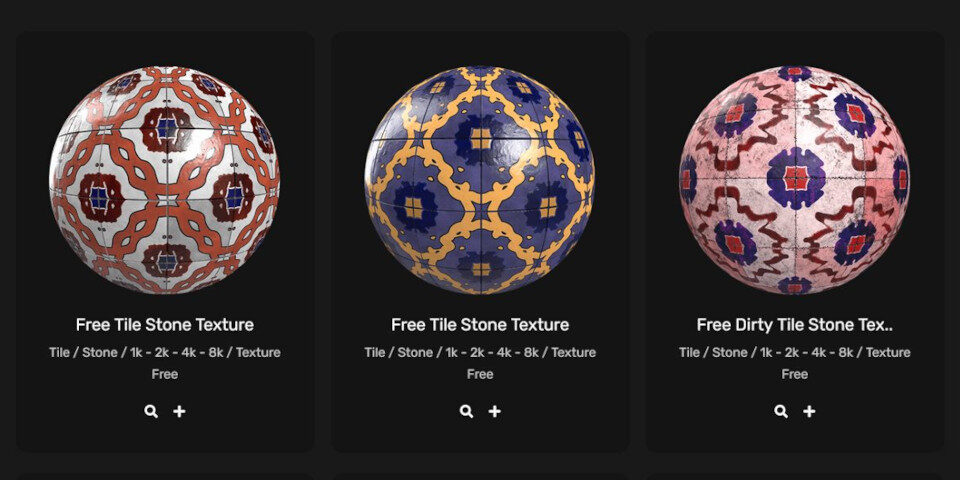 Originally posted on 10 July 2022. Scroll down for updates.
Online asset library LotPixel has made over 1,200 of its sets of scan-based PBR texture maps available to download for free at up to 8K resolution.
The textures cover a range of real-world materials, and are licensed for commercial use.
Free scan-based PBR texture sets for use in architectural visualisation, game development or VFX
At the time of writing, 1,201 of LotPixel's texture sets are available to download for free: 55 at up to 8,192 x 8,192px resolution, and the rest at up to 4,096 x 4,906px resolution.
They are provided as JPEG files following the specular/glossiness PBR convention with diffuse/albedo, ambient occlusion, glossiness, height, normal, roughness and specular maps.
The free assets cover building materials like asphalt, brick, concrete, metal, plaster, stone and wood; interior and exterior flooring and wall materials; plus plastic and fabrics.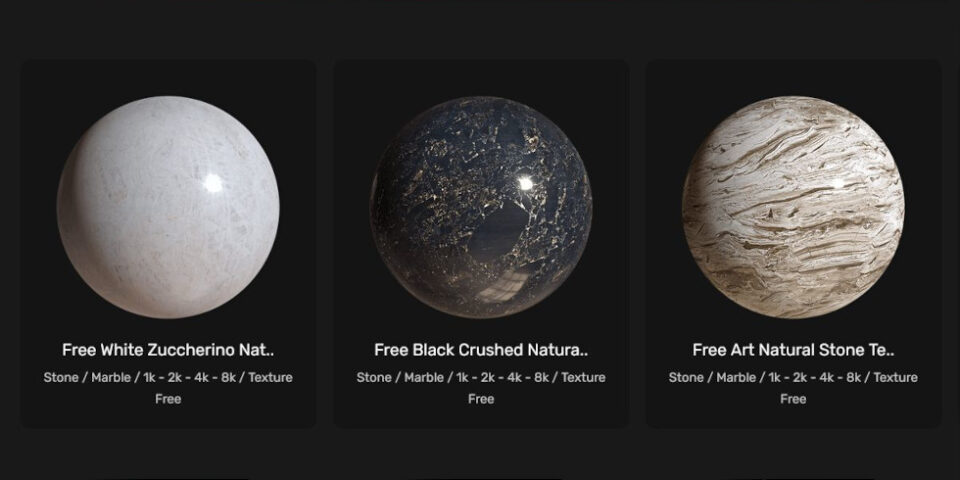 Updated 30 October 2022: LotPixel has expanded its library, and now has over 1,350 free PBR texture sets.
New additions to the library include the marble and granite textures shown above, plus a range of other natural stone textures, and interior tiling, particularly porcelain tiles in a variety of finishes.
Paid subscriptions provide access to higher-resolution textures and 3D models
The free assets represent just under half the textures in LotPixel's commercial library, which also includes decals, 3D scans of small household and environment objects, and a pack of weapon models.
Users with paid subscriptions can also download textures at up to 16K resolution.
Pricing and system requirements
LotPixel's free texture sets are provided as JPEG files, and can be used in any DCC application or game engine that supports PBR workflows, including 3ds Max, Blender, Cinema 4D, Maya, Unity and Unreal Engine.
The files are licensed for use in commercial projects.
Paid subscriptions now start at $9/month, which provides 60 texture downloads or 25 model downloads, with additional downloads available at higher subscription tiers or by buying more download credits.
Download over 1,350 free PBR texture sets from LotPixel
Tags: 3D model, 3D scan, 3ds max, albedo, ambient occlusion, arch viz, architectural visualization, asphalt, Blender, brick, Cinema 4D, concrete, diffuse, download, fabric, floor, free, game art, game development, glossiness, Granite, height map, JPEG, Lotpixel, marble, Maya, Metal, motion graphics, normal map, PBR, plaster, plastic, porcelain, roughness, sandstone, scan-based texture, specular, specular/glossiness, stone, texture, texture map, tiles, Unity, Unreal Engine, vfx, visual effects, visualization, wall, wood