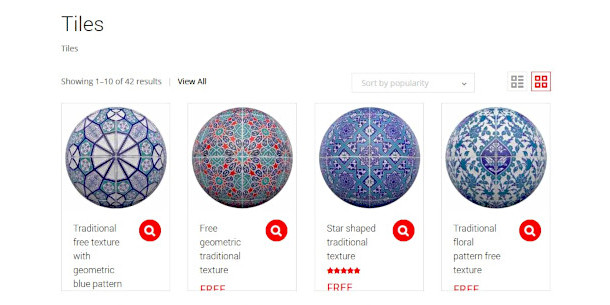 New online resource library Texture Fun has made over 500 seamlessly tileable PBR texture sets available to download for free, at resolutions of up to 4,096 x 4,096px.
The textures cover common types of architectural materials, including ground, wall and roofing materials, and can be used in commercial projects on an attribution basis.
Free 4K PBR texture sets of common architectural materials, including some nice tile textures
At the time of writing, the Texture Fun library comprises well over 600 textures, and is growing steadily: Texture Fun say that they aim to reach 1,000 free assets.
Some are colour variations of others, but there is still a lot of unique content, including some nice textures of Ottoman-era tiles – the team behind the site are based in Turkey.
The assets are divided into a range of standard categories, including soil, sand and snow; asphalt and concrete; brick, tiles, plaster, wood and metal; fabric; and grunge and displacement maps.
The textures are supplied at standard resolutions up to 4,096 x 4,096px, and include PBR texture maps following the metalness-roughness system.
We can't find any licensing information on the website itself, but this post on the Blender Artists forum says that the textures can be used in any project, providing that Texture Fun is credited.
Download over 500 free PBR texture sets from Texture Fun
(Requires you to register for a free account on the site)
Tags: 096 x 4, 096px, 4, 4K, asphalt, attribution, brick, commercial use, concrete, displacement, download, fabric, free, ground, grunge, Metal, metalness, PBR, plaster, roof, roughness, sand, snow, soil, texture, Texture fun, Texture Set, tileable, tiles, wall, wood