The Blender Foundation has shipped Blender 3.1, the latest version of the open-source 3D software.
It's a performance-focused update, with speed boosts to workflows ranging from animation and scene layout to rendering and file export, but as usual, there are scores of other features and updates to existing tools.
Below, we've picked out five features we think are particularly significant, including the new Metal backend for Cycles, GPU acceleration of the Subdivision Surface modifier, and the latest updates to Geometry Nodes.
At the end of the story, you can take a quick tour through the other changes.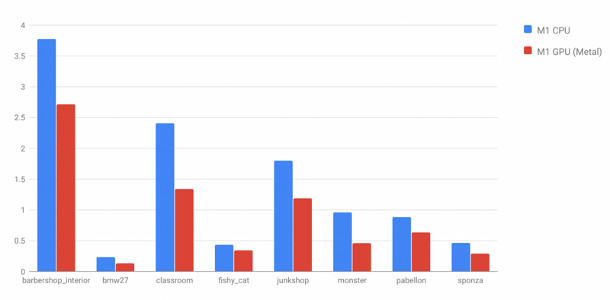 Cycles' Metal backend speeds up rendering on Macs with AMD GPUs or Apple Silicon processors. The tests above were carried out using Blender's standard demo scenes on a MacBook Air with an Apple M1 chip.

1. New Metal backend for Cycles speeds up rendering on macOS
Probably the most-anticipated change in Blender 3.1 is native support for Metal, Apple's graphics API, in the Cycles renderer: work funded and partly carried out by Apple itself.
Rendering performance on macOS began to lag behind that on Windows and Linux following Apple's decision to deprecate OpenCL, originally used for GPU acceleration in Cycles.
Most Mac artists are also unable to use Cycles' CUDA and OptiX backends, which require Nvidia GPUs.
The new Metal backend accelerates rendering on Macs with Apple's own M1 processors or AMD GPUs, with support for Intel GPUs also in development.
In the Blender Foundation's tests, shown above, a MacBook Air with a M1 chip rendered the standard Blender demo scenes between 1.2x and 1.7x faster on GPU than on CPU.
Support for point clouds as a native geometry type in Cycles speeds up renders of imported simulation caches, like this sand simulation rendered by Juan Gea Rodriguez. The scene contains 110 million points.

2. Better handling of point clouds speeds up rendering of simulations
Another key change to Cycles in Blender 3.1 is support for point clouds as a native geometry type.
Motion graphics animations and simulation caches imported from other DCC applications as point clouds should now render significantly faster in Cycles, and use less memory while doing so.
Points are currently always rendered as spheres, although artists can control their size and randomise their colour using the new Point Info node. More 3D shapes are "likely to be added later".
The Geometry Nodes system continues to evolve in Blender 3.1, with nodes like Extrude Mesh and Scale Elements – used here to generate a chocolate bar – opening up new procedural modelling workflows.

3. Geometry Nodes: 19 new nodes, plus a lot of performance improvements
Artists can also generate point clouds directly inside Blender using the Geometry Nodes system, originally introduced in Blender 2.92 for object scattering and instancing.
The 3.1 update sees it continue to evolve into a more general toolset, with nodes like Extrude Mesh – one of 19 new nodes in the release – opening up new procedural modelling workflows.
Working with node graphs should also now be a lot more interactive, with large node trees now displaying "nearly 2x faster": just one of a long list of speed boosts and reductions in memory use.
Other workflow improvements include a new context-aware search menu that pops up inside the Node Edior when dragging on sockets, showing only those nodes that can actually be connected to the one selected.
Enabling GPU Subdivision in the Subdivision Surface modifier speeds up playback of character animation in the viewport: one of two key changes to subdivision surfaces in Blender 3.1

4. GPU acceleration for the Subdivision Surface modifier speeds up animation playback
The Subdivision Surface modifier gets support for GPU acceleration in Blender 3.1.
The change should make it easier to work with any mesh that is being smoothed using subdivision at render time, but one particularly common use case will be playing back character animations in the viewport.
You can see the increase in frame rate when GPU subdivision is enabled in the video above, with the effect becoming particularly significant at higher subdivision levels.
For modelling work, the Subdivision Surface modifier also gets support for vertex creasing, making it possible to mark vertices as arbitrarily sharp to create a range of interestingly spiky new shapes.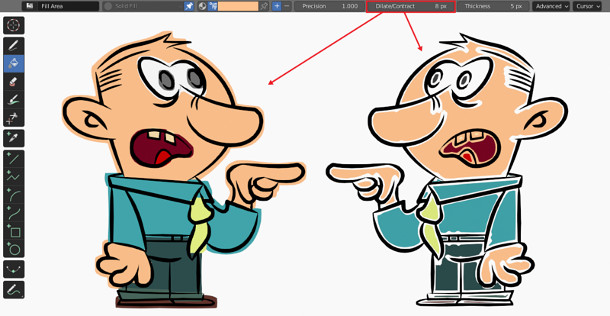 The new Dilate/Contract setting in the Fill tool makes it possible to create interesting new visual styles for 2D animations created using Blender's Grease Pencil toolset.

5. Updates to Grease Pencil give new options for colouring 2D animations
Grease Pencil, Blender's ever-evolving 2D animation toolset, also gets some nice new features in Blender 3.1.
The Line Art modifier, used to generate outline renders of 3D objects that can be used as Grease Pencil strokes, gets a number of new options.
However, the most visually pleasing change comes when filling closed strokes with colour: the Fill tool now has a Dilate/Contract setting to expand or shrink the fill area.
That makes it possible to create effects in which the fill overlaps the strokes, or a white border is left inside them, as shown in the image above.
New features in other key Blender toolsets
Blender's other toolsets see fewer changes, although there are some useful quality-of-life updates.
In the Texturing tools, tiled images now support file names containing UDIM substitution tokens, making it implement UDIM workflows of the type widely used in visual effects and game development.
The Animation toolset gets the option to manually specify the frame range of an action in the Dope Sheet, Action Editor and NLA Editor, and to make handle lengths uniform in the Graph Editor.
Changes to the user interface include the introduction of the View pie menu to new parts of Blender, including the animation editors; and it is now possible to view much larger images in the Image Editor.
There are also significant changes to file import and export, with a new C++ OBJ exporter speeding up export of OBJ files by up to 13x, and improvements to Alembic, glTF and USD export.
Finally, Blender 3.1 now uses Python 3.10, following the Blender Foundation's decision to break away from the VFX Reference Platform and support a more recent version of the programming language.
The change may prove controversial for larger studios integrating Blender into their production pipelines, and is discussed in more detail in this blog post.
System requirements
Blender 3.1 is available for Windows 8.1+, macOS 10.13+ and Linux. It's a free download.

See Blender Foundation's overview of the new features in Blender 3.1
Read the Blender 3.1 release notes

Homepage image: part of the Blender 3.1 splash screen: 'Sacred Deer' by Lorenzo Aiello.
Tags: 2D animation, 3D modeling, Action Editor, Alembic, AMD, animation, animation playback, arch viz, Blender, Blender 3.1, Blender no longer follows the VFX Reference Platform, Character Animation, character rigging, compositing, CUDA, Cycles, digital sculpting, Dilate/Contract, Eevee, Extrude Mesh, file export, Fill tool, fluid simulation, free, game development, geometry nodes, glTF, GPU acceleration, GPU rendering, granular fluid, graph editor, grease pencil, image editor, instancing, Intel, key features in Blender 3.1, line art, M1, macOS, Metal, motion graphics, new features, NLA editor, OBJ, open source, OpenCL, OpenSubDiv, OptiX, outline rendering, physics, point cloud, point cloud object, Point Info node, procedural modeling, Python, Python 3.10, rendering, Scale Elements, scattering, scene layout, simulation cache, Subdivision Surface modifier, system requirements, texturing, UDIM, UDIM substitution token, USD, vertex creasing, vfx, VFX Reference Platform, video editing, View pie menu, visual effects, visualization