Nekki has released Cascadeur 2021.1, the new version of its hotly tipped physics-based animation software.
The update adds a new AutoPhysics tool that automatically creates a physically accurate version of an existing animation; and makes it possible to use the AI-based AutoPosing tool on any humanoid character.
The release also officially moves Cascadeur into early access, with Nekki introducing two new rent-to-own subscription plans, although the software remains free to anyone earning under $100,000/year.
Create animations based on real-world physics, aided by machine-learning-based tools
Originally developed for use in Nekki's own mobile title like Shadow Fight 3, Cascadeur is intended as an artist-friendly way to animate characters and creatures.
Unlike conventional animation tools, it encourages users to focus on physical properties like a character's trajectory, angular momentum and fulcrum points like ground contacts.
Once the key poses in a move are established, the software – the name means 'stuntman' in French – generates a plausible-looking motion connecting them.
Even the process of generating key poses can be partially automated, via a machine-learning-trained system that tracks critical joints in a characters' body: the neck, hips, wrists and ankles.
When one joint is repositioned manually, the software adjusts the positions of the others to match.
As well as its physics- and machine-learning-based systems, Cascadeur includes a range of more conventional rigging and animation tools, and exports to other DCC software in Collada and FBX formats.
We covered the software in detail when it was first released in closed beta in 2019, so check out our original story for more information about Cascadeur's core toolsets.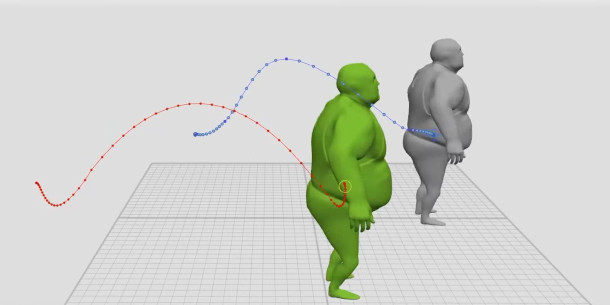 The trajectory of a character before (grey) and after (green) making it physically accurate with Auto Physics.

New in Cascadeur 2021.1: new AutoPhysics tool automatically applies physics to your animations
The main new feature in Cascadeur 2021.1 is AutoPhysics, a new tool that analyses an existing animation and generates a physically accurate version of it.
That makes it possible to roughly block out an animation for a character – or to import a blockout from another application – and have Cascadeur refine it automatically.
The physically accurate version is generated on a copy of the character, so it is possible to continue making adjustments to the original, and have the generated physics update in real time.
There are a few known issues with foot placement and timing, but it looks both a useful and versatile tool.
In the video at the top of the story, you can see a realistic run animation being created by setting up just two key poses for a character, mirroring and duplicating them, and applying AutoPhysics.
Updates to the AutoPosing and rigging tools
Of the existing features, AutoPosing, the AI-trained posing tool described earlier in this story, has been updated to work on "most any humanoid character".
There are also improvements to the character rigging tools, including the option to save and reuse setups for the Quick Rigging Tool; and to the handling of rotation trajectories.
You can find a complete list of changes via the links at the foot of the story.
Structural changes make it easier to work with more – and more complex – characters
Users can also now work with much more complex scenes: the software's joint limit has been removed, making it possible to work with character rigs with any number of joints.
In addition, a new Scene Linking Tool makes it possible to view multiple scenes simultaneously in a single viewport window with "little or no impact on performance".
That should make it possible to animate each character in a shot in its own individual scene, thereby improving interactive performance, but still be able to see all of the characters in context.
Now available as a commercial product for the first time
However, perhaps the most significant change in the 2021.1 release is that Cascadeur is now a commercial product rather than a free public beta.
Nekki has now officially moved the software in early access, and introduced two new rent-to-own plans, in which a subscription converts to a perpetual licence after making one year's payments.
The Basic version of the software, which now caps export at 300 frames of animation per scene, remains free to indie users as the industry typically defines them: that is, anyone earning under $100,000/year.
Pricing and system requirements
Cascadeur 2021.1 is available for Windows 7+ and Ubuntu 16.04+ Linux. A macOS version is planned, but isn't due for release until at least 2022.
The software is free to individuals or teams with revenue under $100,000/year, although animation export is capped at 300 frames per scene and 120 joints per scene.
Pro subscriptions have a standard price of $30/month or $300/year, and remove export restrictions. Business subscriptions, which also ensure priority support, cost $100/month or $1,000/year.
In both cases, after having subscribed for a year, users can continue using the software as a perpetual licence, even if they later cancel their subscription.
At the time of writing, subscriptions are available at a 50% early access discount.

Read a full list of new features in Cascadeur 2021.1 in the online release notes
Read Nekki's online FAQs about Cascadeur and the new subscription types
Download the free edition of Cascadeur from Nekki's product website
Tags: add physics to an existing animation, AI, AI-based, AI-driven, animation, animation curve, auto keying, Auto Physics, auto posing, AutoPhysics, AutoPosing, biped, Cascadeur 2021.1, character rigging, Collada, commercial release, commercial use, deep learning, download, early access, FBX, foot penetration, free, free Basic edition, free to indie artists, game development, humanoid character, joint limit, machine learning, make an animation physically accurate, Maya, motion path, motion synthesis, motion trail, Nekki, new features, onion skinning, perpetual licence, physics based, pose estimation, pose prediction, price, pricing, quadruped, Quick Rigging Tool, rent to own, restrictions, rigging, rotation trajectory, Scene Linking Tool, Shadow Fight 3, subscription, system requirements, trajectory, USD