Tuesday, December 22nd, 2020

Posted by Jim Thacker
Nekki releases Cascadeur 2020.3b

Originally posted on 29 July 2020. Scroll down for news of the latest beta.
Games developer Nekki has released the first open beta of Cascadeur, its much-anticipated physics-based animation software.
First released in closed beta last year, Cascadeur uses a range of physics- and machine-learning-based tools to streamline the process of animating characters and creatures.
In addition to being the first opportunity for the general public to try the software, Cascadeur 2020.1b improves the software's rigging tools, and can be used for commercial work.
Create animations based on real-world physics, aided by machine-learning-based tools
Originally developed for use in Nekki's own mobile title like Shadow Fight 3, Cascadeur is intended as an artist-friendly way to animate characters and creatures.
Unlike conventional animation tools, it encourages users to focus on physical properties like a character's trajectory, angular momentum and fulcrum points like ground contacts.
Once the key poses in a move are established, the software – the name means 'stuntman' in French – generates a plausible-looking motion connecting them.
Even the process of generating key poses can be partially automated, via a machine-learning-trained system that tracks critical joints in a characters' body: the neck, hips, wrists and ankles.
When one joint is repositioned manually, the software adjusts the positions of the others to match.
As well as its physics- and machine-learning-based systems, Cascadeur includes a range of more conventional rigging and animation tools, and exports to other DCC software in Collada and FBX formats.
We covered the software in detail when it was first released in closed beta last year, so check out our original story for more information about Cascadeur's core toolsets.
New in Cascadeur 2020.1b: better rigging tools, new QML-based interface
Cascadeur 2020.1b, the first open beta, further develops the software's rigging framework, adding the option to add twist bones and multiple centres of mass, and streamlining the process of mirroring joints.
The core architecture has also been reworked to improve performance, although Nekki doesn't put a figure on the speed boost; and the UI now uses QML, the industry-standard Qt framework's markup language.
The beta release is available for use in commercial projects: Nekki says that "any animation created with Cascadeur's new OBT version can be freely used in games and movies without [our] permission".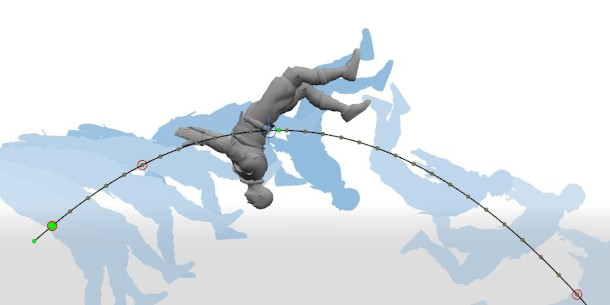 Updated 29 September 2020: Nekki has released Cascadeur 2020.2b, the latest free public beta.
The main change is a new Quick Rigging Tool, which enables users to set up custom humanoid character rigs using the standard Cascadeur rig as a base.
The update also simplifies the Ballistics menu, and adds the option to display ghosts – Cascadeur's equivalent of onion skinning – for all ballistic trajectories, or only the one selected.
In addition, the Interval Edit mode for editing motion paths now supports Linear or Bezier deformation.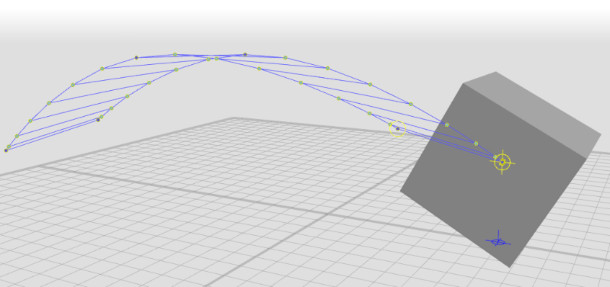 Updated 22 December 2020: Nekki has released Cascadeur 2020.3b, its new free beta, adding the option to display trajectories for object rotation as well as motion, as shown in the image above.
The AI-driven AutoPosing system also now works independently on separate frames, making it possible to apply it to a character in an individual frame without damaging existing animation.
Other changes include an auto-keying system, which automatically generates keyframes for characters and scene objects as soon as they are reposed or moved.
The software also now supports Bezier Clamped interpolation, intended to help fix penetration of a character's feet with the ground plane.
Pricing and system requirements
Cascadeur 2020.3b is available as a free public beta for Windows 7+ and Ubuntu 16.04+ Linux. A macOS version is coming "soon". The beta can be used for commercial work.
Nekki hasn't settled on a pricing model once the beta ends, but that it aims to offer a free version for "indie developers, freelancers and any kind of non-commercial use".
The 'Pro version' of the software will "probably [use] a subscription model".
You can see the Cascadeur product roadmap on the product's Trello board: features due in the next six months include Python scripting and a basic graph editor.

Download the free open beta of Cascadeur from Nekki's product website
(Requires registering for a free account)