Saturday, May 16th, 2020

Posted by Jim Thacker
AMD releases Radeon ProRender for Unreal Engine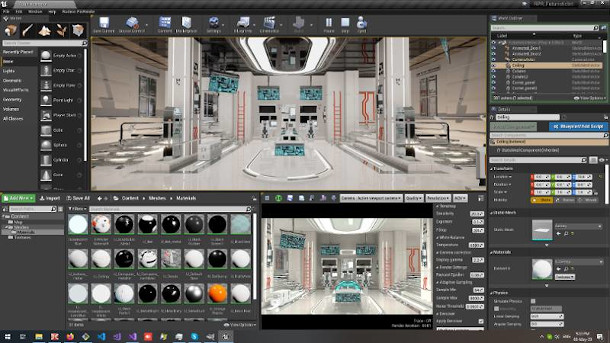 AMD has released Radeon ProRender for Unreal Engine, a new edition of its physically based GPU renderer for the game engine and real-time rendering environment.
The free plugin enables visualisation professionals with AMD GPUs to make use of Radeon ProRender's path tracing and hybrid rasterisation/ray tracing systems when using Unreal Engine for rendering.
A free, physically accurate, hardware-agnostic GPU renderer
First released under its current branding in 2016, Radeon ProRender is an unbiased path tracer with a fairly standard range of production features, including integrated AI denoising.
Being based on the OpenCL and Metal APIs, is compatible with both AMD and non-AMD GPUs, and – in the other editions, at least – can run across Windows, Linux and macOS.
The renderer is integrated with a range of DCC and CAD applications, including Cinema 4D, Modo and SolidWorks Visualize, and available as a plugin for 3ds Max, Blender, Houdini, Maya and PTC Creo.
Aimed at architects and design visualisation professionals using Unreal Engine for rendering
First previewed in 2017 and available in beta for some time, the new Unreal Engine plugin is targeted at architectual and product visualisation professionals using Unreal Engine for rendering.
Although the idea of creating a rendering plugin for another rendering application sounds odd, it isn't actually uncommon: both V-Ray and OctaneRender have Unreal Engine plugins.
Chaos Group pitches the V-Ray plugin as an easy way for artists already working with V-Ray to transfer their scenes to Unreal Engine without the need to convert materials and lights manually.
In the case of Radeon ProRender, the new Unreal Engine plugin has another selling point: it enables artists to use hardware-accelerated ray tracing on AMD GPUs.
While Unreal Engine has its own native real-time ray tracing system – officially ready for use in production as of last week's Unreal Engine 4.25 – it requires a recent Nvidia GPU.
An alternative to Unreal Engine's native real-time ray tracing system based on open standards
As with Unreal Engine's native implementation, Radeon ProRender includes both a full path tracer and a hybrid ray tracing/rasterisation system.
That latter – which AMD calls "full spectrum rendering" – enables users to trade visual quality against computation times by selectively enabling ray tracing features within a render.
Both are based on open standards – the path tracer on OpenCL, and the hybrid system on Vulkan – so they should run on any manufacturer's hardware.
Current limitations
According to AMD, the new Unreal plugin "includes many of the features … from our other plugins, such as AI-accelerated denoising, adaptive sampling, and native tone mapping and gamma controls".
It supports some, but not all, of Unreal Engine's materials and lighting features: you can find full lists via the online documentation linked at the foot of this story.
However, it's currently Windows-only and, at the time of posting, isn't officially compatible with Unreal Engine 4.25, although it should work with other recent builds.
System requirements
Radeon ProRender for Unreal Engine is available for Unreal Engine 4.20-4.24 on Windows 10 only. There are separate versions of the plugin for Unreal Engine 4.20-4.23 and for 4.24. Both are free downloads.

Read more about Radeon ProRender for Unreal Engine in the online documentation