Thursday, November 21st, 2019

Posted by Jim Thacker
AMD ships Radeon ProRender 2.8 for Maya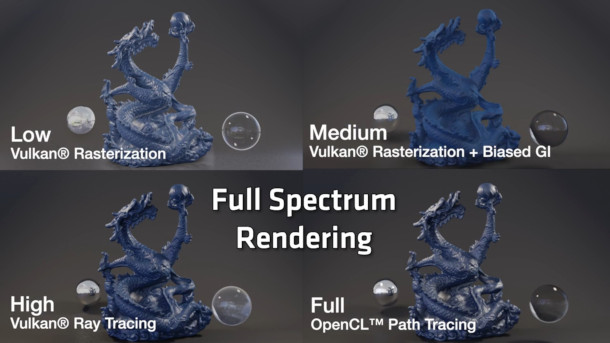 AMD has released Radeon ProRender 2.8 for Maya, the latest version of its free GPU renderer, adding support for MASH instances and a "full spectrum rendering" system.
The new viewport rendering mode is a Vulkan-based hybrid rasterisation/ray tracing system, enabling users to balance visual quality against performance.
The 3ds Max edition of the plugin has also been updated, although version 2.6 is largely a bugfix release.
New rendering mode balances the speed of rasterisation against the visual quality of ray tracing
First introduced in the Blender edition of the software earlier this year, full spectrum rendering is a Vulkan-based viewport preview providing a user-controllable mixture of rasterisation and ray tracing.
The base render is rasterised, onto which Radeon ProRender can add ray traced effects including reflection, refraction and ambient occlusion, achieved using "compute shaders and smart denoising".
By adjusting the renderer's quality settings, users can change the balance between rasterisation and ray tracing, enabling them to trade interactive performance against the visual quality of the output.
AMD describes the new rendering mode as "especially useful for quick Playblast-style previews". It's currently available on Windows only.
Support for MASH instances in motion graphics work
Other changes in Radeon ProRender 2.8 for Maya include support for instances generated by MASH, Maya's motion graphics toolset, and better support for Maya's material nodes.
The update also adds a "simple" tonemapper, and support for lens shift effects.
Availability and system requirements
Radeon ProRender for Maya 2.8 is compatible with Maya 2017+, running on Windows 7/10 and macOS 10.13.3+. The Linux version hasn't been updated for some time now, and remains on version 2.1.
For GPU acceleration, AMD graphics cards are "recommended". You can use any Intel or Nvidia card that supports OpenCL 1.2, but only if you're running Windows 10.

Read an overview of the new features in Radeon ProRender for Maya on AMD's blog
Read a full list of new features in Radeon ProRender 2.8 for Maya in the online release notes