Originally posted on 28 January 2021. Scroll down for news of the 2021.6 updates.
RandomControl has updated Maverick Studio and Maverick Indie, its new physically based GPU renderers for industrial designers and entertainment artists.
Build 486 of Maverick Studio – the 2021.1 release – adds the Ambience Composer, a new dedicated interface panel for authoring lighting set-ups, plus the option to save and reuse ambiences.
Both editions get updates to the built-in denoiser, which now supports image resolutions of up to 8K.
Physically based render engines balancing ease of use and modern GPU rendering features
Developed by Arion renderer creator RandomControl and launched in 2019, Maverick Studio is a streamlined new renderer aimed at product and automotive visualisation.
It provides a drag-and-drop workflow for assigning PBR materials and setting up lighting and a render camera, plus a physically accurate full-spectral render engine with built-in denoising.
The software is CUDA-based, and supports modern GPU rendering features like out-of-core rendering.
It was later joined by Maverick Indie, a lower-priced edition aimed at entertainment work, which lacks support for CAD file formats, plus features like NURBS and cross-section rendering.
New in Maverick Studio 2020.1: new Ambience Composer panel for designing lighting set-ups
The main new feature in Maverick Studio 2021.1 is the Ambience Composer, a new interface panel intended to make it possible to author lighting set-ups more intuitively.
It displays a panoramic view of a lighting set-up seen from the object being lit, onto which users can drag and drop light sources: the software has presets mimicking real-world studio lights.
The workflow is reminiscent of dedicated lighting tools like HDR Light Studio, although all of the lights are geometry-based: Ambience Composer doesn't also edit the scene's environment map.
You can read a more detailed description of how the Ambience Composer works in this blog post.
Users can also now save and reuse ambiences – which include surrounding geometry and scale information, as well as the lighting set-up itself – as native Maverick Studio .mkamb files.
The changes common to both editions of the software are mainly improvements to existing features: in particular, the AI denoiser now supports resolutions "up to 8K or so".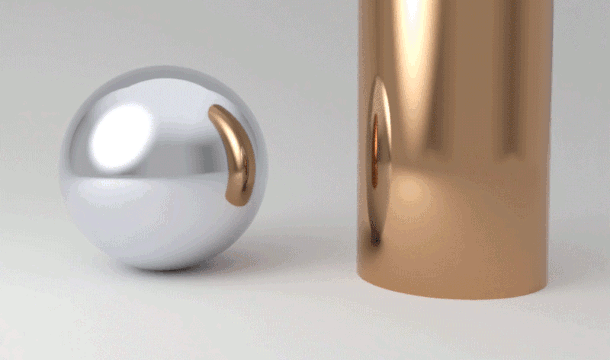 Updated 6 March 2021: RandomControl has released Maverick Indie 2021.2 and Maverick Studio 2021.2, adding support for hardware-accelerated ray tracing on Nvidia's RTX GPUs.
RTX acceleration, which is also supported on older cards from the GeForce GTX 10 Series, results in render speed gains of "10% to 100% depending on the scene and the hardware architecture".
You can see a graphic comparing Maverick Benchmark scores for every compatible Nvidia GPU with RTX acceleration turned on and turned off in this blog post.
Users of Maverick Studio also get a new system of Trace Sets, shown in the image above, making it possible to control exactly which scene objects and lights interact with one another in renders.
Users can choose to include or exclude lights or objects from the reflections and refractions on the surface of other objects on a per-object basis.
Other new features in Maverick Studio 2021.2 include a new Lightbox node intended for authoring parametric softbox-style lighting environments for image-based lighting.

Updated 29 August 2021: RandomControl has released Maverick Indie 2021.4 and Maverick Studio 2021.4.
The release reworks the shadow catcher, used to generate separate shadow and reflection layers for a 3D object when compositing renders into other backgrounds.
The new version generates "quality mirror-like reflections regardless of the background" and should give better results with pure white or pure black backgrounds.
Studio users also get a new Region of Interest system to constrain the reach of shadows and reflections.
Other changes include new options for orbiting a 3D model when navigating a scene, including the option to define the focal point of the orbit by clicking on the model's surface.
In addition, the software's turntable system can now be used with any rotational axis, making it possible to generate turntable renders that combine horizontal and vertical rotation.
The previous 2021.3 update added a new Stickers system for applying decals to the surfaces of 3D models.

Updated 20 Dec 2021: RandomControl has released Maverick Indie 2021.6 and Maverick Studio 2021.6.
Both editions feature a new object scattering and instancing system that can be used for dressing scenes, for creating background materials like grass or shingle, or in motion graphics work.
As well as imported 3D models, users can scatter over 50 readymade assemblies mimicking commmon forms like fibres, grains and rocks, or geometric primitives – the latter added via a new primitive object type.
The resulting distribution can be controlled by adjusting standard density, object transform and randomisation parameters; or via greyscale density maps – it's possible to use multiple maps.
The system supports simple collision detection, making it possible to ensure that instances do not overlap; and the option to randomise the material properties of the instances.
According to RandomControl, scattering "combines well with every other feature in Maverick", making it possible for instances to inherit the colour of an underlying texture, or follow the displacement of a surface.
Pricing and system requirements
Maverick Indie and Maverick Studio are available for 64-bit Windows Vista+. Both are CUDA-based, although as of the 2021.2 update, only Nvidia GPUs from the GeForce GTX 10 Series and newer are supported.
Perpetual licences of Maverick Indie cost €249.99 (around $282); rental starts at €19.99/month ($23/month). Perpetual licences of Maverick Studio cost €499.99 ($565); rental starts at €39.99/month ($45/month).

Read an overview of the new features in Maverick Studio and Maverick Indie on the RandomControl blog
Read a full list of new features in the online changelog
See a feature comparison table for the two applications
Tags: 3ds max, AI Denoiser, Ambience Composer, arch viz, architectural visualization, Arion, automotive rendering, automotive visualization, Blender, CAD, Collada, compatible GPUs, compositing, CUDA, DAE, DCC, decal, FBX, GeForce GTX 10 Series, glTF, GPU, GPU rendering, GPU-accelerated, GPU-based, hardware-accelerated ray tracing, HDR, HDR Light Studio, interactive rendering, IPR, lightbox node, lighting, lighting preset, lighting set-up, materials, Maverick, Maverick Indie, Maverick Indie 2021.1, Maverick Indie 2021.2, Maverick Indie 2021.3, Maverick Indie 2021.4, Maverick Indie 2021.6, Maverick Render, Maverick Studio, Maverick Studio 2021.1, Maverick Studio 2021.2, Maverick Studio 2021.3, Maverick Studio 2021.4, Maverick Studio 2021.5, Maverick Studio 2021.6, new features, NVIDIA, orbit, parametric lightbox, PBR, Photoshop, physically accurate, price, product rendering, product visualization, RandomControl, render denoiser, render denoising, rendering, RTX, RTX acceleration, shadow catcher, softbox lighting, Stickers, studio lighting, system requirements, trace sets, turntable, turntable render, unbiased