Originally posted on 6 August 2020. Scroll down for news of the 2020.9 release.
Uppercut broadcast & visual technologies has released U-Render 2020.7, a major update to its physically based 'really real-time' render engine for Cinema 4D that fully integrates the renderer into its C4D plugin.
As well as meaning that it is no longer necessary to install the Windows-only standalone renderer, the update makes the live render available in the Cinema 4D viewport.
The functionality is still officially a technology preview, but if Uppercut follows its usual schedule, it should be available in a stable production build in a month or two.
A genuine real-time render engine with good support for Cinema 4D's native features
Originally known as Tachyon Render, U-Render officially launched last year after a period of early access.
It promises genuine real-time rendering – the software is designed more like a game engine than a conventional offline renderer – with good support for Cinema 4D's core features, including MoGraph.
As well as its own PBR materials – it supports specular/glossiness and metallic/roughness workflows – U-Render automatically converts standard Cinema 4D materials.
Recent updates have also added support for volumetrics and subsurface scattering.
Now fully integrated into Cinema 4D
The latest version of the software, U-Render 2020.7.6, fully integrates the renderer into Cinema 4D.
Although the standalone renderer is still available, it is no longer necessary, which should make it possible to use the software on macOS as well as Windows.
In addition, U-Render is now available as a viewport renderer, making it possible to see a live render directly within Cinema 4D, as well as in a floating panel.
Users can trade interactive performance against image quality by setting the viewport render resolution or (de)activating a range of scene synchronisation options, as shown in this video.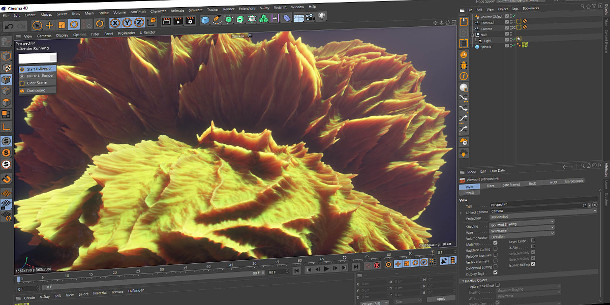 Updated 7 October 2020: Full Cinema 4D integration is now available in the new stable build of U-Render.
As well as viewport rendering, U-Render 2020.9 adds a new colour correction filter for post-processing renders, and improves screen space reflections, clear coat materials and self-shadowing in volumetrics.
Pricing and availability
U-Render 2020.9.2 is available for Windows 10 only. The integration plugin is compatible with Cinema 4D R16+. As the renderer is OpenGL-based, it should support any modern Nvidia or AMD GPU.
A node-locked licence has an MSRP of €299 (around $350).
Read a full list of new features in U-Render 2020.9 on Uppercut's blog
Tags: Cinema 4D, clear coat, color correction, feature list, fully integrated, GPU-accelerated, GPU-based, macOS, material, material converter, material preset, Maya, OpenGL, PBR, physically based, plugin, post processing, preview, price, real time, reflection, release date, renderer, rendering, screen space reflections, self shadowing, standalone, subsurface scattering, system requirements, Tachyon Render, U-Render, U-Render 2020.07, U-Render 2020.07.6, U-Render 2020.9, U-Render 2021.1, U-Render Visual Technologies, Uppercut, Uppercut broadcast & visual technologies, viewport renderer, viewport rendering, volumetric, Windows