Thursday, January 15th, 2015

Article by Jason Lewis
Review: HP ZBook 15 mobile workstation



It needs to be teamed up with a suitable GPU, but HP's mid-range ZBook is a feature-rich 15-inch mobile workstation that can hold its own against most desktop systems when it comes to DCC work, says Jason Lewis.
In previous reviews, we looked at two previous-generation mobile workstations: the Dell Precision M6600 and the HP EliteBook 8770w. Today, we're going to take a look at a more recent offering from HP: the ZBook 15.
I am often asked whether a mobile workstation can perform as well as a desktop system – and more generally, if going with a mobile workstation is a good idea at all. We answered the first question with the Dell review, showing that the M6600 could hold its own against a desktop system of similar spec, albeit at a much higher price point. Desktop machines only really start to outperform mobile ones once you get to six- and eight-core or multi-CPU systems, or through the kind of extreme overclocking only possible in consumer desktops.
The second question is more difficult, as it is dependent on your individual circumstances. If you do work in the field, a mobile system is nice, or even necessary. However, if you are a power user who needs expandability, or a system that can handle ultra-demanding applications, a desktop might be better for your needs.
While the EliteBook proved to be a capable mobile workstation, its low-resolution display and dual-core CPU limited its performance, especially compared to the M6600 – which still holds up well today in terms of performance, despite being over three years old. We will see how the ZBook 15 compares to both, and an entry-level professional desktop system, the HP Z210.

System specifications and price
Our ZBook 15 test system came equipped with a quad-core Intel Core i7-4800MQ CPU with a base clock speed of 2.7GHz and the ability to scale up to 3.7GHz with lightly threaded applications using Intel's Turbo Boost technology. The processor is Hyper-Threaded (four physical cores, eight threads) and based on Intel's newest Haswell architecture, which boosts per-core performance by roughly 10% over the previous Ivy Bridge architecture. Like Ivy Bridge, Haswell is built on a 22nm process, which helps keep power consumption and thermal performance in check.
The test system sported 16GB of DDR3-1600 RAM, easily matching many desktop systems. (The ZBook 15 can support up to 32GB of RAM, although to do that you would need to replace the 4GB modules with 8GB modules, which would increase the cost significantly.)
For storage, we had a pair of 250GB hard drives in a software RAID 0 configuration. Like the EliteBook 8770w, our ZBook 15 was equipped with traditional mechanical hard drives; the Precision M6600 used SSD drives, which gave a substantial performance increase with tasks involving heavy disk access and reduced application start-up times. Also, while software RAID does increase performance, a hardware RAID controller is preferable as it offers greater data throughput and takes the workload off the CPU.
For graphics, our ZBook 15 was equipped with an Nvidia Quadro K610M GPU with 1GB of GDDR5 memory: a lower spec than the EliteBook 8770w's mid-range Quadro K3000M with its 2GB of RAM, let alone the Precision M6600's high-end Quadro K5010M with its 4GB of RAM.
Below, you can see a chart summarising the hardware configuration of our ZBook 15, along with the other systems we will be comparing it to. Our test machine had a configuration priced at $3,100: comparable to the $3,200 EliteBook 8770w, but considerably cheaper than the then $6,400 Precision M6600.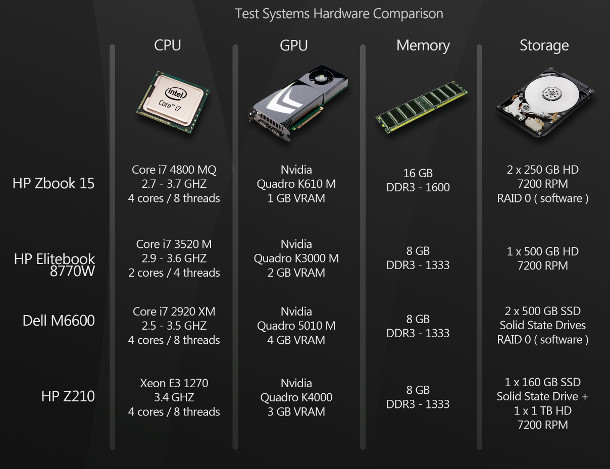 First impressions
The display
Let's begin with one of the features on which the EliteBook 8770w scored poorly: the display. Our ZBook 15 came equipped with a 15″ diagonal full HD (1,920 x 1,080) 24-bit display on an IPS LCD panel, and the quality of the images it produced was vastly superior. The display on the older system was also a matte-finish IPS panel, but despite being a 17" screen, it only had a resolution of 1,600 x 900 and the gamut was less than stellar, with colours often appearing washed-out or muted.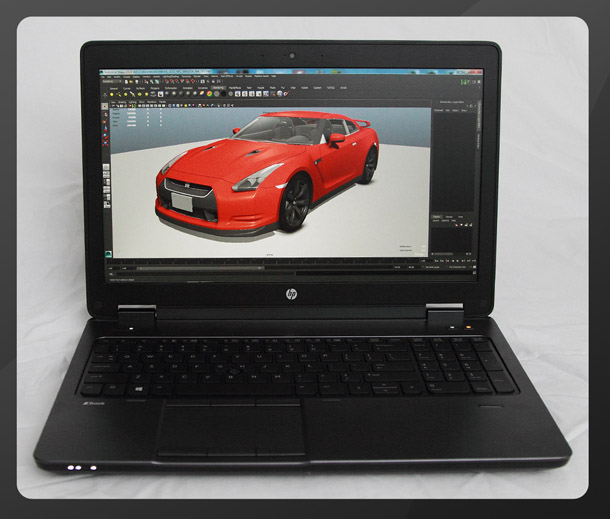 The ZBook 15 fixes all of these issues: the display not only has a much higher resolution but produces vivid colours and great black levels rivalling those of the M6600's glossy screen. Images are bright and sharp.
Minor criticisms: despite the fact that the ZBook 15 uses an IPS panel, there is a noticeable colour shift if you move your head too far off-centre, although nothing as horrible as that you get on cheap monitors with TN panels. And given that in desktop systems, 24" 1,920 x 1,200 are now pretty much the norm, it would be nice to see a display with the same 16:10 aspect ratio: that is, 1,920 x 1,200 resolution. Those extra 120 lines of vertical resolution may not seem like much, but when using DCC applications with lots of toolbars, that extra resolution adds up to a lot of extra usable screen real estate.
Build quality and keyboard
Like all of HP's professional systems, the build quality of the ZBook 15 is outstanding. The system is simple, yet elegantly designed, and overall, it feels very solid and sturdy – even more so than the EliteBook 8770w, and much more so than the Precision M6600. The ZBook 15 makes use of lots of nice metallic surfaces, and the parts that are plastic still feel high-quality.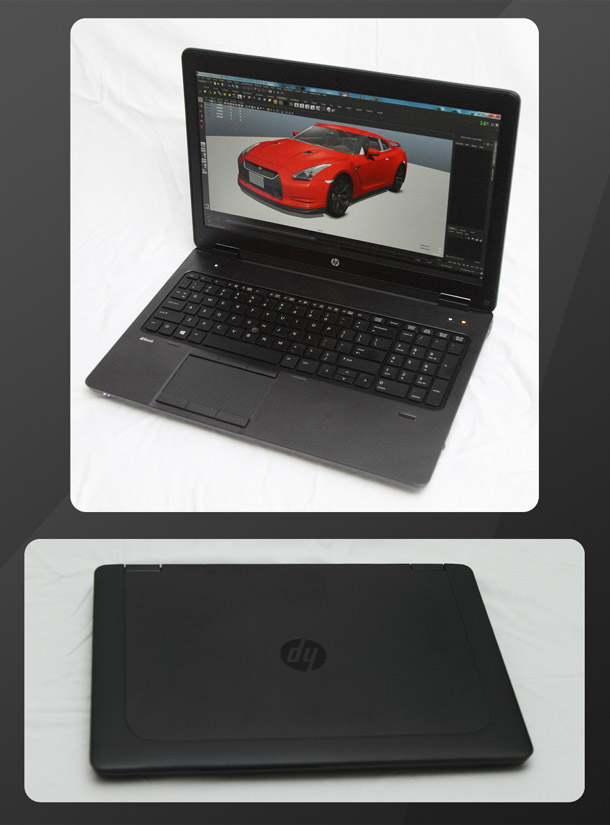 The keyboard is very solid, with the keys themselves offering – for lack of a better word – 'clicky' tactile feedback, more like a desktop keyboard. They are also backlit, a feature absent from the 8770w. If, like me, you do a lot of your work in the evenings, or in low-light situations, backlighting helps significantly. The ZBook 15's trackpad is also substantially larger, making it a more viable replacement for a mouse than on the 8770w and the M6600, as the larger pad allows for more precise cursor control.
Size and weight
The ZBook 15 is nice and compact for a mobile system with workstation-level components, measuring 15 x 10.1 x 1.2" (38.15 x 25.7 x 3.05 cm) with the display closed, and weighing in at 6.2 pounds (2.82kg) – around two pounds lighter than the EliteBook 8770w and the Precision M6600.
With a good laptop case, I had no problem hauling around the larger 17-inch systems, and the lighter 15-inch ZBook was even easier to carry around. It isn't as thin or light as a MacBook Air, a Windows Ultrabook or a tablet, but bear in mind that those systems run much lower-end consumer-level hardware.
Connectivity
As you would expect, the ZBook 15 has fewer ports than the 17-inch systems, but connectivity is still quite good. Down the right side of the frame, there are a CD/DVD-ROM drive, an SD memory card slot, a combo line-in mic and stereo-out headphone jack, a VGA port, and a single USB 3.0 port. Along the left side are a USB 2.0 port, a USB 3.0 port, a DisplayPort video out port, an ExpressCard/54 slot, and a Thunderbolt I/O port. Along the back of the system are the primary A/C power connector, a Gigabit Ethernet port and a third USB 3.0 port.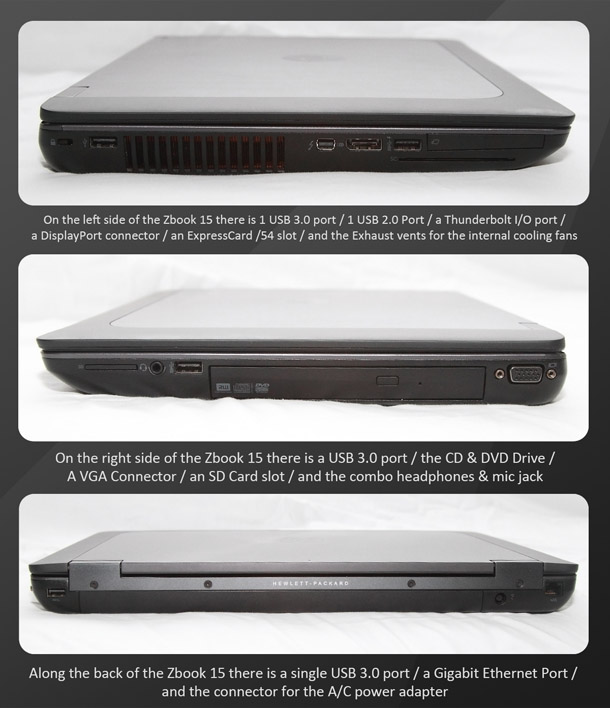 That makes a standard set of connectivity options, plus DisplayPort and Thunderbolt – an especially nice addition, as Thunderbolt is becoming the preferred choice for those who require high-speed external devices such as fast external storage and high-capacity external disk arrays. One small gripe: an HDMI video out would have been useful for plugging the ZBook 15 into large flat-panel TVs for presentations. A DisplayPort-to-HDMI adapter doesn't cost much, but it's another peripheral to carry with you.

Testing procedure
To benchmark our workstations, we ran a collection of digital assets similar to those you would find in a real production environment through a series of tasks in off-the-shelf DCC applications. Each test was performed five to ten times across multiple system reboots (between four and seven separate test sessions in total) to ensure consistency. The results shown are an average of the highest and lowest values observed.
All benchmarks were performed with a desktop resolution of 1,920 x 1,080, except for the Z210 desktop workstation, which was run at a resolution of 1,920 x 1,200.
DCC packages
3ds Max 2014, Maya 2014, Softimage 2014, Mudbox 2013, ZBrush 4R5, Modo 701, Fusion 6.4 LE
Simulation tools
RealFlow 2012
CPU-based renderers
mental ray 3.11, V-Ray 2.4, Maxwell Render 3, Arnold 1.1
GPU-based renders
iray 3.1
Games engines
Unreal Engine 4.5.1, CryEngine 3.6.4
Synthetic benchmarks
x264 HD 5.0.1, Cinebench 11.5
Benchmark results
3ds Max 2014
First up, we have Autodesk's 3ds Max modelling, rendering and animation software: one of the 'big two' in the industry – according to Autodesk reps, it and Maya make up 80% of the market for general-purpose DCC apps. The following benchmarks show average viewport frame rates for rotating, panning, vertex and face editing each model displayed. All were performed with the Nitrous viewport′s Realistic shading mode.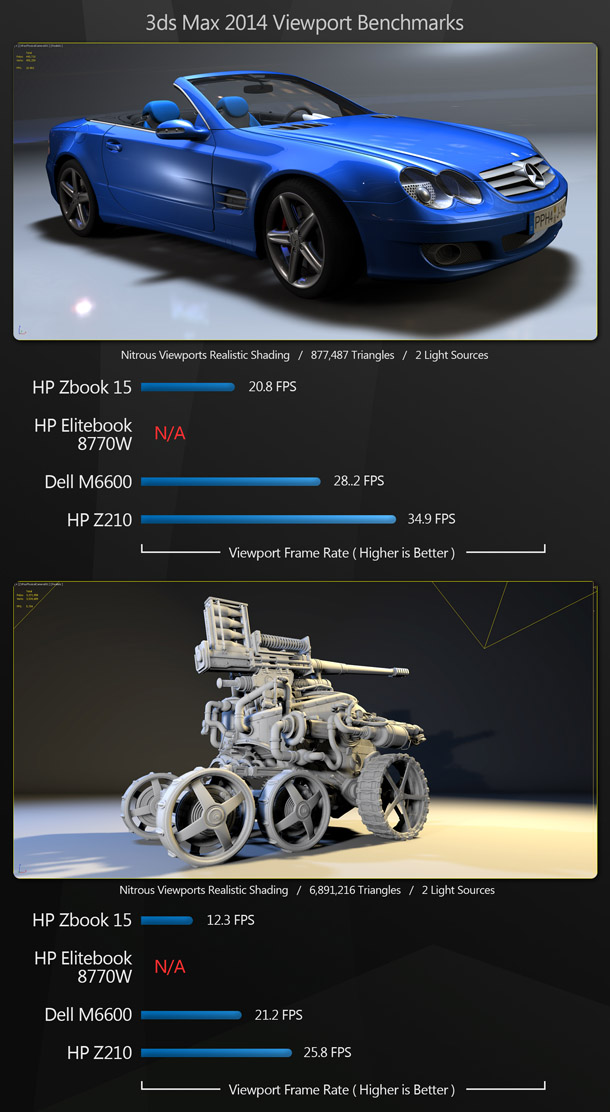 You can see that the entry-level Quadro K610M GPU in the ZBook 15 hinders performance, coming in last behind the two-generation-old Quadro 5010M in the Precision M6600, and the Quadro K4000 in the Z210 desktop workstation. Since I no longer am in possession of the EliteBook 8770w, I was not able to run these specific benchmarks, but given that in previous reviews, its Quadro K3000M was just a tad slower than the 5010M, we can surmise that it would also be quite a bit faster than the ZBook 15.
Maya 2014
Next we have the second of the 'big two' general-purpose DCC packages. Again, the benchmarks show average viewport frame rates for rotating, panning, vertex and face editing each model displayed. All were performed with Maya's Viewport 2.0 shading mode.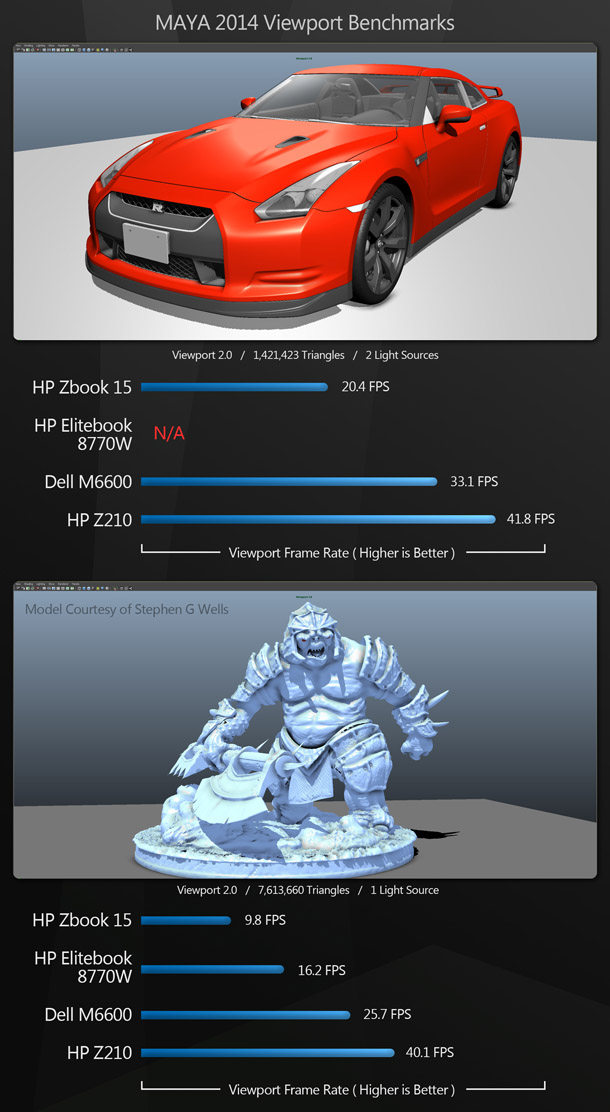 As with 3ds Max, the Z210's Quadro K4000 comes in first, followed by the Quadro 5010M in the Precision M6600, then the Quadro K3000M in the EliteBook 8770w (at least for the Troll model: I didn't use the GTR model at the time of my original review), and lastly the entry-level Quadro K610M in the ZBook 15.
Softimage 2014
Softimage is the third general-purpose DCC application in Autodesk′s line-up. It is a full-featured 3D modelling, animation and rendering package. Again, the benchmark consists of averaged viewport frame rates for rotating, panning, vertex and face editing the scene shown.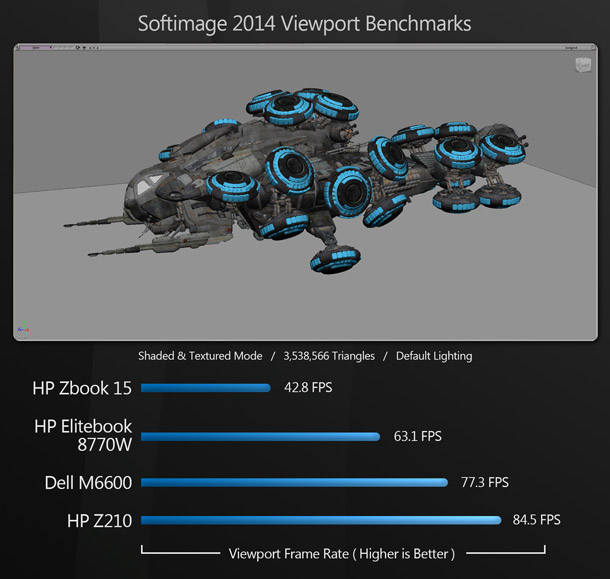 The Softimage benchmark follows a similar pattern to 3ds Max and Maya, with the Z210's Quadro K4000 taking first place, followed by the Quadro 5010M in the Precision M6600, then the EliteBook's Quadro K3000M, with the ZBook 15's Quadro K610M coming in last. However, it is worth noting that since frame rates are so high across the board, the ZBook 15's viewport performance is quite acceptable.
Mudbox 2013
The last piece of Autodesk software used for our benchmarks is the specialist digital sculpting package Mudbox. Digital sculpting applications tend to display assets with much higher polygon counts than their traditional DCC cousins. The benchmark tests both viewport and sculpting performance.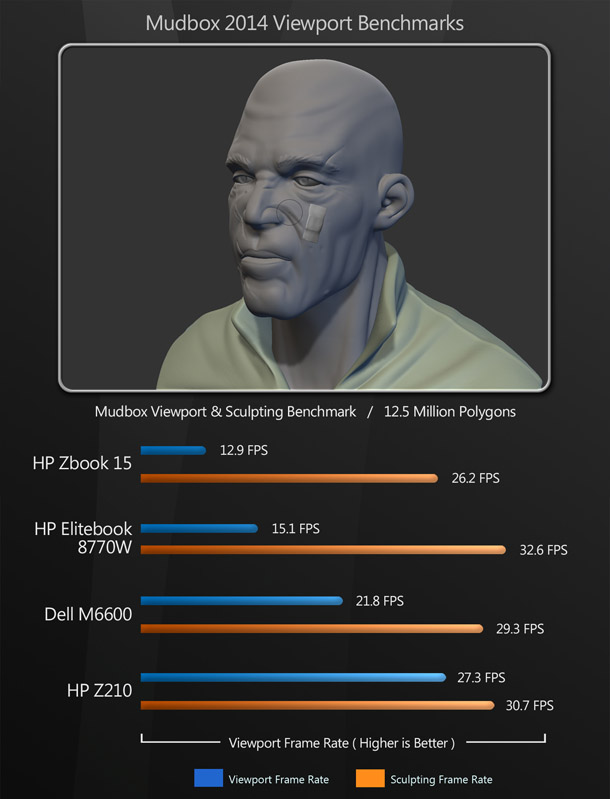 Again, Mudbox performance suffers on the ZBook 15. As the mobile system's CPU and RAM should be more than adequate, the culprit seems again to be the entry-level Quadro K610M.
It's also worth noting that sculpting packages like Mudbox and ZBrush can be unwieldy to use on a mobile workstation, unless you are simply transporting it between docking stations, since they are typically controlled with pen tablets as large as the mobile system itself.
ZBrush 4R5
Like Mudbox, ZBrush is a digital sculpting application. Unlike Mudbox, it uses the system's CPU for all computational tasks, including viewport display.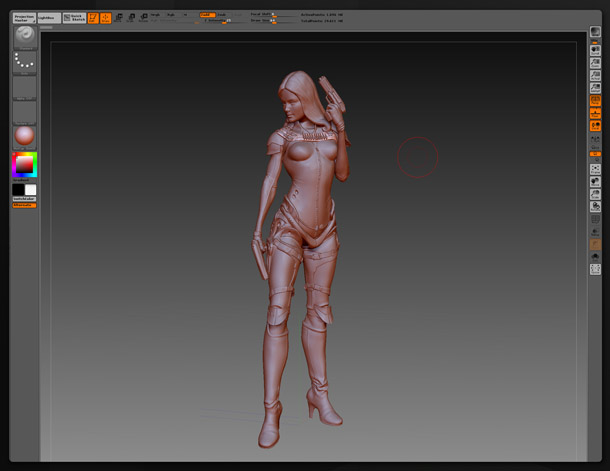 Since ZBrush uses proprietary technology rather than traditional 3D APIs like OpenGL or Direct3D, there is no way – at least, none that I am aware of – to measure frame rates: software like FRAPS will not work, and ZBrush has no internal frame-rate counter.
Subjectively, however, performance was quite similar across all of the test systems. The Z210 was slightly more responsive, the ZBook 15 and the Precision M6600 performed almost identically, and the EliteBook 8770w came in slightly below the rest.
Modo 701
Next we have Modo, The Foundry's 3D modelling, animation and rendering software. As with the Autodesk DCC applications, the Modo benchmark consists of averaged viewport frame rates for rotating, panning, vertex and face editing the scene shown.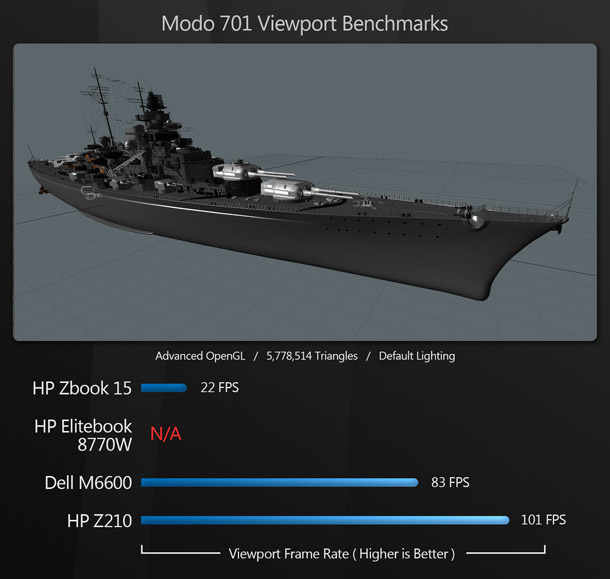 The Modo benchmark follows the same pattern as the Autodesk DCC tools, with the ZBook 15 coming in last behind the other two systems. (Again, I didn't run any Modo benchmarks when I originally tested the EliteBook 8770w.) However frame rates are so high across the board. so the ZBook 15's performance is acceptable.
Fusion 6.4 LE
Recently acquired by Blackmagic Design, Fusion is a node-based compositing application. For this benchmark, we have a moderately complex composition consisting of multiple frame composites, colour correction passes, and frame distortions. The composition is 141 frames long, and is rendered at HD 720 resolution.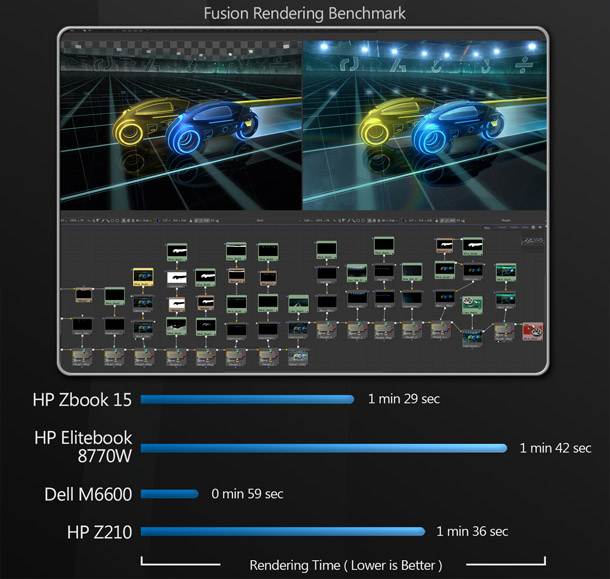 First place goes to the Precision M6600, second place to the ZBook 15, third to the Z210, and the EliteBook 8770w comes in last. Although it is over three years old, the Precision M6600 outperforms the other systems by a large margin. I'd speculate that this may be due to its SSD RAID setup, which would reduce frame read times compared to the mechanical drives in the other systems.
Maya cloth dynamics
Next, we have the first of our simulation tests, using Maya's nCloth dynamics system. The test scene is a basic flag with gravity and wind force applied to it, simulated over 140 frames of animation.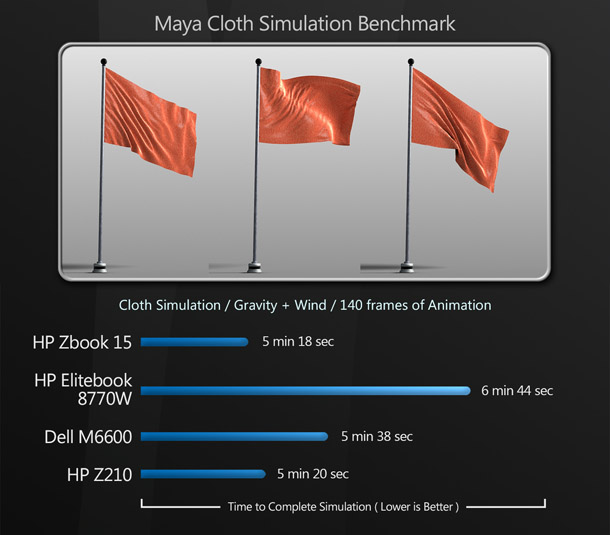 Here, the ZBook 15 takes first place, followed by the Z210, the Precision M6600, then the EliteBook 8770w. However, performance on all four systems is similar, with just over a minute separating first and last place.
RealFlow 2012
Our second simulation test uses fluid simulation software RealFlow 2012. RealFlow also has a grid-based solver, but we used the particle solver here, with the benchmark consisting of a 700-frame simulation with one emitter and one collision object. The particle count tops out at 1.6 million.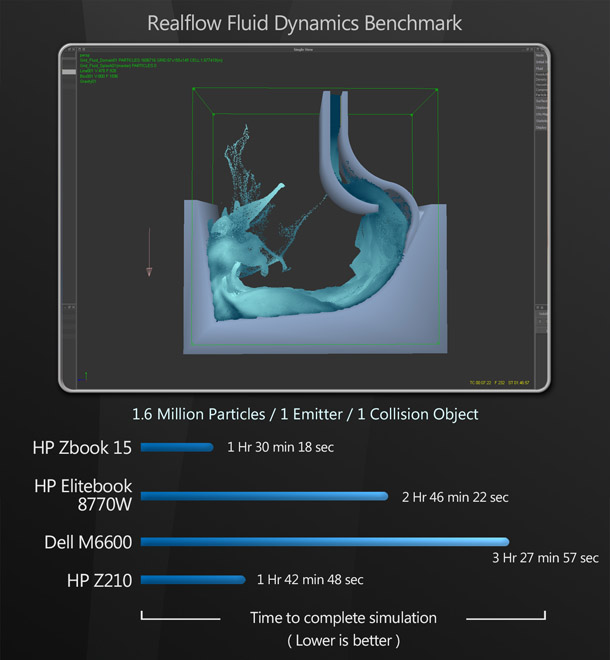 The benchmark results largely reflect CPU clock speed: second place goes to the Z210 and its 3.4GHz CPU, third place to the EliteBook 8770w and its 2.9GHz CPU, and fourth to the Precision M6600 and its 2.5GHz CPU.
The only anomaly is the winner: the ZBook 15 has a core clock speed of just 2.7GHz. Its performance may be due to its newer Haswell CPU architecture; or to its higher maximum Turbo Boost clock speed when working with lightly threaded applications – although newer versions of the software are supposed to be threaded better, I have never seen RealFlow 2012 scale beyond two CPU cores in the Windows performance graph.
mental ray 3.11
Our first rendering benchmark uses Nvidia's mental ray renderer. Together with Pixar's RenderMan and Solid Angle's Arnold, it is one of the more popular rendering packages for VFX and animation. It is largely CPU-based.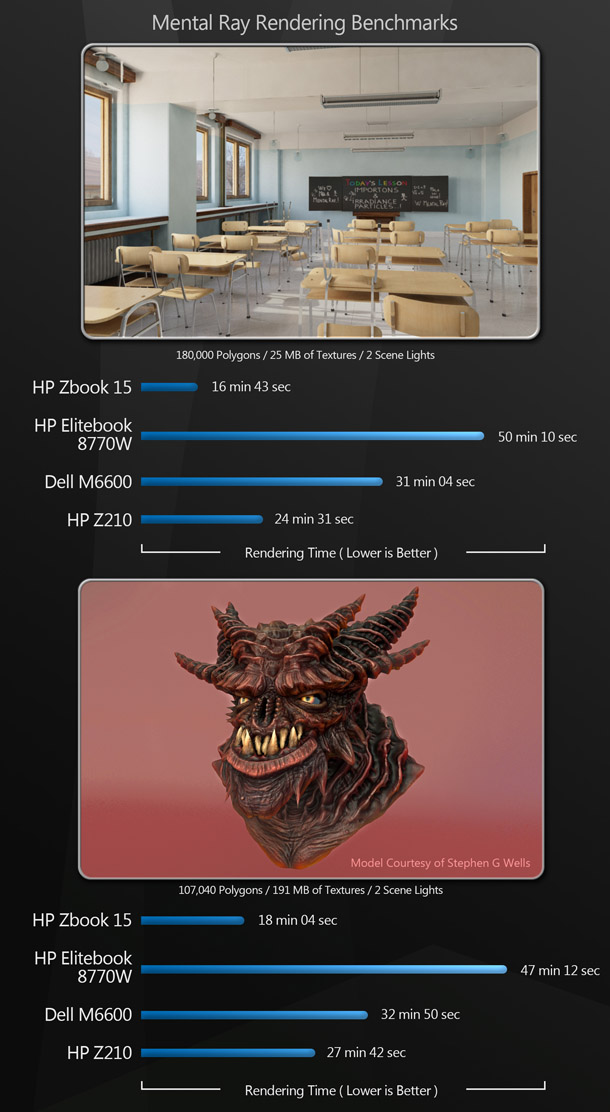 When it comes to rendering, the ZBook 15 really flexes its muscles, with the powerful Core i7-4800MQ CPU outperforming the other two mobile systems, and even beating out the 3.4GHz quad-core CPU in the Z210.
V-Ray 2.4
V-Ray is a third-party renderer for a range of DCC applications, including 3ds Max and Maya. It originally staked out a niche in architectural and product visualisation, but has recently begun to gain traction in VFX work. Although V-Ray has a GPU-based interactive preview, we are using the CPU-based production renderer here.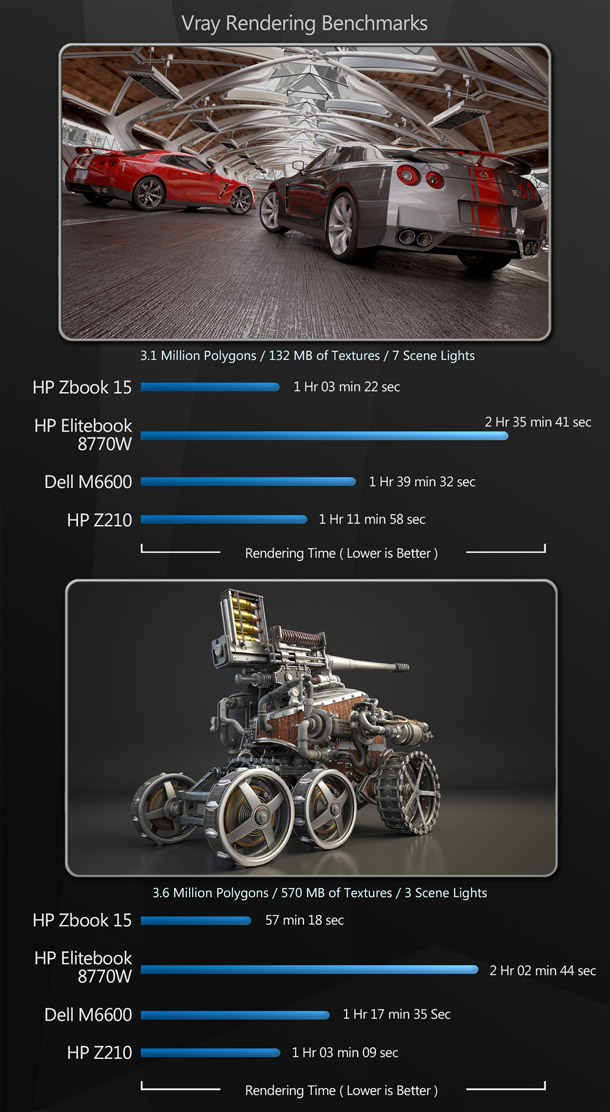 As with the mental ray benchmarks, the ZBook 15 takes the top spot, followed by the Z210, the Precision M6600, with the EliteBook 8770w.
Maxwell Render 3
Next, we have Next Limit's Maxwell Render: one of the first commercially available unbiased renderers.
Unbiased renderers have the advantage of a much simplified user experience and realistic output, but are usually significantly slower than their biased counterparts. Again, the production renderer is CPU-based.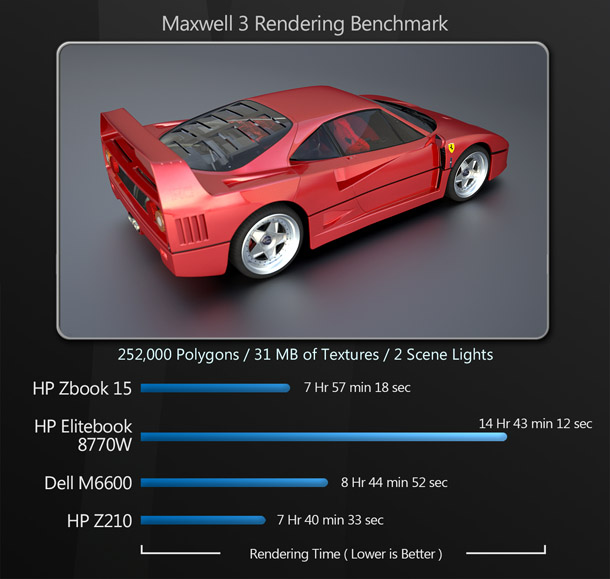 The results are similar to the mental ray and V-Ray benchmarks, but here the Z210 comes in slightly ahead of the ZBook 15, followed by the Precision M6600, and the EliteBook 8770w last.
Arnold 1.1
Our newest render benchmark uses Solid Angle's Arnold. Co-developed with Sony Pictures Imageworks, it is now offered commercially as a plugin for Maya, Softimage, and Houdini.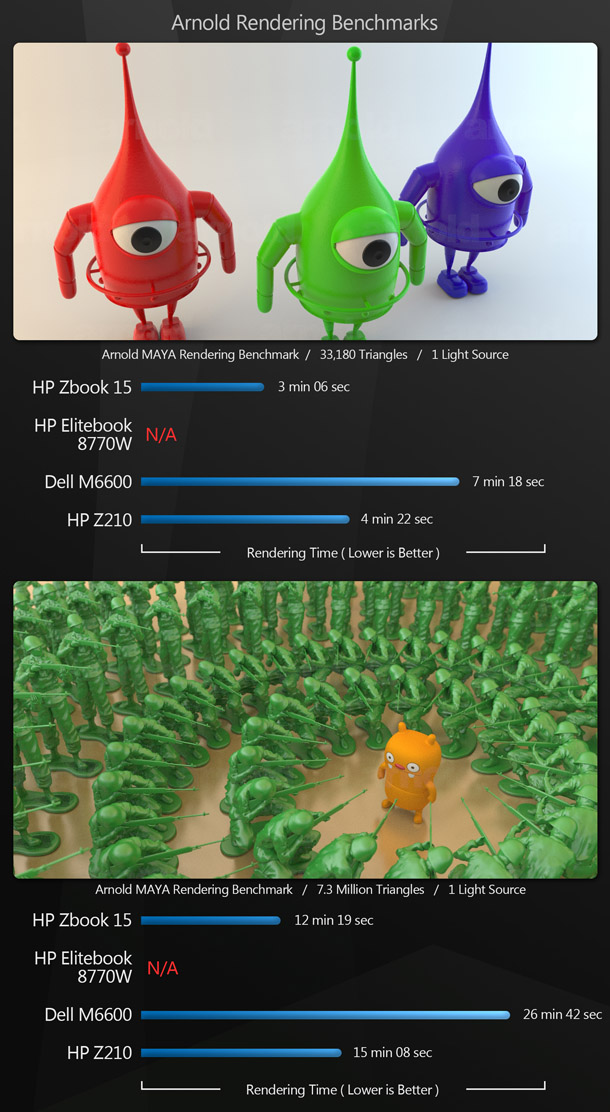 The results are similar to the other CPU rendering benchmarks, with the ZBook 15 taking first place, the Z210 in second, and the Dell M6600 in third place. (Again, I didn't run this benchmark during my original review of the EliteBook 8770w.)
iray 3.1
Our sole GPU rendering benchmark uses iray. Developed by Nvidia, iray comes integrated into 3ds Max, and can be enabled with Maya, albeit with some finagling.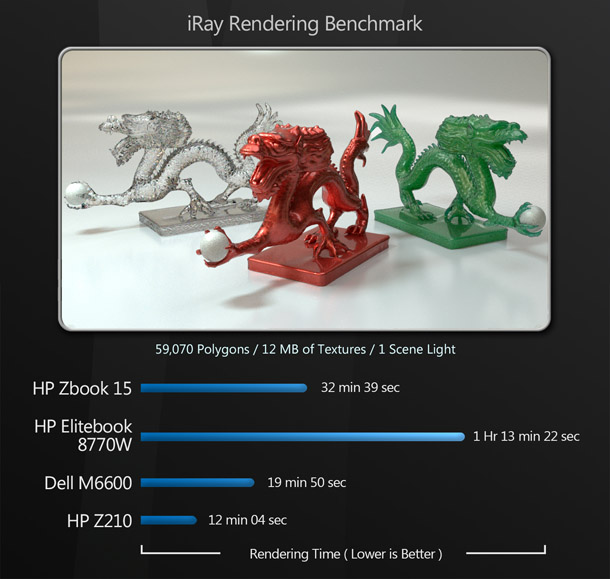 As with the DCC benchmarks, the Z210 takes first place and the Precision M6600 second – although here the ZBook 15 manages third place, with the EliteBook 8770w last.
Unreal Engine 4.5.1 and CryEngine 3.6.4
In addition to standard DCC software, many game developers use the dedicated editors provided with game engines in their work. Two of the most popular and widely used are Unreal Engine and CryEngine.
Like the DCC tools, viewport performance in the real-time editors depends largely on the system GPU, so the ZBook 15's entry-level K610M becomes the bottleneck here. The Z210 takes first place, the Precision M6600 second, and the ZBook 15 comes in last. (Although I did run Unreal Engine and CryEngine benchmarks in my original review of the EliteBook 8770w, they used much older versions of the engines.)
x264 HD 5.0.1
Tech ARP's x264 benchmark encodes a 1080p video clip into a high-quality multi-pass x264 video file. The benchmark is multi-threaded and runs in 64-bit mode. Results are given in frames per second.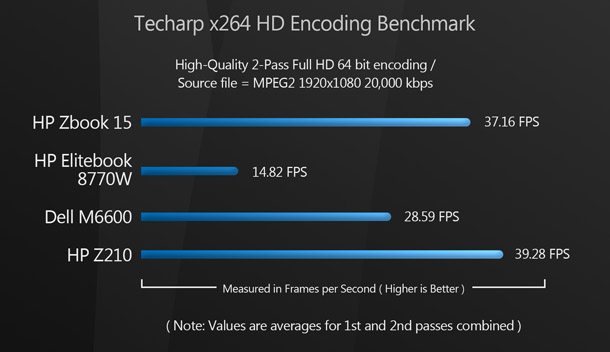 Here, the Z210 takes first place, followed closely by the ZBook 15, then the Precision M6600, with the EliteBook 8770w in last place.
Cinebench 11.5
Those of you who are familiar with my previous reviews will know that I am not a fan of the synthetic benchmarks that so many other reviewers rely on. This is simply due to the fact that the results they generate do not reflect the performance you would find in real production situations. Despite this, I have had requests from readers to include Cinebench results, so it is the one synthetic benchmark I include. You can download it here.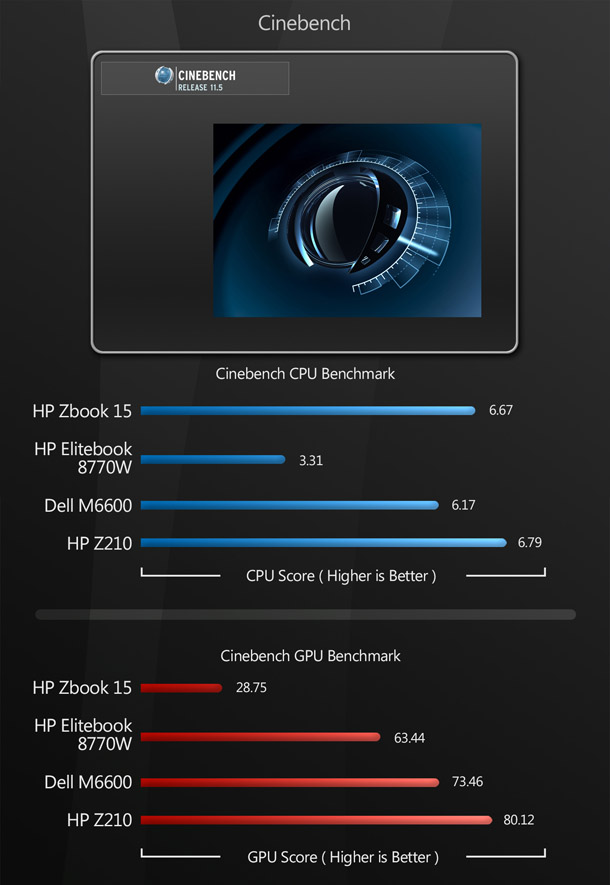 The Cinebench CPU benchmark is highly optimized for multi-threading, so core counts are the main performance booster, followed by clock speed. As a result, the Z210 takes first place here, closely followed by the ZBook 15, with the Precision M6600 in third, and the dual-core EliteBook 8770w last.
In the GPU benchmark, things shift a bit, with the Z210 and its Quadro K4000 again taking first place, followed by the M6600 and its Quadro 5010M, the EliteBook 8770w and its Quadro K3000M, and lastly, the ZBook 15 with its entry-Level Quadro K610M.

Remote Graphics Software

As well as its hardware, HP offers its business customers software solutions aimed at increasing productivity and streamlining workflows. One such solution is its Remote Graphics Software (RGS), currently on version 7. In simplified terms, remote desktop-access software enables the user to control a computer remotely from another computer or dummy terminal via a TCP/IP connection, meaning that laptop or even tablet users can make use of the processing power of a higher-end system.

For testing, I installed the RGS software on the ZBook 15 (as the receiver) and a high-end desktop Z820 workstation (as the sender). Not being a network engineer or IT specialist, getting everything set up correctly was a little tricky, but once I had, I was able to use the Z820 normally, but from anywhere in the house that I could access my network, with the ZBook 15 handling display and input.

There are a lot of commercial remote-access software packages out there, but HP's is optimised for heavy graphics tasks, meaning the the receiver updates more smoothly when running graphically intensive applications like 3D, video editing and video playback software. In testing, I experienced very little latency: it actually felt like I was using the Z820 directly, not working through a remote system.

The only disappointing thing about RGS is that it only works over a local network, not via the internet. It would be useful if professionals working in the field were able to log into the machines in their studio's data center.


Other considerations

Power consumption
Next, let's take a look at a few of the other characteristics that are critical for mobile systems. First off, power draw. Mobile workstations must be designed to draw as little power as possible, since the system must be able to run adequately off a battery pack when there is no A/C outlet nearby.

The figures below were recorded at the wall outlet using a Kill A Watt meter. The GPU load test was performed with the Unreal Engine 4.5.1 editor, the CPU load test by rendering with mental ray inside Maya, and the dual CPU/GPU load test by rendering with iray inside 3ds Max.




The ZBook's power draw is quite low: even lower than the EliteBook 8770w, despite having more RAM and a more powerful quad-core CPU. At idle, it pulls just 19W from the wall outlet (10W when the screen dims). With the GPU at full load, it pulls 53W; with the CPU at full load, 67W; and with both CPU and GPU at full load, 83W.

Thermal performance
Thermal performance is critical for mobile workstations. With all of the internal components squeezed together into such a tight space, poor cooling performance can spell death to an over-used machine – not to mention the fact that a mobile system that heats up significantly can become quite uncomfortable to use when working on your lap, or when resting your hands on the keyboard and trackpad for any length of time.




In previous tests, the Precision M6600 ran quite hot, with the outer chassis becoming uncomfortable to touch, and the components topping out near their maximum safe operating temperatures. With its lower-spec hardware, the EliteBook 8770w ran significantly cooler, both internally and externally.

The ZBook 15 is a mixture of the two. Like the M6600, the internal parts become quite hot (the CPU especially), but despite this, the outer chassis does not become uncomfortable to touch. Like the 8770w, the only notably warm outer part is the cooling fan exhaust vent on the rear left side .

While this makes it more pleasant to use, I would be nervous about using the ZBook 15 with any applications that are going to tax the CPU for long periods of time: the CPU averages 88°C and can spike up to 92°C. As I have noted in previous reviews, operating the workstation on a laptop stand with cooling fans underneath brings down the CPU temperature by an average of 4-5°C, so I would recommend that here.

Battery life
The ZBook 15 uses an eight-cell 83WHr Lithium Ion battery pack. Like many other mobile workstations, battery life is reasonable during normal use, but tax the CPU or GPU with any kind of graphics work, and it diminishes quite rapidly. With light-load tasks (primarily internet browsing, plus some use of Microsoft Word and Excel and 1080p video playback), battery lifespan averaged just over six hours. Pushing the CPU to 100% load reduced this figure to just under two hours. If you have any moderately complex render, or a simulation that you know will take more than an hour and a half to complete, make sure you have a wall outlet handy,


Overall conclusion

As far as design and build quality go, I really like the ZBook 15. It has a simple, elegant chassis without the flashy exterior lighting common in high-end gaming laptops. It is also a very sturdy system and feels solid and well-put-together – much more so than the Precision M6600.

The ergonomics are also quite good. The track pad is quite large, allowing for more precise cursor control; the keyboard is comfortable and easy to use; and the backlighting on the keys is a nice touch absent from the EliteBook 8770w.

My only real gripe here is that, although lighter than either the Precision M6600 or EliteBook 8770w, the ZBook 15 is still a little on the heavy side for a 15-inch system. Throw the workstation and its A/C adapter into a laptop bag, and it will give your shoulder quite a work-out.

So it's well designed. How about overall performance? With the configuration used in our test system, the ZBook 15 easily performs on par with most mainstream quad-core desktop workstations. It takes first place in several of the CPU-bound benchmarks, and comes in a close second to the desktop Z210 system in the rest.

The test system's only real weakness was its Quadro K610M GPU. This proved to be a significant bottleneck in the system, with the ZBook 15 coming in last in most of the GPU-intensive benchmarks. For moderate-to-heavy DCC work, its performance is inadequate. HP offers alternative configurations using the Quadro K1100M and K2100M, and while this would push the price up, I suspect the ZBook 15 would then be capable of keeping up with its desktop counterparts in all aspects of content creation.

From a performance standpoint, my only worry with the ZBook 15 is the thermal characteristics of the Core i7 CPUs. The test system ran very hot under load, and there isn't much data available to say how well Haswell processors hold up when pushed to their thermal limits over long periods of time.

Power at a reasonable price
With its powerful performance, HP's service and support, and added bonuses like the Remote Graphics Software, the ZBook 15 is a great 15-inch mobile system. Opt for a higher-end GPU, and I would recommend it to any media or content creation professional who needs to work on the move.

Our test system also came out slightly less expensive than the EliteBook 8770w, which, despite its 17-inch screen, came with half as much RAM and a lower-resolution display. And for those of you who find the $3,100 MSRP too high, third-party vendors sell the system at a significantly lower price. At the time of writing, you can find a ZBook 15 with similar specs to our test system, but a larger 750GB hard drive and a top-of-the-line Quadro K2100M GPU, going for $2409.99 on Newegg.com.

Overall, the ZBook 15 is a significant improvement over the older EliteBook 8770w. HP is due to refresh its mobile workstations soon, but with the new models unlikely to be available until later this year, if you're in the market for a powerful, feature-rich mobile workstation with a 15-inch form factor, look no further.

Jason Lewis has over a decade of experience in the 3D industry. He is currently Senior Environment Artist at Obsidian Entertainment and CG Channel's technical reviewer. Contact him at jason [at] cgchannel [dot] com

Read more about the ZBook 15 on HP's website

Read our reviews policy FAQs document

Acknowledgements

I would like to thank the following vendors and individual artists who contributed to this review:

Nvidia
Chaos Group
Autodesk
Adobe
Gnomon School of Visual Effects

Oliver McIntosh and Tom Kim of Porter Novelli
Stephen G Wells