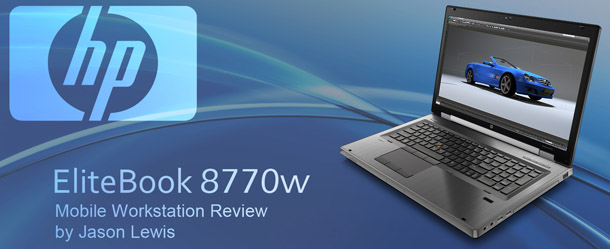 Jason Lewis had his opinions of mobile workstations changed forever by the high-end Dell Precision M6600. HP's mid-range EliteBook 8770w isn't as life-changing, but it is a capable performer for the pro on the go.
Last year, we took a look at our first mobile workstation, the Dell Precision M6600 – and came away impressed. Today, we are looking at a machine from one of Dell's competitors: HP's 17″ EliteBook 8770w.
I am often asked whether a mobile workstation can perform as well as a desktop system – and more generally, if going with a mobile workstation is a good idea at all. We answered the first question with the Dell review, showing that the M6600 could hold its own against a desktop system of similar spec, albeit at a much higher price point. Desktop machines only really start to outperform mobile ones once you get to six- and eight-core or multi-CPU systems, or through the kind of extreme overclocking only possible in consumer desktops.
The second question is more difficult, as it is dependent on your individual circumstances. If you do work in the field, a mobile system is nice, or even necessary. However, if you are a power user who needs expandability, or a system that can handle ultra-demanding applications, a desktop might be better for your needs.
Price and system specifications
Our test machine sported an Intel Core i7-3520M dual-core processor with a base clock speed of 2.9GHz, but capable of scaling up to 3.6GHz according to processor workload using Intel's Turbo Boost technology. The CPU is also Hyper-threaded, so it can handle up to four threads simultaneously. Feeding the data needs of that processor is 8GB of DDR3 RAM and a Hitachi 500GB 7200 RPM SATA hard drive. For graphics, our test system came fitted with an Nvidia Quadro K3000M GPU. It runs Windows 7 Professional x64.
Pricing for the 8770w currently starts at $1,649, but our test system came in at approximately $3,200: considerably lower than the $6,000-plus M6600. However, whereas the M6600 was packed with high-end parts, the EliteBook 8770w has a much more mid-level configuration. We will be looking at whether such a mid-level system can meet the demands of a professional user.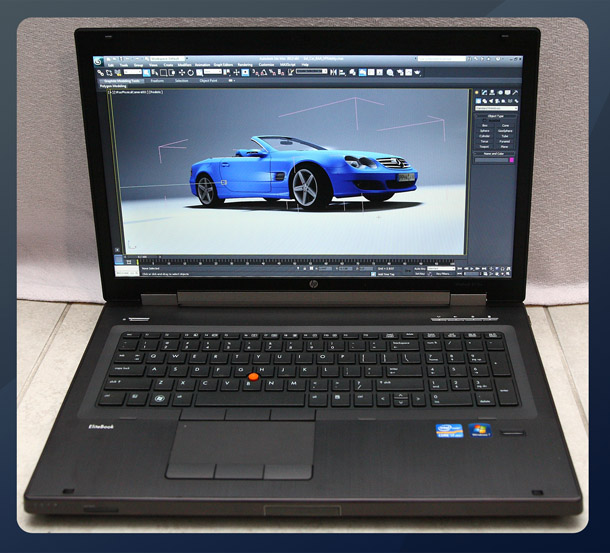 First impressions
The overall design of the 8770w is standard mobile workstation fare, simple and elegant, with clean, uncluttered lines, unlike some of wilder designs favoured by consumer and gaming workstations. Finished in a gunmetal grey colour scheme, the 8770w is a nice-looking, comfortable machine.
The display
The 8770w has the largest screen of any of HP's mobile systems, measuring 17″ diagonally. HP offers three options here, all IPS panels: a base model sporting a 1,600 x 900 resolution; a full HD panel with a 1,920 x 1,080 resolution; and a high-end DreamColor HD panel, also with 1,920 x 1,080 resolution, but supporting 30-bit colour.
Our test system was equipped with the base 1,600 x 900 display with a matt coating, in contrast to the M660's 1,920 x 1,080 glossy screen. In terms of quality, it proved to be a solid, middle-of-the-road display: colours were reproduced reasonably well, but had a slightly dark and undersaturated feel. Black levels were decent, but nothing compared to the beautiful glossy screen on the M6600, which came close to high-quality plasma TVs. However, the matt screen does have the benefit of greatly reduced glare in outdoor environments and in brightly lit rooms, and the 8770w offers substantially better performance when not viewed face on: whereas the M6600's colours and brightness levels change quite drastically with a relatively small shift in viewing angle, the EliteBook's color shift is barely noticeable until you get to fairly extreme angles.
Next, let's talk about resolution. The HP system is running an HD+ display offering a resolution of 1,600 x 900, in contrast to the Dell's 1,920 x 1,080 display. For general use – document editing, web browsing, video playback, and so on – the reduced resolution is barely noticeable. However, open up Maya, 3ds Max, Photoshop, or anything else with lots of toolbars, floating menus and option dialogs, and you will notice that they take up more screen space, leaving less room for your primary viewports.
HP reps have told me that the HD+ screen is optimized for certain productivity applications, but they didn't say which ones, and I am personally unfamiliar with any professional graphics software that would fit well within that resolution. If you plan on using the 8770w as a true mobile graphics workstation, do yourself a favour and go with one of the full HD options.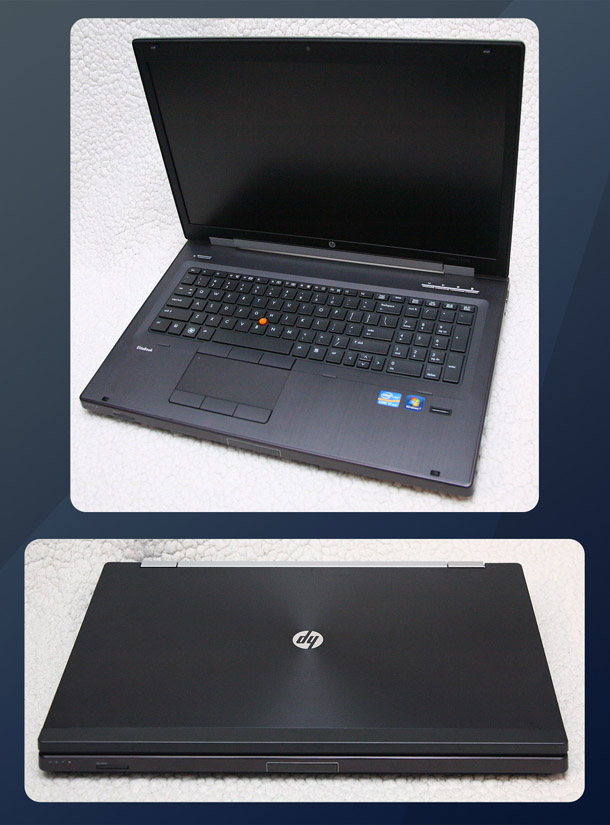 Build quality and keyboard
The 8770w has a superb build quality, and feels like a sturdy system. The M6600, while nicely designed, feels a little flimsy in comparison. The trackpad on the 8770w is also significantly larger than the one on the M6600, which permits more precise cursor positioning.
However, while the keys on the M6600 were backlit, those on the 8770w are not. This is a feature I missed: I do a lot of my work late at night, or in darkened offices, so backlighting helps me find the key I'm looking for quicker.
Connectivity
Connectivity is good on the 8770w, with a VGA port, two USB 2.0 ports, headphone and mic jacks, and the DVD drive on the right-hand side of the system; a gigabit Ethernet port, a DisplayPort connector, an eSATA port, two USB 3.0 ports and a mini FireWire port on the left-hand side of the system; an SD card slot on the left front edge; and the plug for the external power brick in the back left corner of the system.
The M6600 provides more card readers and a DVD writer, and opts for HDMI in place of DisplayPort, but for most users, there won't be much to choose between the two systems.
As far as external dimensions go, the 8770w is pretty standard for any high-end 17″ mobile system. Measuring 16.4 x 10.7 x 1.47 inches (41.7 x 27.3 x 3.7cm) and weighing just under 8 lb (3.47kg), it is almost identical in size and weight to the M6600.
Again, this is no Ultrabook or MacBook Air, but with its high-specification parts, there is no way it could be. Overall, I haven't found size or weight to be that much of an issue. With a good case, I have been able to cart the 8770w around for lengthy periods without difficulty.
Testing procedure
For benchmarking, we have my standard suite of professional applications, plus a couple of new tests based around the popular games engines Unreal Engine and CryEngine:
DCC packages
3ds Max 2013, Maya 2013, Softimage 2013, Mudbox 2013, ZBrush 4, Fusion 6.2 LE
CPU-based renderers
mental ray 3.10, V-Ray 2.0, Maxwell Render 2.7
GPU-based renders
iray
Simulation tools
RealFlow 2012
Games engines
UDK (February 2013 Beta)
CryEngine SDK 3.4
Synthetic benchmarks
CineBench 11.5
We will be comparing the 8770w to two systems from previous reviews. Both have higher-specification hardware, but fall into the mainstream of professional workstations in terms of performance.
The first of our two comparison systems is the Dell M6600 mobile workstation. It sports a Hyper-threaded i7-2920XM quad-core CPU with a base clock speed of 2.5GHz scaling up to 3.5GHz with Turbo Boost. It is equipped with 8GB of DDR3 RAM, and a previous-generation Nvidia Quadro 5010M GPU. Its one overkill feature is its two 500GB SSD hard drives set up in a RAID 0 configuration. You can find our review of the M6600 here.
Our second test machine is a desktop system, an HP Z210 workstation. The Z210 has a Hyper-threaded quad-core Xeon CPU, running at a clock speed of 3.4GHz. It is equipped with 8GB of DDR3 RAM, and is running an Nvidia Quadro 4000 GPU. For storage, the Z210 sports a 160GB Intel SSD as its primary OS and programs drive, and a 1TB Seagate 7200 RPM SATA drive for data storage. You can find our review of the Z210 here.
3ds Max 2013
First up is Autodesk's modelling, rendering and animation software. For our 2013 reviews, we have moved up to – surprise, surprise – the 2013 version of 3ds Max. According to sources at Autodesk, it and Maya make up a little over 80 percent of the DCC market. The benchmarks show average viewport frame rates for rotating, panning, vertex and face editing for each model displayed. All were performed with the Nitrous viewport's Realistic shading mode.
So how does the 8770's mid-range K3000M GPU stack up to the M6600's previous-generation top-of-the-line Quadro 5010M and the Z210's high-end desktop Quadro 4000? Pretty well, actually. With the Audi A5 benchmark, it comes in third, but all three GPUs fall within a few FPS of one other, making display performance effectively identical. With the steampunk tank benchmark, the K3000M takes second place, with a slight lead over the Quadro 4000, but some way behind the 5010M.
Maya 2013: viewport
Next up, we have Maya, the other half of the DCC industry's 'big two'. Like 3ds Max, we have moved up to the 2013 version of Maya for the tests. The following benchmarks show average viewport frame rates for rotating, panning, vertex and face editing for the model shown. All benchmarks were performed with the Viewport 2.0 display.
In the landing pad scene, the 8770w's K3000M takes first place with a significant lead over the Z210's Quadro 4000. Curiously, the M6600's Quadro 5010M comes in well behind both. On the high-polygon troll model with ambient occlusion enabled, performance is more what you would expect: the M6600 takes first place with a decent lead over the other two systems, which perform almost identically.
Maya 2013: cloth dynamics
Next we have a cloth simulation done with Maya's cloth dynamics. The simulation is a basic flag with a Gravity and Wind force applied to it, simulated over 140 frames of animation.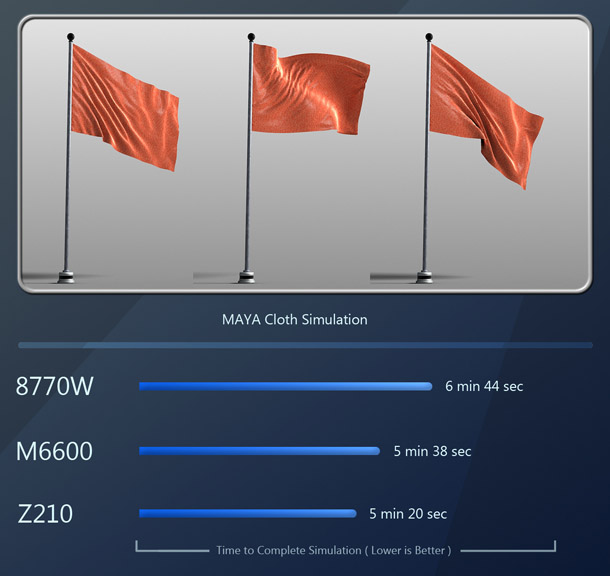 Here, the Z210 takes first place, followed by the M6600, with the 8770w trailing in third. However, performance on all three systems is relatively similar, with only just over a minute between them.
Softimage 2013
Softimage is the third DCC application in Autodesk′s line-up. It is a full-featured 3D modeling, animation and rendering package. Again, the benchmark consists of averaged frame rates for viewport rotating, panning, vertex and face editing for the scene shown.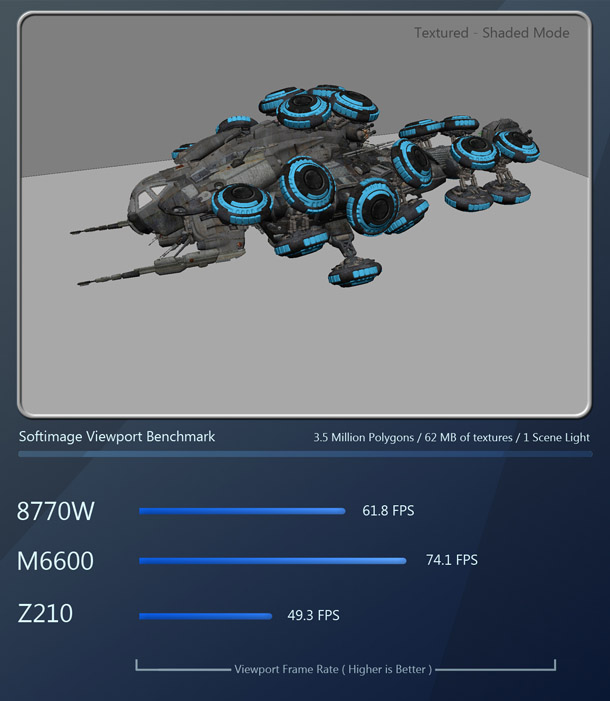 Again, the M6600 and its Quadro 5010M takes first place, followed by the 8770w and its Quadro K3000M. The Z210 and its Quadro 4000 trails in third.
Mudbox 2013
The last piece of Autodesk software used for our benchmarks is Mudbox 2013. Unlike 3ds Max, Maya and Softimage, Mudbox is a digital sculpting program similar to ZBrush. Sculpting applications tend to be optimised to display much higher polygon counts than their traditional DCC cousins. With this benchmark, we will look at simple viewport performance while panning, rotating and zooming the model, and viewport performance while sculpting.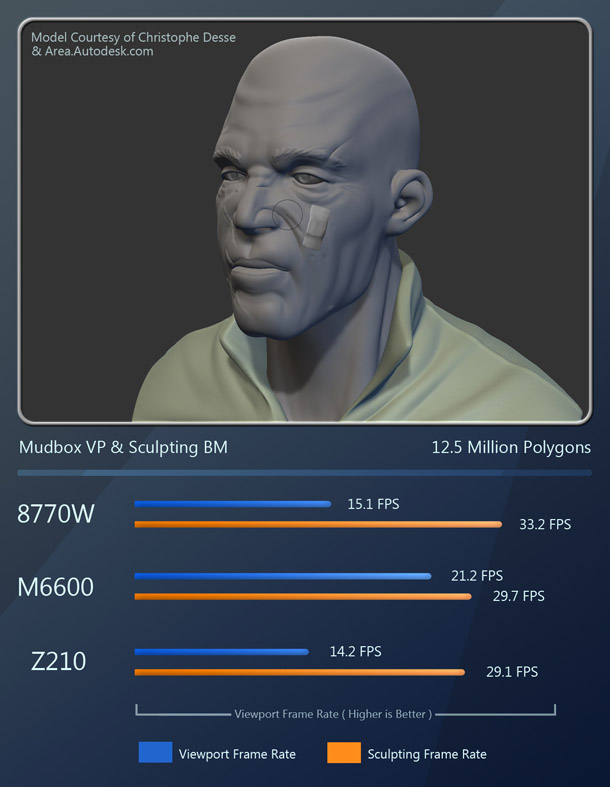 General viewport performance mirrors that in other applications: the M6600 and its Quadro 5010M takes first place, some way ahead of the 8770w and the Z210. During sculpting, all three systems show far more similar performance, but the 8770w comes out noticeably ahead.
ZBrush 4
ZBrush, like Mudbox, is a digital sculpting application. But whereas Mudbox taxes both the CPU and GPU, ZBrush only uses the CPU to render geometry to screen.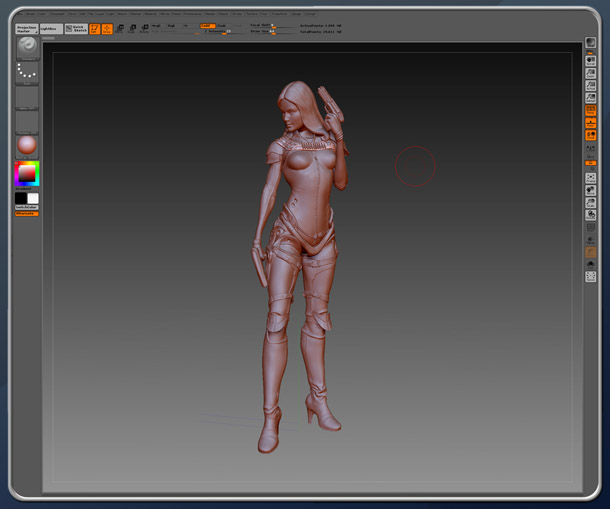 While Mudbox taxes both the GPU and CPU, ZBrush uses Pixologic's own proprietary CPU-based technology. As I have mentioned in previous articles, I don't know of a way to quantify performance in ZBrush: since its display engine foregoes standard APIs like OpenGL and DirectX, FRAPS cannot record a frame rate.
Subjectively, I could barely notice a difference in performance across the three systems when working on a moderately dense mesh. There might be more of a disparity on a model with HD Geometry or lots of SubTools, but that is pure speculation on my part.
Fusion 6.2 LE
Fusion is a node-based compositing application. For this benchmark, we have a moderately complex composition consisting of multiple frame composites, color correction passes, and frame distortions. The composition is 141 frames long, and is rendered at HD 720 resolution.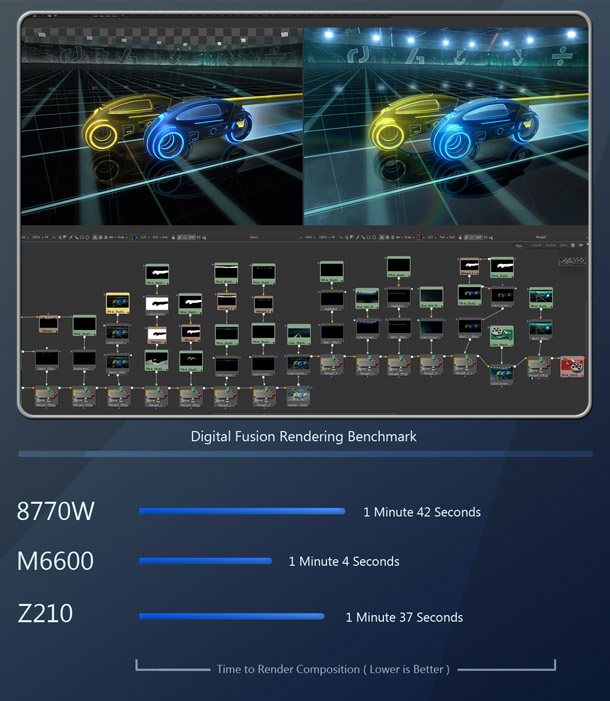 Once again, the M6600 takes first place, but here, the Z210 comes in second and the 8770w third. It's curious that the Z210's 3.4GHz CPU comes in behind the M6600's 2.5GHz chip: I can only speculate that the M6600's SSD RAID setup reduces frame read times compared to the Z210's mechanical hard drive.
mental ray 3.10
Our first rendering benchmark uses mental ray. Together with RenderMan (and more recently, Arnold), it is one of the more popular rendering packages for visual effects and animation.
Our previous reviews have shown that rendering applications are fully multithreaded and take advantage of all available CPU cores (most modern rendering packages scale up to 32 or 64 CPU cores). By that logic, four CPU cores will always beat two CPU cores unless there is a massive disparity in clock-speed or processor technology. This is evident in the mental ray benchmarks, with the Z210's faster quad-core CPU taking first place in both tests, the M6600 and its slower quad-core CPU coming in second, and the 8770w and its dual-core CPU in third.
V-Ray 2.0
V-Ray is a third-party renderer for 3ds Max, Maya, Softimage, SketchUp and Rhino. Like mental ray, the core renderer is CPU-based.
The results are similar to the mental ray benchmarks, with the Z210 in first place, the M6600 second, and the 8770w third – once again illustrating that with rendering, more CPU cores equals more performance.
Maxwell Render 2.7
Maxwell Render was one of the first commercial renderers based on unbiased rendering technology. Unbiased renderers have the advantage of a much simplified user experience and realistic output, but are significantly slower than their Reyes-based counterparts. Again, the core renderer is CPU-based.
As with the other CPU-based renderers, the Z210 comes in first, the M6600 second, and the 8770w third.
iray
iray is an unbiased renderer developed by Nvidia that is heavily GPU-accelerated. It is currently the most popular GPU-accelerated renderer on the market today, being integrated into recent versions of 3ds Max.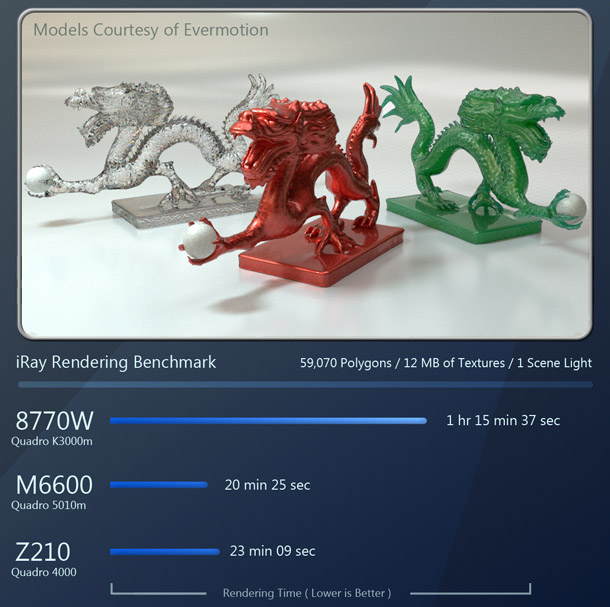 With iray, the 8770w suffers a double disadvantage. In addition to its dual-core CPU, reviews on other websites suggest that the GK104 chip used in its K3000M GPU suffers from poor compute performance compared to those in the M6600 and Z210. As a result, it comes in significantly behind our other two test systems.
RealFlow 2012
RealFlow 2012 is a hybrid grid/particle-based fluid simulation application. Our benchmark consists of a 700-frame simulation with one emitter and one collision object. The particle count tops out at 1.6 million.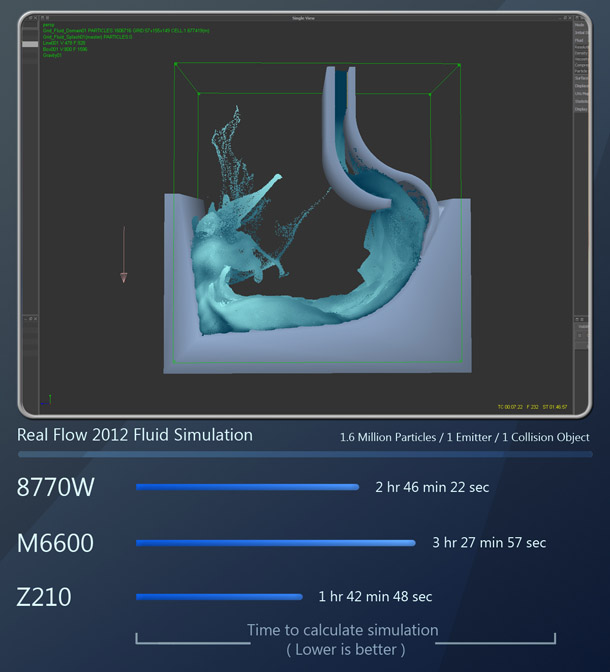 RealFlow is supposedly multi-threaded, but in observing the Windows performance graph, I have not seen it scale beyond two CPU cores. On that basis, it is not surprising that the 8770w takes second place, beating out the slower-clocked CPU in the M6600. The Z210, with its high clock speed, takes first place.
Unreal Development Kit (February 2013 beta) and CryEngine SDK 3.4
Game development is an important sector of the professional graphics market, so for this review, we have added two benchmarks aimed specifically at games work. In addition to DCC tools like Maya and 3ds Max, many game developers use dedicated editors to assemble real-time content. Our tests use two of the most popular: Unreal Development Kit (UDK), and the CryEngine SDK. Again, the benchmarks record viewport frame rates.
As with other viewport tests, the M6600 and its Quadro 5010M GPU comes in first, the Z210 and its Quadro 4000 takes second, and the 8770w and its Quadro K3000M takes third. However, performance is relatively similar on all three test systems. I would conclude from the benchmark scores that the 8770w would be a perfectly viable system for game development work.
Cinebench 11.5
Those of you who are familiar with my previous reviews will know that I am not a fan of the synthetic benchmarks that so many other reviewers rely on. This is simply due to the fact that the results they generate do not reflect the performance you would find in real production situations. Despite this, I have had requests from readers to include CineBench results, so it is the one synthetic benchmark I include. You can download it here.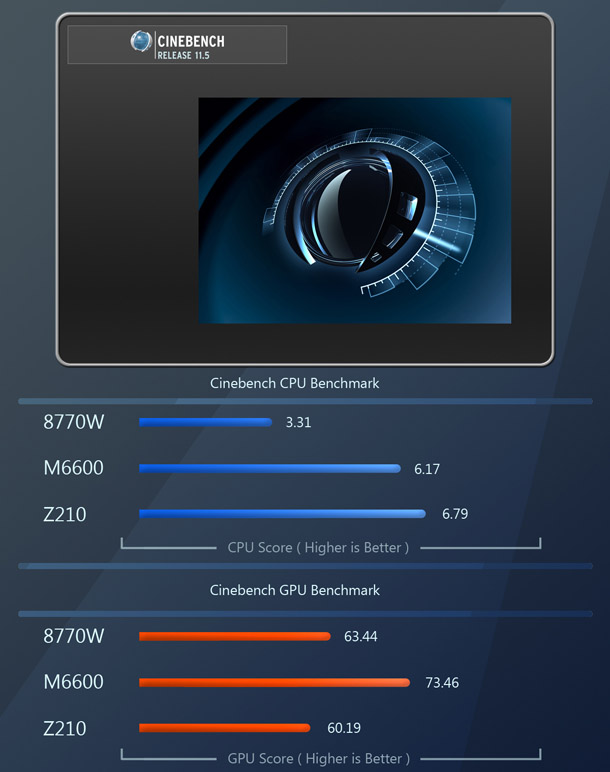 The CineBench CPU benchmark is highly optimized for multi-threading, so core counts win out over clock speed, with the Z210 taking first place, closely followed by the M6600, and the 8770w taking third. In the GPU test, things change a bit, with the M6600 taking first place, the 8770w coming in second, and the Z210 in third.
Gaming benchmarks
Lastly, I wanted to throw in a few gaming benchmarks. Even professional artists need to step away from work and get down with some intense gaming now and then, and I have seen a lot of questions on forums asking whether or not professional GPUs can handle gaming well, given that their drivers are tuned for DCC applications.
I don't have a mobile system with a gaming GPU to which I can compare the 8770w, but I tried a range of recent benchmarks to see if its K3000M GPU can handle current games at resolutions and levels of detail high enough to make gaming enjoyable.
As you can see, the 8770w performs pretty well at the 17″ display's native 1,600 x 900 resolution. While gaming is definitely a secondary priority for a graphics workstation, the EliteBook 8770w will play games at acceptable frame rates when you need to take a break from work.
Other considerations
Power consumption
Before we close, let's take a look at a few other characteristics that are critical for mobile systems. First off, power draw. Mobile systems must be designed to draw as little power as possible, since the system must be able to run adequately off a battery pack when there is no A/C outlet nearby – and since space within the system is limited, that battery pack can only include a limited number of cells. Happily, the 8770w's power draw is superb.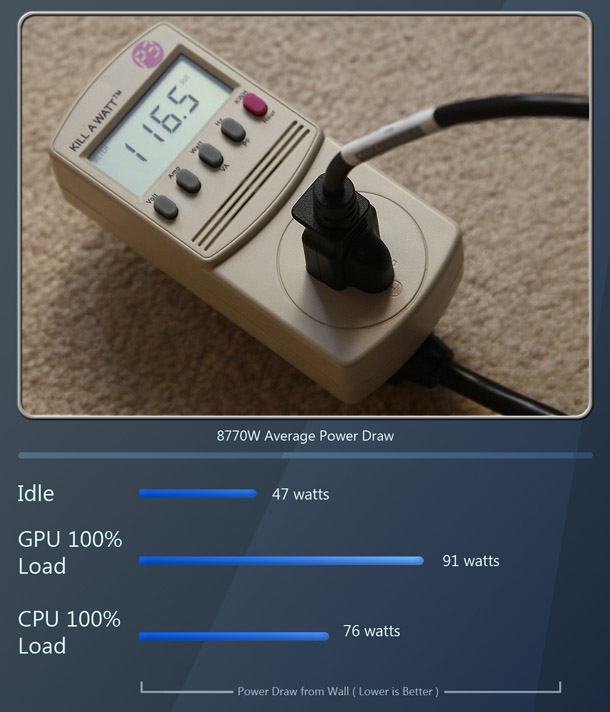 As you can see from the figures above, recorded at the wall socket with a Kill A Watt meter, the system pulls 47W when idle. This is actually 6W higher than the quad-core M6600, which is odd considering the M6600's higher-spec hardware: I suspect it has to do with the fact that the 8770w is equipped with a mechanical hard drive rather than the M6600's SSDs. However, power draw under load is much lower: 91W under full GPU load, and just 76W under full CPU load – over 40W lower than the M6600. This can be attributed to the fact that there are only two CPU cores, and that the i7-3520M processor is built on Intel's new 22nm Ivy Bridge architecture, which reduces its power requirements considerably.
Thermal performance
Thermal performance is critical in all workstations, but this is especially true for mobile systems. With all of the internal components squeezed together into an extremely tight space, poor cooling performance can spell death for an overused mobile system, not to mention the fact that a mobile system that heats up significantly can become quite uncomfortable to use for any length of time, particularly if it is on your lap.
If you read my review of the M6600, you will remember that the system ran quite hot, and required an active cooling laptop stand to reduce the operating temperatures to safer levels. The 8770w is quite different: at system idle and under light load, the i7-3520M CPU stays between 45 and 51°C, and under full load, it tops out at 72°C. More notably, even after rendering for a couple of hours, the only part of the external surface that gets even slightly warm is the vent on the side where the cooling fan exhaust is located, and even that is not uncomfortable to the touch. As with the M6600, when you operate the 8770w on a laptop stand with cooling fans underneath, this brings down the CPU temperature by a further 4 to 5°C.
Battery life
The 8770w uses an eight-cell 83WHr lithium ion battery pack. Like many other mobile workstations, battery life is fine with with light-load tasks, but tax the CPU or GPU with any kind of graphics or DCC work, and the battery will drain pretty quickly. For web browsing and word processing, I was able to get just over four hours and fifteen minutes on a full charge. Upping the load with video playback dropped that to a little over three hours, and modelling work in 3ds Max or Maya (no rendering) dropped it further, to just under two hours. Putting the CPU under full load with rendering, the battery drained in around one hour and fifteen minutes. While this is fairly typical for a mobile system, it isn't enough to get any proper work done without an A/C outlet handy. If you're working on anything more than the simplest scene, you will need to have the 8770w plugged in to finish rendering.
Overall conclusion
From a design and ergonomics standpoint, the 8770w is top-notch, just like HP's Z-Series desktop workstations. The system is well laid out, and durable. External connectivity is good and the oversized trackpad makes using the system without a mouse far less painful.
System performance is more of a grey area. Any system is only as powerful as its components, and while I would have been happier to see a quad-core CPU and 1080p display for the money, the 8770w's $3,200 price tag places it in line with mobile workstations from other vendors.
In general, the test system did a pretty good job on most of the benchmarks we threw at it. Application and display performance were good across the board for all of the 3D packages, including the sculpting and simulation tools, and even gaming performance was pretty good.
However, I see two weaknesses with the system. The first is editing/compositing, as frame read times are a little slow, especially with HD content, probably due to the single mechanical hard drive. Opting for an SSD or two mechanical drives in a RAID 0 configuration would help here. The second, and more severe, weakness is rendering performance. At present, most DCC professionals agree that a quad-core CPU is the minimum required for a workstation, and this is evident in our rendering benchmarks: the 8770w's dual-core CPU suffered greatly in comparison to the quad-core CPUs of the other two test systems.
If your workflow doesn't include a lot of rendering, or editing and compositing HD content, the configuration of the 8770w we tested should handle most things you can throw at it. Even so, I would recommend a more versatile configuration, swapping the dual-core CPU for a quad-core, adding a second hard drive in a RAID 0 configuration, and moving up to a full HD display.
Overall, the HP EliteBook 8770w is a solid, well-built mobile system that offers good performance and reasonable versatility. By upgrading the components listed above, our test system would offer true graphics workstation performance in a mobile form factor for the professional on the go.
Jason Lewis has over a decade of experience in the 3D industry. He is currently Senior Background Artist at Electronic Arts and CG Channel's regular technical reviewer. Contact him at jason [at] cgchannel [dot] com
Read more about the EliteBook 8770w on HP's website
Read our reviews policy FAQs document
Acknowledgements
I would like to thank the following vendors and individual artists who contributed to this review:
Autodesk
Chaos Group
Dell
HP
Nvidia
Sarah Goehri and Linda Lam of Porter Novelli
Stephen G Wells
Tags: 3ds max, 8770w, battery life, benchmark, CineBench, CPU, CryEngine SDK, DCC, Dell, EliteBook 8770w, Featured Articles, Fusion, GPU, graphics, group test, HP, HP Z210, iray, Jason Lewis, Maxwell Render, Maya, mental ray, mobile workstation, Mudbox, performance, portable, power draw, Precision M6600, price, RAM, RealFlow, Review, softimage, specifications, temperature, test, UDK, V-Ray, ZBrush