Thursday, August 10th, 2023

Posted by Jim Thacker
Autodesk ships Arnold 7.2.3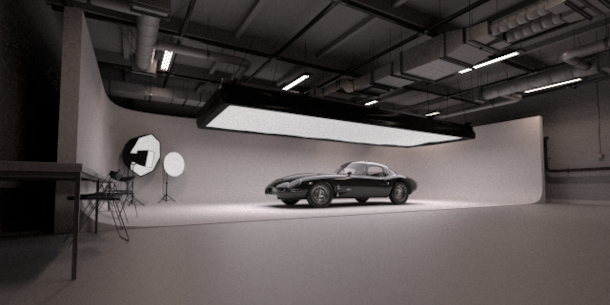 Arnold 7.2.3 adds support for Global Light Sampling when rendering on GPU, speeding up renders of scenes with multiple lights: in the case of this automotive scene with nine lights, by 2.6x.

Autodesk has released Arnold 7.2.3, the latest version of the production renderer.
The update adds support for Global Light Sampling when rendering on the GPU, improving render speed in scenes with multiple lights, and also extends the new distance shader.
Houdini users get native support for Apple Silicon, cutting render times on Macs with M1 chips.
Support for Global Light Sampling on GPU speeds up renders of scenes with complex lighting
Despite the small change in version number, Arnold 7.2.3 represents a significant improvement in performance if you're rendering on GPU, or if you're a Houdini user.
The new Global Light Sampling (GLS) system introduced in Arnold 7.2.1 is now supported in Arnold GPU.
As with the original CPU implementation, it mainly benefits scenes with "moderate to large" numbers of lights – roughly speaking, those with 10 or more lights – which render "2-6x faster".
Scenes that do not benefit tend to render "a few percent" faster, and may even render slower.
Native support for Apple's M1 processors in Houdini
In addition, Arnold for Houdini (HtoA), the Houdini integration plugin, gets native support for Apple Silicon, Houdini itself having begun to support the processors, used in current Macs, earlier this year.
The change results in a speed boost of "up to 1.45x", but in the initial release, only Apple's previous-generation M1 processors are supported.
Native Apple Silicon support was previously only available in Arnold for Cinema 4D and Arnold for Maya.

Updates to the distance shader and better OpenUSD support
Other changes in Arnold 7.2.3 include new return direction and distance to nearest hit parameters in the distance shader, used to create the digital makeup effects in the video above.
In addition, the update further extends OpenUSD support, primarily when rendering curves.
Support in the integration plugins
Currently, three of Arnold's integration plugins have been updated to support the new features:
3ds Max: Not yet updated
Cinema 4D: C4DtoA 4.6.4
Houdini: HtoA 6.2.3.0
Katana: Not yet updated
Maya: MtoA 5.3.3
However, check before updating: at the time of writing, the releases have a bug that can cause renders to be watermarked on Windows and macOS. You can find details here. Autodesk is working on a fix.
System requirements and availability
Arnold 7.2.3 is available for Windows 10+, RHEL/CentOS 7+ Linux and macOS 10.13+. Integrations are available for 3ds Max, Cinema 4D, Houdini, Katana and Maya.
GPU rendering is supported on Windows and Linux only, and requires a compatible Nvidia GPU.
The software is rental-only, with single-user subscriptions costing $50/month or $400/year.

Read a full list of new features in Arnold 7.2.3 in the online documentation