Wednesday, August 3rd, 2022

Posted by Jim Thacker
Amazon makes AWS Thinkbox software available free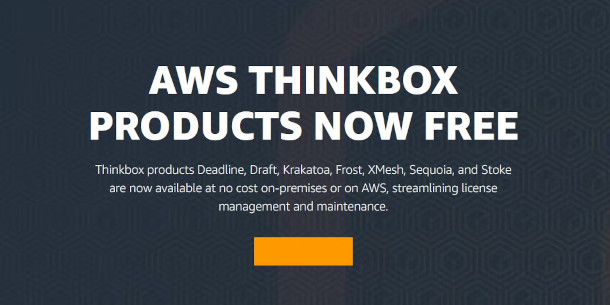 Amazon Web Services (AWS) has made its AWS Thinkbox software products – Deadline, Draft, Krakatoa, Frost, XMesh, Sequoia and Stoke – available for free.
Anyone with a free AWS account can download the software, with 50,000 one-year licences available for each. Users of Deadline and Krakatoa can also obtain Usage-Based Licensing (UBL) render time for free.
Product support will continue to be available to customers, including via its AWS Premium Support and AWS Thinkbox Support teams, as well as on community forums.
Rendering and render-management tools used by some of the world's leading VFX houses
Amazon acquired what became the AWS Thinkbox products from Thinkbox Software in 2017.
Of the seven products, the best-known are render-management system Deadline and render post-processing tool Draft, and 3ds Max and Maya particle rendering toolkit Krakatoa.
The product line is rounded out by particle and point cloud meshing tools Frost and Sequoia, geometry caching system XMesh, and particle reflow toolkit Stoke.
Users of the software namechecked on the AWS Thinkbox website include well-known visual effects facilities including Framestore, Method Studios, Luma Pictures and Scanline VFX.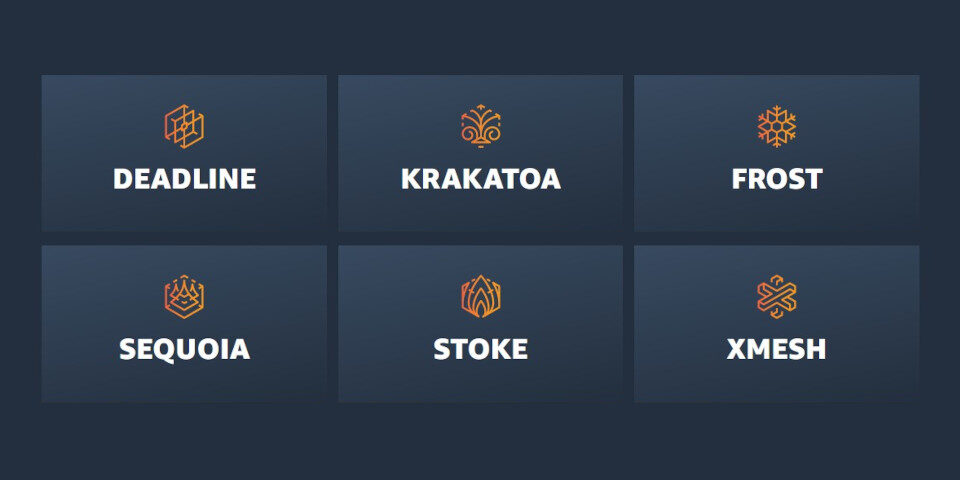 Free to download, with 50,000 licences avaialble for each product
All seven of the products are now free in some form: the only exception is Draft Pro, which continues to need a purchased licence.
Anyone with a free AWS account can access the AWS Thinkbox download page, and obtain 50,000 one-year floating licences for each product. New licence files can be downloaded at any time.
Deadline and Krakatoa users can also obtain hours of UBL (Usage-Based Licensing) – the software's on-demand metered licensing scheme – for free, although in the case of Deadline, if you update to the latest version, Deadline 10.1.23.6, it does away with the need for licences entirely.
Older versions of the software remain available for pipeline compatibility, and AWS says that it will continue to provide support, including via its AWS Thinkbox Support and AWS Premium Support teams.
The latest AWS graphics tools to be made available free
The move makes the Thinkbox products the latest of AWS's graphics tools to be made available for free, following the announcement that the Lumberyard game engine was to be superseded by Open 3D Engine.
AWS had already moved some way in this direction, making Deadline free on up to 10 render machines.
According to the blog post announcing the changes, "AWS is dedicated to supporting customers … and this initiative is the latest effort to deliver greater access and more value to artists and studios."
Will the AWS Thinkbox tools continue to receive product updates?
AWS's announcement makes no mention of whether AWS Thinkbox tools will continue to receive updates.
For some of the tools, that would be little change – Sequoia remains on version 1.1, over six years after its commercial release – but Krakatoa and Deadline have both had updates this year.
That's particularly significant in the case of Deadline, which needs regular updates to support the latest versions of the DCC applications that studios run on render farms, like Maya and Houdini.

Updated 5 August 2022: We contacted AWS to ask which of the products are still in development. The firm responded that it is actively developing "multiple" AWS Thinkbox products, but did not specify which.
On the question of whether future updates would add new features, or simply support new versions of host applications, AWS told us: "We will continue to ensure AWS Thinkbox products support and remain compatible with the content creation tools that our customers use, as well as have the features that will help customers continue to accelerate their production pipelines."
Asked how product support would be funded now that the tools themselves are free, AWS pointed out that AWS Premium Support is a paid service, and said that it had "no plans to change the support models".
AWS also commented that the decision to make the tools free was made to "reduce the complexity of license procurement and maintenance" as well as reducing the barrier to entry for customers.

Licensing and system requirements
All of the AWS Thinkbox products are now available free to anyone with an AWS account. To register for one, you will need to enter credit card details, but you won't actually be billed unless you use other AWS services.
You can find more information on moving to the new licensing system in AWS's online FAQs, and system requirements for the individual software products in the online documentation.
Read Amazon Web Services' announcement that the AWS Thinkbox products are now available free