Originally posted on 9 November 2020. Scroll down for news of Update 2.
Chaos Group has released V-Ray 5 for SketchUp, the latest version of the production renderer for Trimble's architectural sketching software.
The update makes the key features from other editions of V-Ray 5 available in SketchUp, including compositing in the V-Ray frame buffer, the Light Mix system, and new materials options.
Unique features include V-Ray Vision, a new real-time rasterisation-based render mode for exploring SketchUp scenes, and Light Gen, an automated system for rendering lighting variations of a scene.
V-Ray 5 core features: compositing in the VFB, Light Mix and new materials options
SketchUp is the latest host application to be updated to the new V-Ray 5 architecture, following the releases of V-Ray 5 for 3ds Max and V-Ray 5 for Maya earlier this year.
Key changes include built-in layer-based compositing in the V-Ray Frame Buffer (VFB), and Light Mix, a Corona-Renderer-style system to adjust the intensity of lights in images without the need to re-render them.
The update also introduces a new Sun and Sky model, which generates more physically accurate results than its predecessor, particularly when the sun is close to the horizon.
SketchUp users also get the new material features in V-Ray 5, including new coat and sheen materials in the standard V-Ray Material, new texture randomisation options, and updates to V-Ray Dirt.
The release also ships with the updated material library, which includes over 500 presets representing common architectural materials like metals, glass and wood.
We covered the core features when V-Ray 5 for 3ds Max was released, so check out this story for details.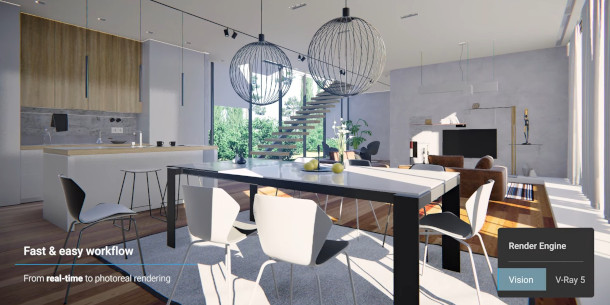 New V-Ray Vision scene viewer and real-time render mode
More interestingly, SketchUp users also get some unique features of their own: notably, V-Ray Vision, a work-in-progress new real-time rendering mode.
It's intended primarily for exploring scenes, providing a quick way to scout camera positions from which to launch final-quality renders using V-Ray's standard render engines.
However, Chaos Group says that it can also be used for rendering panoramas or animations in its own right, if you don't mind the drop in image quality: it uses rasterisation, not ray tracing.
V-Ray Vision is still early in development: in the initial release, it runs on Windows only, and there are "many unsupported V-Ray features and effects". You can find more details in the online documentation.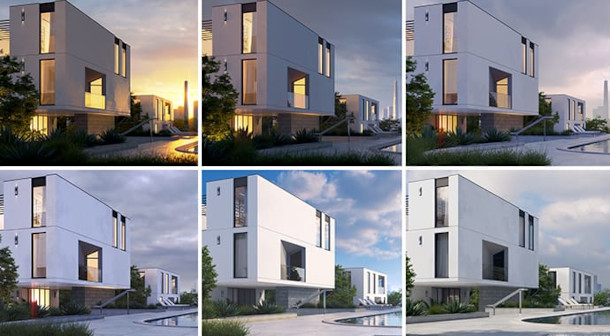 Light Gen generates and renders lighting variations for a scene automatically
Another feature new in V-Ray 5 for SketchUp is Light Gen: a new system for testing lighting variations.
It automatically randomises lighting properties in a scene, then renders thumbnails of each variant, making it possible to explore a large number of possible looks very quickly.
It can be used on both interior scenes, using either image-based lighting or a Dome light; or on exterior scenes, using the V-Ray Sun & Sky system.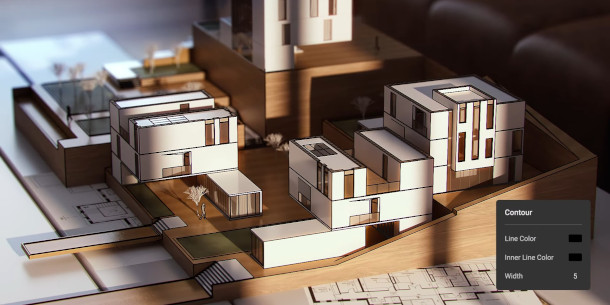 New Global Contour control for outline render effects
Users also get a new Global Contour control, for applying a toon-shaded outlining effect to a scene.
It's based on a new Toon Material – which "fixes some of the issues" of its predecessor in V-Ray Next – and can be applied to existing shading set-ups without the need to reassign materials.

Updated 12 March 2021: Chaos Group – now simply Chaos – has released V-Ray for SketchUp Update 1.
The update – also referred to as V-Ray 5.1 for SketchUp in the release notes – makes it possible to access new online library of stock architectural assets Chaos Cosmos directly within the software.
The release also extends V-Ray Vision, which gets support for screen space reflections for transparent materials, triplanar textures and the clip opacity mode of the V-Ray material.
The new VFB gets support for layer masking, including ID mattes, MultiMattes and Cryptomatte.

Updated 5 November 2021: Chaos has released V-Ray 5 for SketchUp Update 2.
New features include scattering tool V-Ray Scatter, and V-Ray Decal, Chaos's new system for projecting textures onto a model without the need to create or modify UVs.
Updates to existing features include better handling of transparent and translucent materials in the standard V-Ray Material, and sharpen and blur effects in the V-Ray Frame Buffer.
V-Ray Vision gets a major update, adding support for V-Ray Fur, IES lights, sun animations, the option to export animation in WebM format, and to export scenes as interactive standalone executables.
Outside the core software, the update adds a new live link to Chaos Vantage, Chaos's real-time rendering and scene exploration software, and 200 new materials in the Chaos Cosmos library.
Pricing and system requirements
V-Ray 5.2 for SketchUp is available for SketchUp 2017+ running on Windows 8.1+ and Mac OS X 10.10+. A perpetual workstation licence and one render node costs $790; rental costs $60/month or $350/year.

Read an overview of the new features in V-Ray 5 for SketchUp on Chaos Group's website
Read a full list of new features in V-Ray 5.2 for SketchUp in the online release notes
Tags: arch viz, architectural asset, architectural visualization, asset library, Blur, Chaos, Chaos Cosmos, Chaos Group, Chaos Vantage, coat layer, compositing, Cryptomatte, decal, Global Contour control. Toon material, ID matte, IES light, layer mask, Light Gen, Light Mix, lighting variation, live link, material library, multimatte, new features, outline rendering, price, rasterization, ray tracing, real-time rendering, relighting, rendering, scattering, scene exploration, sharpen, sheen layer, SketchUp, standalone executable, sun and sky system, sun animation, system requirements, texture projection, toon shading, translucency, transparency, Trimble, V-Ray, V-Ray 5, V-Ray 5 for SketchUp, V-Ray 5 for SketchUp Update 2, V-Ray 5.1, V-Ray 5.1 for SketchUp, V-Ray 5.2 for SketchUp, V-Ray Decal, V-Ray Dirt, V-Ray for SketchUp, V-Ray Frame Buffer, V-Ray Fur, V-Ray Material, V-Ray Scatter, V-Ray Vision, VFB, VRayMtl, WEBM