Tuesday, May 11th, 2021

Posted by Jim Thacker
Otoy ships Sculptron 1.1

Originally posted on 10 March 2021. Scroll down for news of the 1.1 update.
Otoy has released Sculptron 1.0, the first commercial version of its new GPU-based tool for sculpting animation caches and for converting mesh sequences to volumes, after a year in public alpha.
The commercial release adds a lot of key features not available in the free builds, including an Outliner and Scene Graph, object transforms and modifiers, viewport HDRI lighting, and an animatable camera.
The software is now rental-only, via an annual subscription billed at €9.99/month, although anyone buying a new Wacom Cintiq Pro or MobileStudio Pro pen display gets three months for free.
An interesting GPU-based tool for sculpting animation caches
Orginally announced in 2019, Sculptron is a new GPU-based tool for sculpting static models or mesh caches, importing and exporting files in OBJ and MDD format.
In its forum post announcing the first alpha build, Otoy commented that it is "not a replacement for ZBrush" or other dedicated sculpting tools, being intended primarily for animation workflows.
Potential use cases include editing simulation caches to remove unwanted elements without having to re-run the entire sim, or fixing artefacts in character animations.
That puts it in the same sector of the market as NewTek's ChronoSculpt – released in 2013, but not really updated since – and newer alternatives like Mush3D.
As well as exporting geometry in OBJ format and animation caches in MDD format, users can also convert meshes to volumes and export them in OpenVDB format.

Fleshed out into a much more complete 3D application since the original alpha builds
The public alphas of Sculptron were fairly bare-bones, featuring a basic set of 3D sculpting brushes, including Push/Pull, Smooth, Flatten, Clay and Inflate, plus brush radius, hardness and strength parameters.
The alpha builds also supported for 3D layers, and included a basic animation key editor.
The 1.0 release fleshes Sculptron out into a much more complete 3D application, adding standard features like an Outliner and Scene Graph for navigating and managing complex scenes.
Users also get the option to modify 3D meshes without having to sculpt the changes directly, in the shape of animatable object transforms and a new Modifier Stack.
We covered the latter when Otoy previewed it last year, so check out our original story for more details.
The 1.0 release also introduces a proper scene camera, making it possible to create camera animations as well as animating meshes.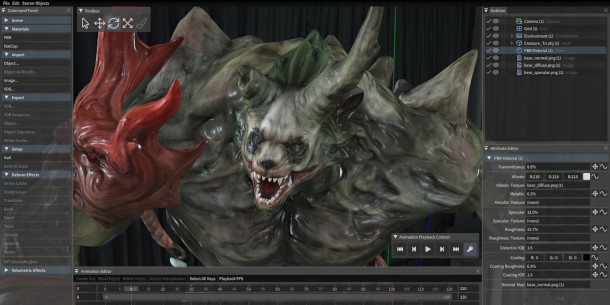 New PBR material and HDRI lighting improve the quality of the viewport display
The visual quality with which 3D models are displayed in the viewport has also been improved significantly, with the introduction of a new PBR material with support for UV textures.
Previously, users could only apply Matcap materials to the mesh being sculpted.
There is also a new Environment item, making it possible to apply HDRI lighting for a model.
New sculpting tools and a Delta Mush deformer help fix artefacts in animation caches
New sculpting features include the option to use images or procedural textures as alphas for sculpt brushes.
Sculptron also now supports tangent space as well as object space, which should help reduce unwanted artefacts when a sculpt created in one frame is affected by deformers in other frames of the animation.
In addition, the software now features a Delta Mush deformer, used in many 3D packages to fix animation artefacts by smoothing unwanted deformations of a character mesh while preserving surface details.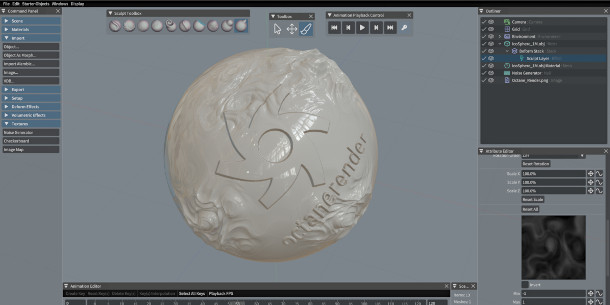 Updated 11 May 2020: Otoy has released Sculptron 1.1, adding initial Alembic support.
Currently, it is only possible to import Alembic files with fixed topology, which includes character meshes with animated deformation, but not fluid simulations or Alembic curves.
In addition, procedural textures can now be used as alphas while sculpting, as shown in the image above. Users can also now set the opacity of the software's UI.
Pricing and system requirements
Sculptron 1.1 is available for Windows 10 only. It does not support Intel GPUs, but otherwise only requires OpenGL 4.6, so both AMD and Nvidia cards should work.
The software is rental-only, with subscriptions costing €9.99/month (around $12/month). It requires an active connection to Otoy's licensing server, so you can only use it while online.
Otoy tells us that Sculptron is also included as part of Studio and Enterprise subscriptions to OctaneRender.

Read a full list of new features in Sculptron 1.1 on Otoy's forum
(Includes download link for the software)
Read a full list of features in Sculptron 1.0 on Otoy's forum