Originally posted on 20 February 2020. Scroll down for news of Bridge 2020.4.
Quixel has released Bridge 2020, the latest version of its free app for browsing assets from its Megascans online library of 3D scan data and exporting them to game engines and DCC tools.
The update overhauls Bridge's content tagging and filtering capabilities, and adds support for the Alembic file format. Quixel has also introduced over 100 new collections of themed Megascans content.
Automatically convert Megascans data for use in game engines and DCC tools
A content-management tool for the Megascans library, Bridge is designed for browsing, previewing, downloading, organising and exporting scanned 3D assets.
Users can choose the format in which to download materials – there are presets for third-party tools, including a choice of metalness and specular workflows – plus the resolution and file format of texture maps.
Geometry can be downloaded in a ramge of common file formats, including OBJ, FBX, USD and USDZ – and now Alembic – at a range of LODs.
Bridge can also package assets into a format suitable for Unreal Engine, Unity and a range of DCC tools, including 3ds Max, Blender, Cinema 4D, Houdini and Maya, with presets for common third-party renderers.
New in Bridge 2020: better asset search and filtering, plus new Collections of themed content
Bridge 2020 overhauls the software's search capabilities, with a new filter bar providing the option to sort assets by properties including asset type, colour, biome, state and size.
To make filtering possible, Quixel has added "hundreds of thousands" of new tags to Megascans content.
In addition, the search engine now returns suggestions for "complementary" content, including related Collections: Quixel's manually curated sets of themed assets.
At the time of posting, there are 100 such collections, with themes ranging from forests and coasts to 'American sidewalk', 'Hong Kong street' and 'Cyberpunk alley'.
Now exports assets in Alembic .abc format
Other important structural changes include support for the Alembic file format, making it possible to export assets in .abc format for use in visual effects or animation work.
Bridge's 3D viewer gets support for inertial rotation and zooming, and "more accurate" PBR shading.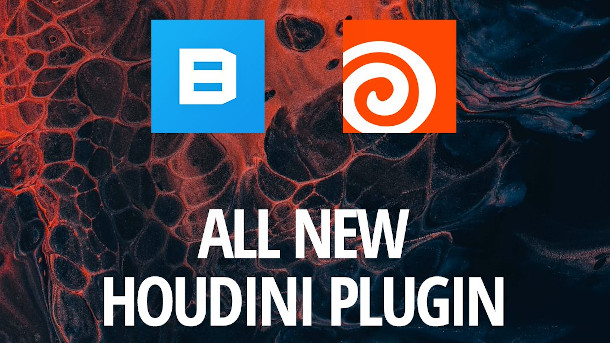 Updated 6 May 2020: Quixel has released Bridge 2020.2.2, the latest version of the software.
Whereas most updates since the original release of Bridge 2020.0 have been bugfixes, this one adds new features, including support for tonemapping and post effects in the 3D asset previews.
In addition, under-the-hood changes make Bridge "2x faster", while the Houdini integration plugin gets support for Solaris, its new look dev and layout toolset, and the RenderMan renderer.

Updated 14 October 2020: Quixel has released Bridge 2020.3.2.
The update features version 6.3 of Quixel's Megascans plugin for Unreal Engine, which adds a new vertex blend material for blending Megascans materials inside UE4, and improves LOD export for 3D plants.
We can't find an online changelog for 2020.3.2, but as far as we can tell, no other major new features have been added to Bridge since we last wrote about the software.

Updated 26 November 2020: Quixel has released Bridge 2020.4.
The update overhauls the software's Asset Preview panel, and exposes more information about the asset being viewed, including its size and tileable direction.
In addition, download and export settings for an asset are now grouped in one place; and there is a new Manage Plugins pane for browsing export plugins for DCC applications.
Pricing and system requirements
Bridge 2020 is available for Windows, Linux and macOS. Since Epic Games acquired Quixel last year, the software itself has been free to download.
All Megascans assets are now available free to Unreal Engine users for use in UE4 projects; for non-UE4 projects, paid subscriptions now cost from $19/month to $999/month.

Read more about the new features in Bridge on Quixel's blog
Read more about Bridge on the product website
(Includes download link for the current build)
Tags: 3D plants, 3D scan, 3ds max, ABC, Alembic, asset browser, asset filtering, Asset Prevew panel, asset tagging, Blender, bridge, Bridge 2020.0, Bridge 2020.1, Bridge 2020.2, Bridge 2020.2.2, Bridge 2020.3.1, Bridge 2020.3.2, Bridge 2020.4, Cinema 4D, content filtering, content tagging, export, FBX, free, Houdini, Linux, LOD, LODs, macOS, Manage Plugins pane, Master Material, material blending, material layering, Maya, Megascans, Megascans plugin for Unreal Engine 6.3, new features, OBJ, PBR, post effects, price, Quixel, Quixel Bridge, Quixel Bridge 2020, RenderMan, scan data, scanned material, search, Solaris, system requirements, tonemapping, UE4, Unity, Unreal Engine, USD, USDZ, vertex blend material, Windows