Wednesday, July 10th, 2019

Posted by Jim Thacker
Quixel ships Bridge 2019.2

Originally posted on 1 May 2019. Scroll down for news of the Bridge 2019.2 update.
Quixel has released Bridge 2019, the latest version of its app for exporting assets from its Megascans online library of 3D scan data to game engines and DCC tools.
The update overhauls the software's UI and introduces improved 3D previews of assets; adds new live links to Blender 2.8, Cinema 4D and Quixel Mixer; and adds support for glTF, USDZ and MDL export.
Automatically convert Megascans data for use in game engines and DCC tools
A content-management tool for the Megascans library, Bridge is designed for browsing, previewing, downloading, organising and exporting scanned 3D assets.
Users can choose the format in which to download materials – there are presets for third-party tools, including a choice of metalness and specular workflows – plus the resolution and file format of texture maps.
Geometry can be downloaded in OBJ or FBX format at a range of LODs.
Bridge can then package assets into a format suitable for use in Unreal Engine or Unity and a range of DCC applications, including 3ds Max, Maya and Houdini, with presets for common third-party renderers.
Export does not require an internet connection, and the process is customisable via Python scripting.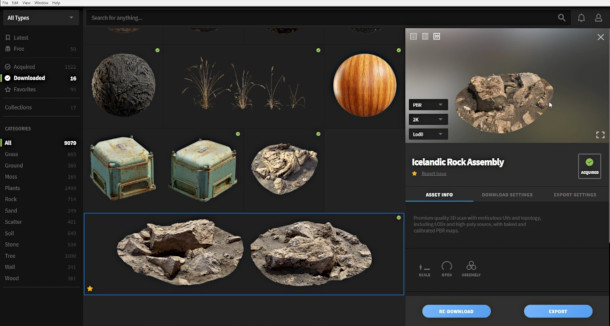 New in Bridge 2019: new right-hand pane provides rich 3D previews of assets
Bridge 2019 overhauls the software's user interface, adding a new contextual right-hand pane.
Among other things, it provides "rich 3D previews" of selected assets, with the option to toggle between PBR texture maps, texture resolutions and levels of detail.
It also manages the download and export processes, condensing multiple pop-ups into a single tab, with the option to batch download multiple assets in one go.
Live links to Blender 2.8, Cinema 4D and Mixer, plus glTF, USDZ and MDL export
The update also introduces new live link plugins for Blender 2.8, with support for the Cyles and Eevee render engines, and Cinema 4D, with support for Physical Render, Arnold, OctaneRender and Redshift.
It is also possible to export assets directly to Bridge's sister application, material-editing tool Quixel Mixer.
For users of applications without live links, there are now three new export formats: for geometry, glTF and USDZ, Apple and Pixar's new interchange format for augmented reality content.
For materials, Bridge now supports Nvidia's MDL format, as Quixel announced earlier this week.
Pipeline integration changes for larger studios
Pipeline integration changes include the option to customise export naming conventions.
Users on Enterprise subscriptions get Bridge Sync, which mirrors the entire Megascans library to a local server, making assets available over a local network.
The feature is designed for studios where, for data security reasons, production machines are located behind firewalls or have otherwise limited internet connectivity.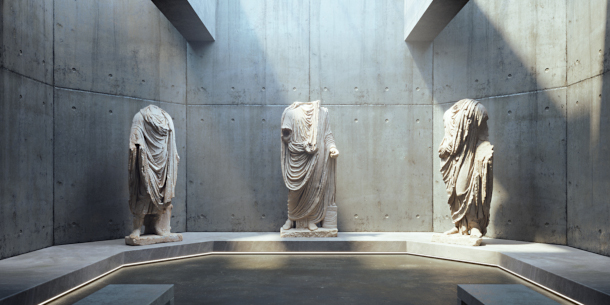 Updated 10 July 2019: Quixel has released Bridge 2019.2. (The original 2019 release seems to have been 2019.1 in Quixel's product numbering, so there's no missing intervening update.)
The update extends support for USDZ – it's now cross-platform on Windows, Linux and macOS – and introduces support for the USD file format on which it is based.
USD is increasingly used as an interchange format between compatible VFX tools, two more of which are now supported, with a new integration for Clarisse iFX, and Linux support in the existing Maya integration.
Pricing and system requirements
Bridge 2019.2 is available for Windows, Linux and macOS as part of Quixel's Megascans subscriptions.
Prices range from $29/month for Personal plans to just under $12k/year for Business plans. A subscription to Bridge, Mixer and free assets alone costs $9/month.

Read a full list of new features in Bridge 2019.2 on Quixel's blog
Read a full list of new features in Bridge 2019 on Quixel's blog
Read more about Bridge on the product website
(Includes download link for the current build)