Thursday, September 19th, 2019

Posted by Jim Thacker
Quixel cuts price of Megascans assets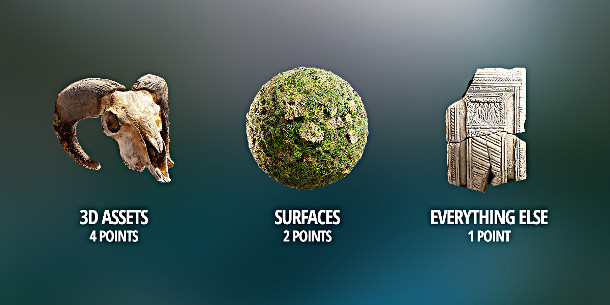 Quixel has reduced the cost of assets on Megascans, its poplar online library of 3D scan data.
The site update, which coincides with the Megascans library reaching a total of 10,000 assets, also introduces simplified, standardised pricing for scans.
Prices reduced to four download credits per 3D model
A subscription to Megascans gives users a set number of download credits each month.
Under the site's new pricing stucture, a 3D model costs four credits, a 'surface' – a 3D scanned material – costs two credits, and any other asset costs one credit.
On a Personal subscription, that translates to 15 models per month; on a Business subscription, to between 62 and 250 models per year.
Since assets were previously priced individually, it's difficult to quantify the price cut exactly, but Quixel describes users as being able to download "3x to 6x more content than before [for] the same point budget".
Pricing and availability
Megascans assets are available on a subscription-only basis. As well as asset downloads, subscribers get access to Quixel's asset manager, Bridge, and its material-blending software, Mixer.
Subscription prices range from $29/month for Personal plans to just under $12k/year for Business plans.