Wednesday, November 22nd, 2017

Posted by Jim Thacker
Download 11 free 3D scans from Megascans 2018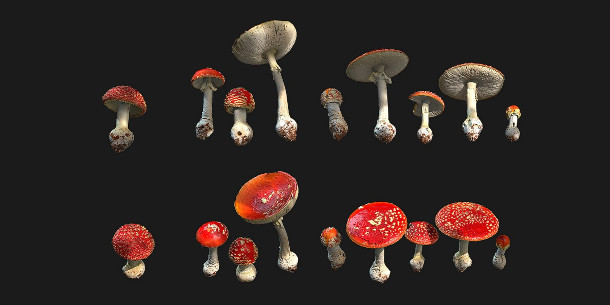 Quixel has launched Megascans 2018, a one-year anniversary update to its online library of physically based scans of real-world materials and 3D objects.
The update revamps the design of the website, provides new free integration plugins for browsing the library within 3ds Max or Maya, and adds a range of new scans, 11 of them free.
A varied library of detailed 3D scans of environment objects
Used by studios including ILM, MPC, Naughty Dog and Rockstar Games, Megascans is intended to enable artists to build detailed, photorealistic 3D environments for VFX or games projects in a matter of hours.
All of the materials are physically based, and come with fully tileable texture maps, provided at resolutions of up to 8,192 x 8,192 pixels in JPG or EXR format.
3D scans cover both hero assets – provided at a range of levels of detail from hundreds to millions of triangles – and smaller 'scatter' objects. Each is provided in FBX format, along with a hi-res ZBrush ZTL file.
The site also provides free helper tools Megascans Bridge, for browsing content, and Quixel Mixer – formerly known as Megascans Studio – for blending scan data to create custom materials.
New in Megascans 2018: free 3ds Max and Maya integration plugins, 11 free scans
To that, the Megascans 2018 update adds new integration plugins for browsing the library directly within Maya 2016 and above and 3ds Max 2016 and above.
Similar plugins are planned for Houdini and Unreal Engine.
The update also revamps the design of the site, "significantly improving" the search experience, and introducing real-time notifications for new content.
The range of scans available has also been extended: Quixel says that the library has more than quadrupled in size since its launch in 2016.
At the time of posting, 11 of the scans are available to download for free, including ground materials and models of rocks, wood, plants and fungi.
Pricing and availability
Megascans is available on a subscription-only basis, with commercial pricing starting at $29/month, depending on how many user accounts you need, and your annual revenue.
Visit the Megascans 2018 website
Download 11 free 3D scans of rocks, bark and vegetations from Megascans (Registration required)