Friday, September 8th, 2023

Posted by Jim Thacker
ArmorPaint 0.9 ships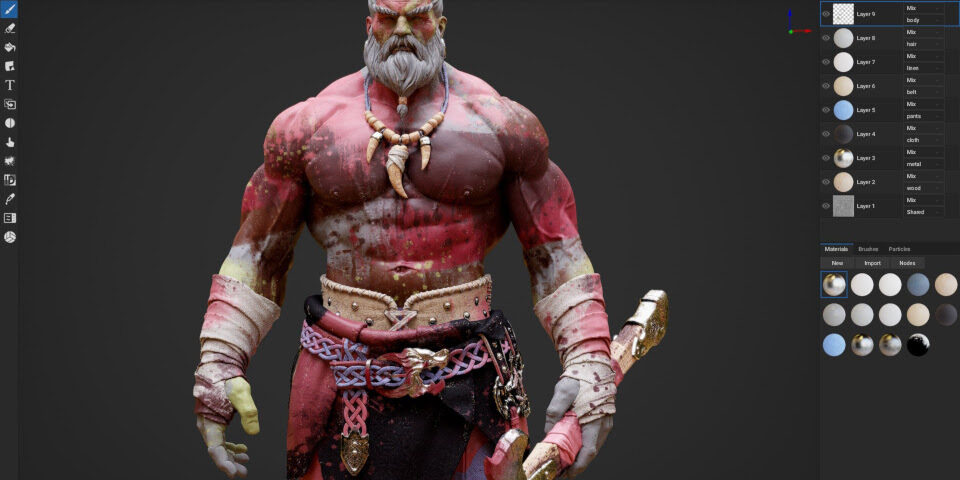 The Armory development team has released ArmorPaint 0.9, the latest version of the open-source 3D texture painting software.
The update adds a new Smudge tool, a new UV unwrapping dialog, support for masks on layer groups, and speeds up parsing of OBJ files by around 40%.
A standalone 3D painting tool for creating game-ready PBR texture maps
First released in early 2018, and still in early access, ArmorPaint is a 3D painting tool capable of generating PBR texture maps for use in DCC apps or game engines.
Often seen as a possible future alternative to Adobe's Substance 3D Painter, it enables artists to texture models by painting directly on their surface in a real-time 3D viewport.
The software is GPU-based, offering "seamless" 16K painting on a high-end GPU.
Users can import 3D assets in standard formats, or as Blender scene files, then create base materials using ArmorPaint's node-based material editor, or by importing existing sets of PBR texture maps, which the software will assemble into a material.
Painting tools include the base paintbrush; an eraser; a decal tool; fill, clone and blur tools; plus an experimental particle brush.
Completed texture maps can be exported in PNG, JPEG or EXR format at up to 32-bit color depth. It is also possible to bake a range of geometry-based texture maps, including AO, Cavity, Thickness and normal maps.
ArmorPaint also has live link plugins for Blender, Unity and Unreal Engine. The Maya plugin introduced with version 0.8 is no longer listed in the online documentation.

ArmorPaint 0.9: new Smudge tool and support for layer group masks
ArmorPaint 0.9 is the first major update to the software in almost two years, and compared to version 0.8, it's much more of a workflow and bugfix release.
New features include a Smudge tool, which works the same way as in other painting applications, smearing the material applied to a model's surface.
The software also now supports masks on layer groups.
Workflow improvements include a new UV unwrapping dialog, height and opacity picking, and a lot of smaller improvements and UI changes, listed in the release notes.
There is also a new OBJ parser, making OBJ import around 40% faster, and requiring 20% less memory.
Price and system requirements
ArmorPaint is available in early access for Windows 10+, Linux and macOS, and as experimental editions for iPadOS and Android. The integration plugins are compatible with Blender 3.6, Unity 2023.3 and Unreal Engine 5.2.
The source code is available free under a zlib licence.
To help support development work, compiled binaries are available commercially online, and cost $19 on itch.io. Once you've bought the software, further updates are free. The iPad and Android apps cost $17.99.
Read a full list of new features in ArmorPaint 0.9 in the online changelog
Read an overview of ArmorPaint in the software's online manual

Have your say on this story by following CG Channel on Facebook, Instagram and X (formerly Twitter). As well as being able to comment on stories, followers of our social media accounts can see videos we don't post on the site itself, including making-ofs for the latest VFX movies, animations, games cinematics and motion graphics projects.