See Epic Games announce Fab, its new "open marketplace" for content for game engines and DCC tools, during its State of Unreal livestream from GDC 2023. The section on Fab starts at 00:58:00 in the video.

Epic Games is to merge its existing online marketplaces and asset libraries – Unreal Engine Marketplace, Megascans and the ArtStation and Sketchfab marketplaces – into Fab, a single unified "open marketplace".
The site, due to launch later this year, will host over 2.5 million readymade assets for creating games, animations and visual effects projects, including content for rival game engines like Unity.
An alpha version of Fab is available via a plugin for Unreal Editor for Fortnite (UEFN), the new edition of Unreal Editor for creating and publishing content for Fortnite, released in beta yesterday.
The announcement was made during Epic Games' State of Unreal keynote at GDC 2023, alongside MetaHuman Animator, its facial animation and performance capture toolset for the MetaHuman framework.
Merges the Unreal Engine Marketplace with assets from Megascans, ArtStation and Sketchfab
Epic Games launched Unreal Engine Marketplace in 2014 as a central repository of readymade content for use in its Unreal Engine game engine.
It now hosts over 1.5 million assets, including both free content and commercial assets, plugins and tools.
Since then, Epic has gone on to acquire three other online libraries of content, beginning with Quixel and its Megascans library of real-world scan data in 2019.
The firm then bought artist portfolio sites ArtStation and Sketchfab, both of which have associated online asset marketplaces, in 2021.
Fab.com will unify all four, making a total of over 2.5 million assets available from a single site.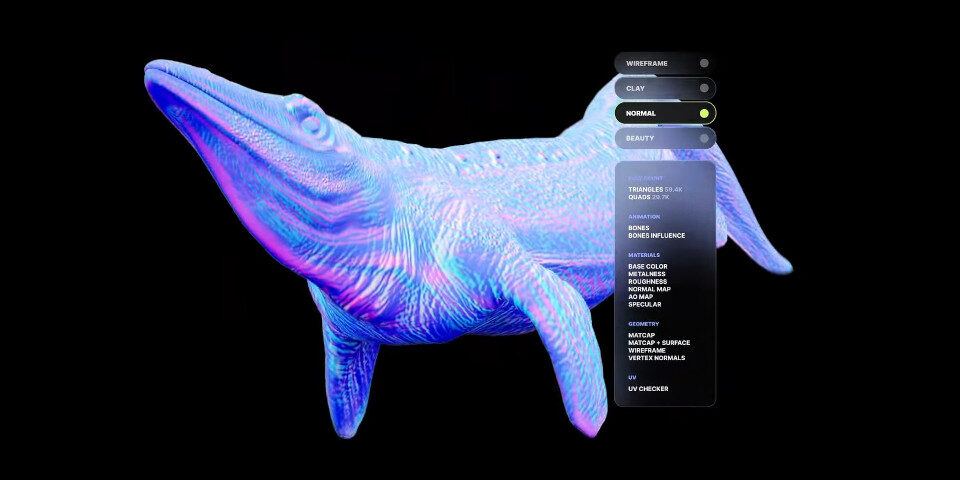 Includes content for all leading DCC apps and game engines, including rival engines
Epic Games describes Fab as an "open marketplace" that will feature assets for "all leading content creation tools" – even those that compete directly with its own products, like Unity.
Building on the Quixel Bridge plugin for the Megascans library, it will integrate with game engines and DCC software via plugins, with users able to drag content from Fab directly into their applications.
The site will feature similar preview capabilities to Sketchfab, with users able to inspect 3D assets online in wireframe or shaded views, with search tags and key stats like triangle counts generated automatically.
Fab will also feature collaboration tools, making it possible to share assets privately with team mates or collaborators on a project.
New content coming to the site from Kitbash3D and Adobe
The site will include "everything you need to build your world in one place", including 3D models, materials, FX elements, audio and plugins, primarily created by third-party developers.
That includes content not currently available on Epic-owned sites, with kitbash asset library Kitbash3D announcing that its own entire library will be available for sale on Fab.
Adobe has also announced that it will make versions of Substance 3D Modeler and Painter available on Fab. The material authoring tools were previously only available from Steam and from Adobe itself.
Release date and system requirements
An alpha version of Fab is accessible via a free plugin for UEFN. The site itself will launch in "late 2023".
Vendors will receive the same 88% royalty rate used on the Unreal Engine marketplace and the Sketchfab store: higher than many online marketplaces, but lower than that on ArtStation.

Read Epic Games' blog post announcing Fab
Read Epic Games' FAQs about Fab on the website itself
Tags: 3D material, 3D model, 3D scan, animation, ArtStation, ArtStation marketplace, asset pack, audio, DCC software, Epic Games, Fab, Fab.com, FAQs, FX asset, game art, game development, Game Engine, game environment, GDC 2023, integration plugin, KitBash3d, launch date, Megascans, merger, mocap, motion capture, motion graphics, online marketplace, open marketplace, plugin, Quixel, Quixel Bridge, release date, revenue split, royalty rate, Sketchfab, State of Unreal, Substance 3D Designer, Substance 3D Painter, system requirements, texture, UEFN, Unity, Unreal Editor for Fortnite, Unreal Engine, Unreal Engine Marketplace, vfx, visual effects