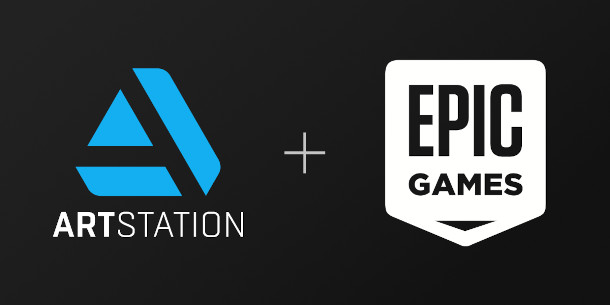 Epic Games has acquired leading online portfolio service ArtStation, aloing with its parent company Ballistiq.
The site, which also provides job boards, digital training and an online marketplace, will remain an independently branded platform, and will continue to feature content unrelated to Unreal Engine.
Following the buyout, Epic has permanently reduced sales fees on the ArtStation Marketplace, while ArtStation Learning content is free to all site users until the end of 2021.
Updated 15 December 2021: Epic Games and ArtStation have just announced that ArtStation Learning will remain free indefinitely.
The world's leading specialist portfolio service for entertainment artists
Co-founded in 2014 by CGSociety.org founder – and former CG Channel manager – Leonard Teo, ArtStation quickly became the world's leading portfolio service for artists working in the entertainment industry.
Adopted early on by many of the big names in the fields of concept art, game development and visual effects, the site reached over three million monthly users in under five years.
It has since expanded into providing job listings, an online marketplace for digital art assets, software and tutorials, and most recently, online video training.
Epic previously backed ArtStation through its MegaGrants program at the start of the COVID-19 pandemic, which Teo described as having "helped immensely during an uncertain period".
"We witnessed Epic's deep respect for the ArtStation community and that we shared the same mission to empower creators," he said. "It became clear that by joining forces, we would have a much bigger impact."
Marketplace fees cut, but few other short-term changes
In the short term, little changes on ArtStation as a result of the buyout: the site will remain independently branded, and will continue to feature content unrelated to Epic Games' own business interests.
According the official FAQs on the ArtStation blog, "we will continue to be open to all creators across verticals, both 2D and 3D alike – including those that don't use Unreal Engine".
However, as it did when it acquired Quixel in 2019, Epic has reduced the cost of ArtStation services.
The standard fee for selling a product through the ArtStation Marketplace has been reduced from 30% to 12%, plus optional affiliate promotion, while for users with paid Pro subscriptions, it falls from 20% to 5%.
In addition, video training content from ArtStation Learning, previously available to users with a $6.99/month Pro subscription plan or higher, is now free to all site members until the end of 2021.
According to ArtStation's FAQs, Epic is now "actively … growing the ArtStation team" and will "continue to build new features for our community".
ArtStation parent company Ballistiq to wind down pther external services
Epic Games has also acquired Ballistiq, ArtStation's parent company, which provided web development services, primarily to firms within the CG industry, including Autodesk, Allegorithmic and Gnomon.
Ballistiq's services will now be "folded into the Epic Games family", with the firm "winding down all Ballistiq Professional Services projects".

Read Epic Games' announcement that it has acquired ArtStation
Read ArtStation's FAQs about the buyout
Tags: acquisition, animation, artist portfolio, ArtStation, ArtStation Learning, ArtStation marketplace, Ballistiq, buyout, cg, Concept Art, digital art, digital portfolio service, Epic Games, Epic MegaGrant, FAQs, free video training, free video tutorials, game art, illustration, online marketplace, sale, sales fee, vfx, video training, video tutorial, visual effects