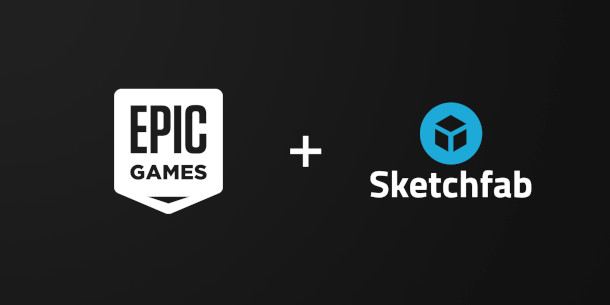 Epic Games has acquired Sketchfab, the leading web-based portfolio service for 3D modelers, and popular 3D content marketplace. The financial terms of the deal were not disclosed.
Sketchfab will continue to operate under its own name, and will continue to "wholeheartedly" support Unity and other game engines that compete with Epic's own Unreal Engine.
Epic has also increased the number of model uploads available with free Sketchfab subscriptions, increased benefits for Pro and Business subscribers, and cut sales fees on the Sketchfab marketplace.
A pioneering web-based portfolio service and online store for 3D models
Originally pitched as the "Vimeo of 3D" on its launch in 2012, Sketchfab was the first, and by far the most successful, of a new wave of online display services for 3D modelers.
The site took advantage of the then-novel WebGL API to enable users to view 3D models in a web browser.
It quickly became a popular way for artists to showcase their work, providing a 3D counterpart to image-based portofolio sites like ArtStation, which Epic also acquired earlier this year.
Sketchfab subsequently added the option to make your models available for download, and in 2018, to make them available for sale via its Sketchfab store.
The store now hosts over 100,000 models, and the site tens of times more, uploaded by five million users.

An early proponent of virtual and augmented reality
Sketchfab was also an early proponent of mixed reality technologies, support for which formed a major part of the company's initial business plans.
By 2016, it had added the option to view models in virtual reality, and now automatically converts assets in its library to the glTF and USDZ file formats widely used in augmented reality and real-time applications.
While slower-than-expected adoption of VR and AR initially posed financial problems for the company, Sketchfab eventually became profitable in 2020.
In a blog post written shortly afterwards, co-founder and CEO Alban Denoyel commented: "We were way too early when we started Sketchfab, but it feels like the market is finally coming together".
Sketchfab's library of mixed reality content may also have formed part of its appeal to Epic Games.
In its blog post announcing the acquisition, the firm wrote that making "3D, VR and AR content more accessible [is] critical to an open and interconnected Metaverse".
"The Sketchfab team has done an incredible job opening up the world of 3D content on the web," said Epic Games VP Marc Petit. "As the adoption of real-time 3D technology continues to grow, demand for web-based solutions will only increase."
Sketchfab to retain its name and maintain support for third-party software
Following the buyout, Sketchfab will continue to operate under its own name, and will continue to support all 90 of the DCC, CAD, 3D scanning and game development tools with which it is currently compatible.
That means continuing to provide exporters for products that compete directly with Epic Games' own tools, like the Unity game engine, which Sketchfab will be "wholeheartedly supporting".
Fees cut on the Sketchfab store, and subscriber benefits increased
As has also been the pattern with Epic Games' recent acquisitions, the firm has also reduced the cost of Sketchfab's services.
That includes cutting the fee charged when selling 3D models via the Sketchfab store from 30% to 12%.
Epic has also upgraded the subscription plans available to Sketchfab users, with free Basic subscriptions – previously limited to a single upload each month – now providing up to 10 per month.
Users with Pro subscriptions now get 50 uploads per month, up from 30 per month.
In addition, the old Plus and Business plans have been scrapped, with existing users automatically being upgraded to the Pro and Enterprise plans, respectively.
Pricing and availabilty
3D models can be uploaded to Sketchfab and viewed online in any modern web browser.
A free Basic subscription lets you upload up to 10 models to the site each month, with a maximum file size of 100MB and up to 10 annotations per model.
Paid subscriptions increase the number of uploads and maximum file sizes available, with Pro subscriptions costing €24/month (around $28/month), and Premium subscriptions costing €129/month ($152/month).

Read Epic Games' announcement of the acquisition
Read Sketchfab's official announcement of the acquisition
Read Sketchfab's online FAQs about the acquisition
Tags: 3D model library, 3D modeling, 3D portfolio, 3D scanning, acquisition, AR, Augmented Reality, buyout, content marketplace, display 3D models in a web browser, display 3D models online, Epic Games, export plugin, game development, Game Engine, glTF, mixed reality, online model store, portfolio service, price, real time, sales fee, seller fee, Sketchfab, stock 3D content, subscription, system requirements, Unity, Unreal Engine, USDZ, virtual reality, VR, web-based, WebGL