Tuesday, August 28th, 2012

Posted by Jim Thacker
Showcase 3D models online via the Sketchfab website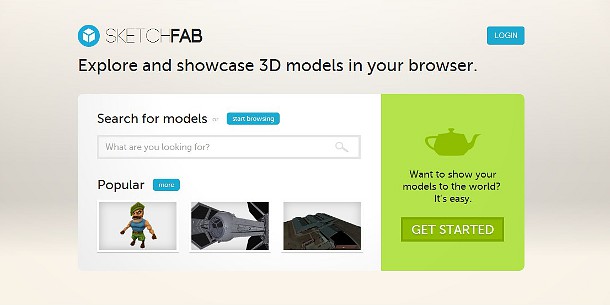 Sketchfab enables users to upload models in 20 standard file formats for viewers to manipulate online.
New online model-viewing service Sketchfab aims to become the "Vimeo for 3D".
Formerly known as ShowWebGL, the site enables users to upload and showcase 3D content online via a unique URL, without the need for viewers to download plugins to view or manipulate the models.
The service works with any WebGL-enabled browser, including Chrome, Firefox, Opera and Safari. Users can upload models in any of 20 standard formats, including OBJ, 3DS, LWO, Collada and Blender's native format.
Below, you can read the site's press blurb. If you're interested in services of this kind, you might also like to check out our story on P3D.in from earlier this year.
Updated 16 June: Sketchfab now offers a downloadable one-click exporter for Blender. A 3ds Max exporter is also in development.
Updated 5 July: Klaas Nienhuis has released Sketchfab Publisher, a script for exporting models to Sketchfab directly from 3ds Max. You can download it from his website.
Updated 18 July: And still the exporters keep coming. The latest is for SketchUp. Get it here.
Updated 28 August: And the latest is for Maya.
Updated 6 December: And one more for Cinema 4D.
PRESS RELEASE (Excerpts)
SketchFab is the first free service offering a simple way to upload and showcase 3D content online. It doesn?t require any third-party application installation from the user to work. You just need an internet connection and a WebGL-compatible browser. SketchFab accepts more than 20 3D formats.
For example, the service can be used by an architect to show his project at a client meeting on any computer, or on its own website, without needing any advanced and expensive web development.
In the end, you get to see your model as if you were on your 3D creation software, but online and sharable with a simple URL.
SketchFab uses the WebGL API, the only standard technology to display 3D content with high quality. Unlike plugins, the technology is scalable, and will soon be able to display 3D content on any device: desktops, smartphones, tablets.
SketchFab will evolve to become a 'freemium' service: the actual free version with basic 3D visualization features, and a commercial version with advanced features (more storage space, unlimited uploads, online editing, collaborative work on 3D models and so on).