Thursday, February 9th, 2012

Posted by Jim Thacker
Check out p3d.in – free new online model display tool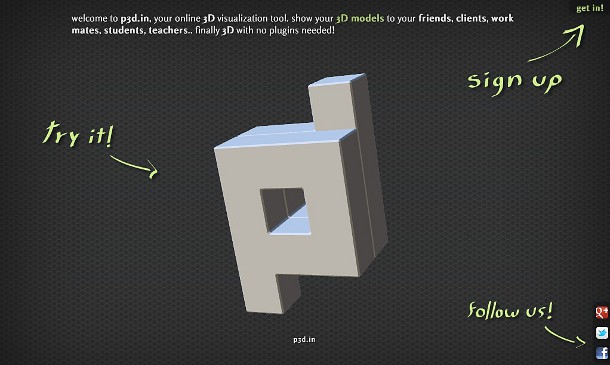 The p3d.in team has launched its self-titled online model display service in open beta.
P3d.in enables users to upload models to the site in OBJ format and view them interactively through any web browser that supports WebGL. Models can currently be viewed in wireframe, flat-shaded or composite modes, with further shaders and support for textures currently in development.
Users can then invite friends or clients to view the assets privately; or embed the HTML viewing code in their own site. Since the system is WebGL-based, no special plugins are required to view the models.
We had a go, and the process is quick and intuitive – although, as the FAQs point out, you may not want to use the service for commercially confidential assets. The need to share enough data for a web browser to render a model makes it virtually impossible to prevent a determined pirate obtaining the model itself.
According to the team, p3d.in will always remain free to use, although there may be a premium service with extra storage space or additional features. Currently, a free account gets you 50MB of online storage.
The project merges in development work done on the existing 3dviewr service. If you're interested in online model viewing, you might also want to check out the similar shw.gl project.
Read a discussion thread about p3d.in on BlenderNation
(Includes a fuller discussion of possible security issues with one of the developers)