Wednesday, November 24th, 2021

Posted by Jim Thacker
Adobe ships Substance 3D Stager 1.1

Adobe has released Substance 3D Stager 1.1, the first big update to its new scene layout and rendering tool. It was previewed during the latest Substance 3D livestream, the recording of which is embedded above.
The update adds the option to generate render passes as layered PSD files when rendering on the GPU, support for models without UVs, and auto-alignment of physical lights.
Adobe is also introducing new $150 perpetual licences of Substance 3D Stager and Substance 3D Sampler. The two applications were previously only available via subscription.
In addition, Adobe has released new versions of two other applications in the Substance 3D Collection: Substance 3D Painter 7.4 and Substance 3D Designer 11.3.
An intuitive way for less specialist 3D artists to create virtual product photographs
Released earlier this year, Substance 3D Stager is the first application in the Substance product line not designed purely for material authoring, and supersedes Adobe's older Dimension software.
Like its precursor, it is aimed at designers as well as specialist 3D artists, and is intended to provide an intuitive workflow for creating photorealistic brand visualisations and product mockups.
It enables users to lay out scenes using physics-based tools to place 3D primitives or imported models, and comes with libraries of readymade materials and 'environment stages' mimicking real-world studio lighting.
For rendering, Stager uses Adobe's Mercury Rendering Engine, a new hybrid CPU and GPU renderer.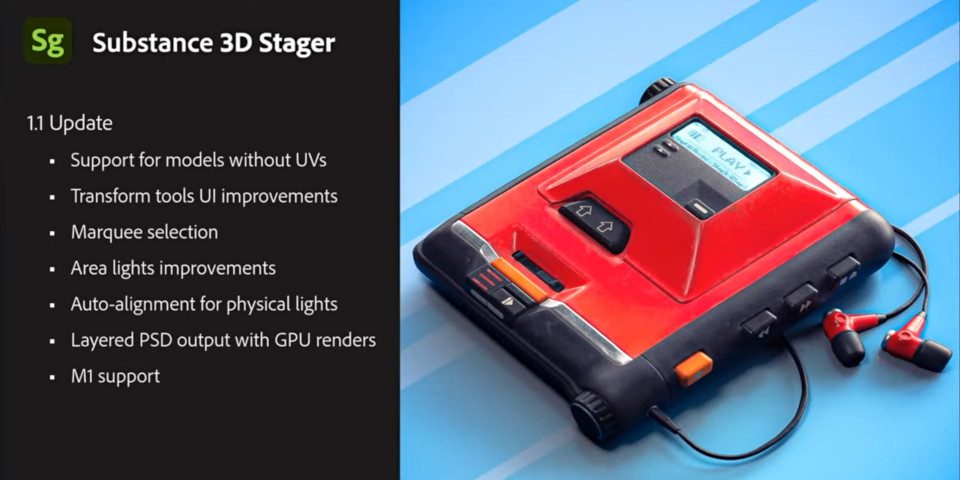 New in version 1.1: marquee selection, automatic orientation of 3D lights, and GPU render passes
Substance 3D Stager 1.1 makes a number of key workflow and performance improvements to the software.
For selecting scene geometry, users get the option to marquee-select multiple objects in the viewport, or to use keyboard shortcuts to navigate object hierarchies.
It is also now possible to import models without UVs and apply materials to them: a workflow intended for importing high-resolution assets like digital sculpts.
In addition, physical lights now orient automatically when dragged and dropped into a scene.
When the user drags a 3D light onto the point on the surface of a 3D model that they want that light to illuminate, Stager automatically rotates and offsets the light.
Stager can also now export sets of render passes as layered PSD files when rendering on the GPU: something previously only possible on the CPU.
Performance improvements include an increase in speed of "5-6x" when loading files or importing materials, and native support for Apple's M1 processors.
Substance 3D Stager 2022: a new perpetual licence and one year of updates, available via Steam
In addition, both Substance 3D Stager and material-authoring tool Substance 3D Sampler, formerly known as Substance Alchemist, are getting new perpetual licences, available through Steam.
Both were previously only available via Adobe's Substance 3D subscription packages, making them the first Adobe tools we're aware of to have gained rather than lost perpetual licences.
The new Substance 3D Stager 2022 and Substance 3D Sampler 2022 releases include free updates until the end of 2022, but unlike subscriptions, do not include access to the Substance 3D Assets library.
As with the equivalent Steam editions of Substance 3D Painter and Substance 3D Designer, both new perpetual licences cost $149.99.
Pricing and system requirements
Substance 3D Stager 1.1 is available for Windows 10 and macOS 10.14+.
The new perpetual licence costs $149.99. At the time of writing, it is available at a launch discount.
The software is also available as part of Adobe's new Substance 3D Collection subscriptions, which include access to Substance 3D Designer, Painter, Sampler and the asset library.
They cost $49.99/month or $549.88/year for individuals; $1,198.88/year for studios.

Read more about Substance 3D Stager on Adobe's product website
Read a full list of new features in Substance 3D Stager in the online release notes