Orignally posted on 23 November. Now updated with news of the public release.
Adobe has unveiled Substance 3D Painter 7.4, the latest version of its 3D texture painting software, during its latest Substance 3D livestream, the recording of which is embedded above.
The update introduces OpenColorIO colour management for VFX pipelines, the option to undock the 2D and 3D views to a second monitor, and new grunge maps.
Support for OpenColorIO 2 colour-mangement, with a choice of ACES configurations
Substance 3D Painter 7.4 addresses a long-standing request from artists using the software in visual effects rather than game development, adding OpenColorIO colour management.
Product manager Valeria Gerontopolous described Painter's previous lack of a proper colour pipeline as "the elephant in the room – and it's probably a very precisely colour-managed pink elephant".
The new implementation is based on OpenColorIO 2, also now supported in other key VFX tools including Maya and Nuke, and comes with with configurations for ACES 1.0.3 and ACES 1.2.
Configurations are stored on a per-project basis, and can be applied to existing projects.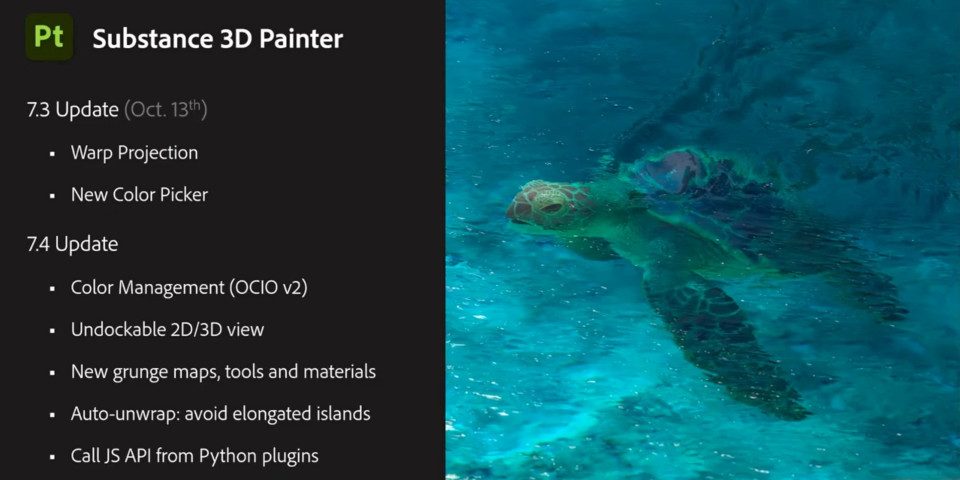 New materials and grunge maps, and UX improvements
The update also adds a set of readymade materials created by artist Käy Vriend, including surface damage decals and glitter materials.
Users also get 11 new grunge textures created by Emiel Sleegers for surface dirt and damage.
Workflow improvements include the option to undock the 2D View and 3D View and move them to a second monitor; and "small improvements" to automatic UV unwrapping when working with elongated UV islands.
Pricing and availability
Substance 3D Painter 7.4 is available for Windows 10, CentOS 7.0/Ubuntu 18.04+ Linux and macOS 10.14+.
The Windows and macOS editions are available via Adobe's Substance 3D Texturing subscriptions, at $19.99/month or $219.88/year, or Substance 3D Collection subscriptions, at $49.99/month or $549.88/year.
Subscriptions to the Linux edition require a Creative Cloud Plan for Teams priced at $1,198.88/year.
Perpetual licences of the software are available via Steam, and include the Linux edition. They cost $149.99.

Read an overview of the new features in Substance 3D Painter on Adobe's blog
Read a full list of new features in Substance 3D Painter 7.4 in the online release notes
Tags: 2D View, 3D texture painting, 3D View, ACES, ACES 1.2, Adobe, color management, decal, game dev, game development, glitter material, grunge map, Käy Vriend, new features, OCIO, OCIO 2, OpenColorIO, OpenColorIO 2, price, Substance 3D Painter, Substance 3D Painter 7.4, Substance Painter, surface damage, surface dirt, system requirements, texture painting, texturing, undock 2D view, undock 3D View, vfx, visual effects