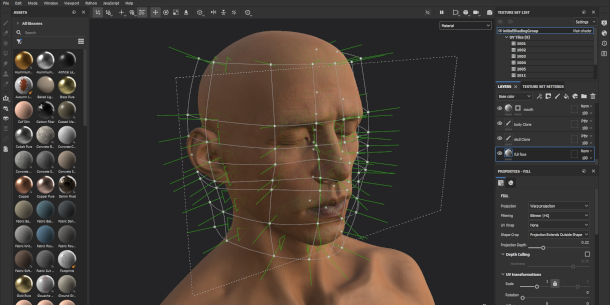 Adobe has released Substance 3D Painter 7.3, the latest update to its 3D texture painting software.
The release adds new Warp and Cylindrical projection modes for projecting textures or decals onto 3D models, revamps the colour picker, and adds support for Substance assets to Adobe's CC Desktop app.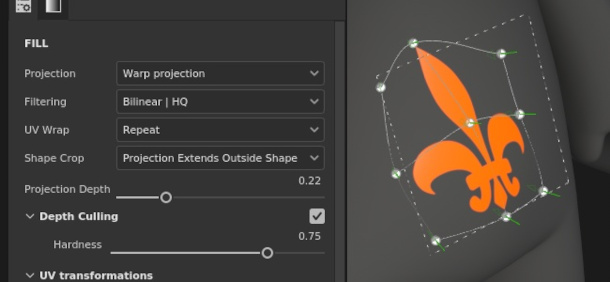 New 3D warp and cylindrical projection modes for decals and textures
The major new feature in Substance 3D Painter 7.3 is the Warp projection mode for fill layers and fill effects.
The new projection mode, which is now the default when dragging a decal from the library to the viewport, enables artists to project a texture onto the surface of a 3D asset and adjust its deformation via a control grid.
The grid and its control points are automatically constrained to follow the 3D surface, although users can choose to move control points off the 3D surface manually.
For finer control of the way a texture deforms, artists can increase the number of rows and columns in the grid, or add vertical or horizontal splits in custom positions.
It is also possible to adjust the depth to which a texture is projected along the projection axis, and how a texture repeats within the projection area.
A second new mode, Cylindrical projection, is intended for projecting textures onto near-cylindrical parts of an asset, like a character's arms and legs.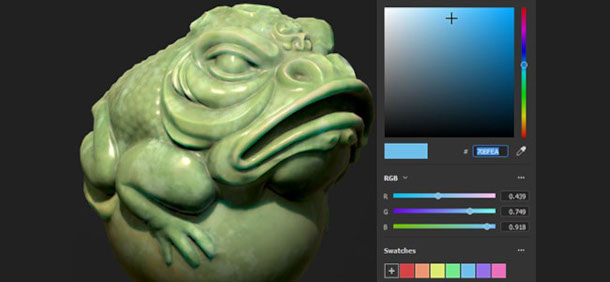 Revamped colour picker adds the option to save colours as swatches
In addition, Substance 3D Painter's color picker has been overhauled, getting a vertical layout similar to the one recently introduced in sibling application Substance 3D Sampler.
Users can also now enter 0-255 values for RGB colours, and save colours as swatches.
Workflow and performance improvements
Workflow and performance improvements include support for Substance assets like materials, texture atlases and decals in Adobe's Creative Cloud desktop app.
Assets can be sent directly to the Painter library from the desktop app.
In addition, autosaves no longer trigger during "longer or heavier" operations like texture baking or export; and the Python API has been extended, with new options including reloading the mesh of the current project, or updating linked resources.
Pricing and availability
Substance 3D Painter 7.3 runs on Windows 10, CentOS 7.0/Ubuntu 18.04+ Linux and macOS 10.14+.
The Windows and macOS editions are available via Adobe's Substance 3D Texturing subscriptions, at $19.99/month or $219.88/year, or Substance 3D Collection subscriptions, at $49.99/month or $549.88/year.
Subscriptions to the Linux edition require a Creative Cloud Plan for Teams priced at $1,198.88/year.
Perpetual licences of the software are available via Steam, and include the Linux edition. They cost $149.99.

Read an overview of the new features in Substance 3D Painter 7.3 on Adobe's blog
Read a full list of new features in Substance 3D Painter 7.3 in the online release notes
Tags: 3D modeling, 3D texture painting, 3D warp, Adobe, asset development, autosave, color picker, colour picker, control grid, Creative Cloud desktop app, Creative Cloud for Teams, cylindrical projection, decal, game development, Linux edition, new features, perpetual licence, price, project texture, Python, Python API, Substance 3D Collection, Substance 3D Painter, Substance 3D Painter 7.3, Substance 3D Sampler, Substance Painter, system requirements, texture projection, texturing, vfx, visual effects, Warp projection